Subscribe to Weekly Market Update and Investment Perspective
Keep up with how the latest headlines moved markets, and what's up next.
Investment Strategy Commentary
Coronavirus Update: Spread Outside China Is Raising Risks
There has been a worrying increase in reported cases in countries outside of China. We analyze the spread of the virus and risks to investors.
By James D.McDonald, Daniel J. Philips, CFA and Erick Noensie, PhD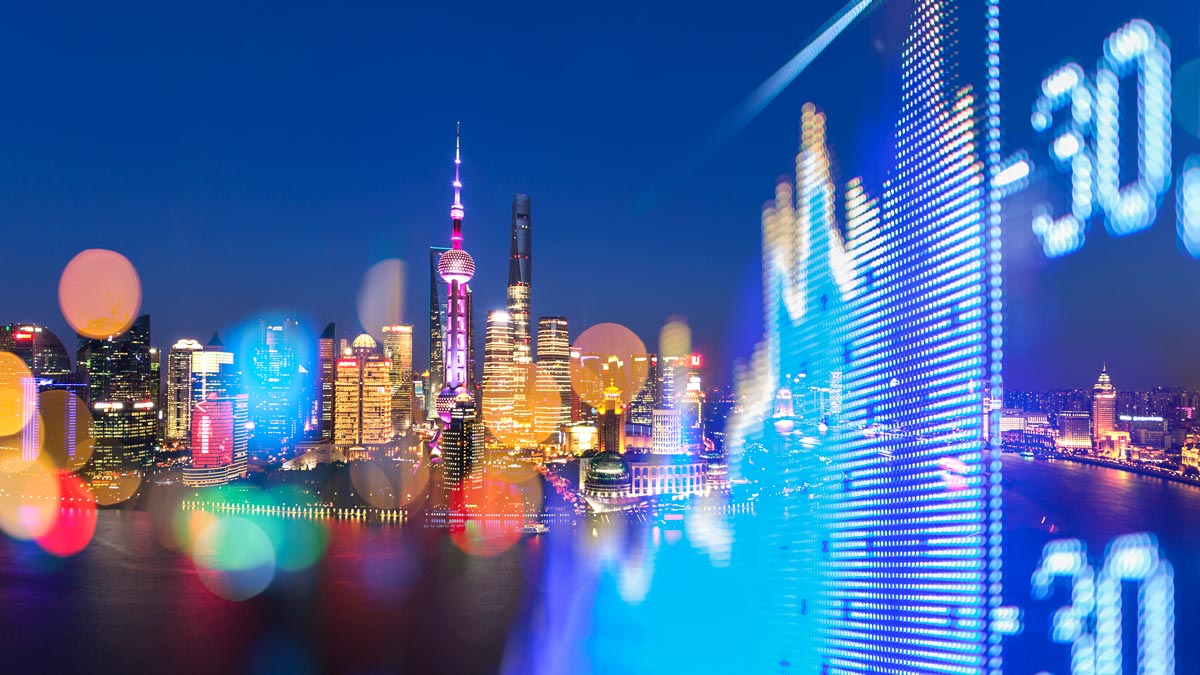 The relative market calm of the last several weeks around the Coronavirus (COVID-19) has ended with a jump in reported cases outside of China. While newly reported cases in China are slowing, there has been a worrying increase in reported cases in countries such as Japan, South Korea and Italy. In some cases, the cause of the infection has not yet been identified, raising concerns about the length of time before patients show symptoms. We expect policy makers to deliver some relief (fiscal and monetary stimulus in China, monetary stimulus in the U.S. and potentially Europe). At a minimum, this increased risk will weigh on investor sentiment until the risk of spread outside of China is contained.
Global financial markets have been pressured by increasing reports of COVID-19 outside mainland China, particularly in countries such as Italy and Iran. In addition to the loss of lives (with 2,626 deaths to date), investors are assessing the economic impact of the virus. Half the Chinese population has been subject to some sort of travel restriction, making the near-term impact to Chinese growth significant. Manufacturing has been impacted by plant shutdowns and the services sector is being hit by reduced consumption spending and tourism. According to the World Travel & Tourism Council, tourism accounts for 10% of global economic activity — with 29% of that from international tourists and 71% domestic. While international tourism seems most vulnerable, domestic tourism should also take a hit.


---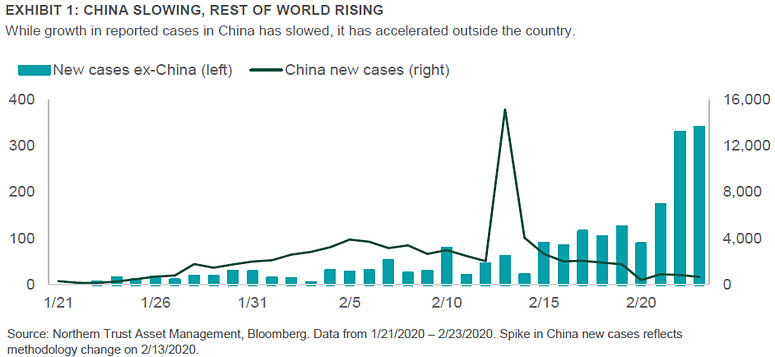 History Should Not Exactly Repeat Itself
In many cases, a Global Health Crisis is a non-event for global equity markets. COVID-19 was declared a Global Health Crisis on January 30, 2020. Across all but two of the evaluated episodes in Exhibit 2, markets were positive from the three months leading up to the declaration of the Global Health Crisis through the six months after. The two crises that showed negative market performance throughout the nine-month period, the Asian Flu and Hong Kong Flu, each resulted in over a million fatalities – a notably larger death count than COVID-19.
Many have compared COVID-19 to SARS because of their genetic similarities. The S&P 500 returned 22% in the six months after SARS was declared a Global Health Crisis, but the return was aided by the bottoming of the tech bubble. While COVID-19 is less deadly, it appears to spread more easily. This, combined with social media driving increased awareness of the virus, has impaired short-term economic activity as people "stay in." Over the long term, this could limit its severity as it has prompted swift containment efforts, particularly from the Chinese government. In the context of global economic growth, the Chinese response is crucial given that it makes up roughly three times more of the global economy today versus 2003.


---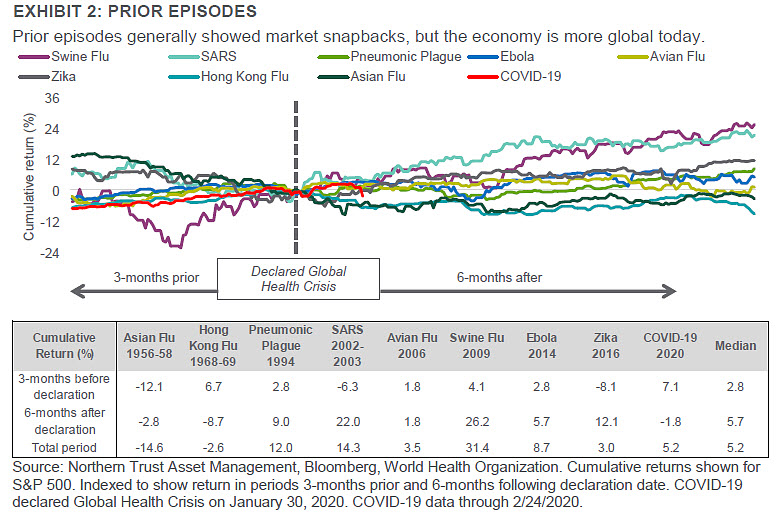 COVID-19: Clinical Statistic Comparisons and Treatment Outlook
In Exhibit 3, we compare COVID-19 to other outbreaks and infectious diseases in more detail, using several clinical data points that have been discussed by market participants. An important caveat is that much of the data is based on early reports and should be relied on with caution. We note that the estimated mortality rate of 2-3% has declined from initial estimates of ~4%.  While 2-3% is high, it is lower than other coronaviruses, SARS and MERS. An analysis of data from China of more than 44,000 patients indicates the mortality rate ranges widely by age, from 0.2% at age 10-19, to 1.3% at age 50-59, to 14.8% above 80 years old. We also note that the global number of COVID-19 infections is likely to be underreported, while the number of deaths is likely to be more accurate.


---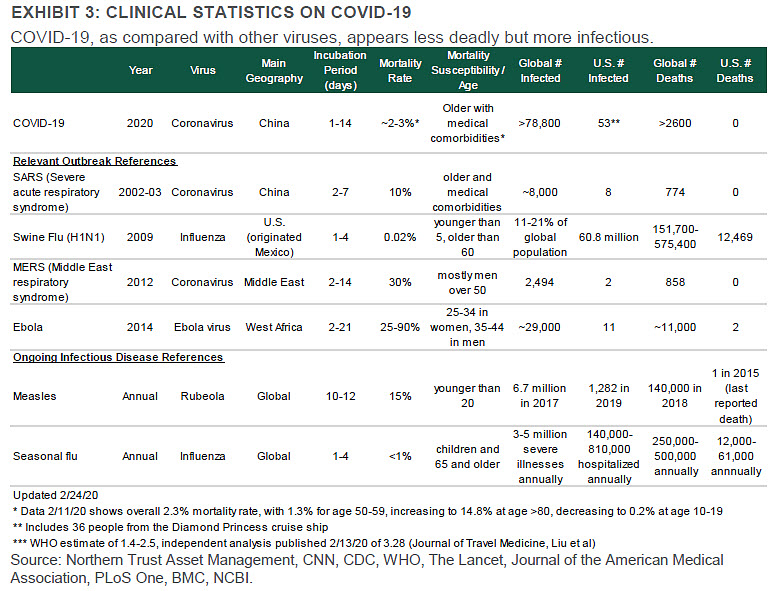 A number of biotechnology and pharmaceutical companies have announced early efforts to develop a treatment or vaccine for COVID-19. Because many viruses share common biological pathways, certain anti-viral drugs have the potential to be repurposed from activity against other viruses to treat COVID-19. One of the most promising drugs of this category is Gilead's (GILD) drug, Remdesivir, which has shown activity against SARS and MERS in laboratory experiments. Clinical studies have begun with Remdesivir in China, and data is expected in April or May 2020. Despite the encouraging experiments to date, we caution that there is only anecdotal evidence of efficacy in humans, and that trials may be difficult to perform under such urgency. We are aware of other potentially repurposed drugs, including a drug that is already approved to treat HIV that is also being tested on humans in China.
Some of the companies that we believe have a reasonable possibility of developing a vaccine include GlaxoSmithKline (GSK), Merck (MRK), Johnson & Johnson (JNJ), Pfizer (PFE) and Moderna (MRNA). In January, an executive from Johnson & Johnson stated that the company could create a vaccine in the coming months. However, we believe it would be at least a year before a vaccine would be available. We note that Merck recently developed and shipped 250,000 doses of an Ebola vaccine to West Africa, but this is five years after the outbreak of 2014. Historically, vaccines including those for infections such as Hepatitis B, Hepatitis A, and HPV have taken ~15-30 years to develop, although those were under different circumstances and with older technologies. Of these companies mentioned, we believe Gilead is best positioned to develop a treatment and GlaxoSmithKline is best positioned to develop a vaccine. However, we caution that the successful development of a drug or vaccine is speculative at this time. We believe basic public health efforts are more likely to curtail this outbreak than a new drug or vaccine over the next 12 months. 
Policy Response
With events like the COVID-19 breakout, it is important to not only envision second order effects (e.g. supply chain disruption, travel cancellations), but also the response of policy makers. With the epicenter of the outbreak being China, the country has been first in implementing reactionary policies. The most important policies are those geared towards containing/eliminating the health risks. Here, China appears to have started late but has become very aggressive ever since. This is likely the cause of the decline of new cases of late. The action from fiscal and monetary policy makers is secondary, but will still be helpful to the economic and financial market outlook. China has been implementing targeted fiscal stimulus, and some monetary policy support as well (including reductions in lending rates and reserve requirements for banks). In the U.S., markets have increased their expectations for reductions in the Federal Funds rate over the next year. As shown in the chart below, markets now believe the Fed Funds rate will be near 1% by year end, representing two rate cuts. Turning to the European Central Bank, we don't expect any near-term action but believe it would be biased more towards raising its monthly quantitative easing program from 20 billion euros a month to maybe 30-40 billion euros. While these actions will be helpful, they take a clear back seat to the importance of public health programs in the coming months.


---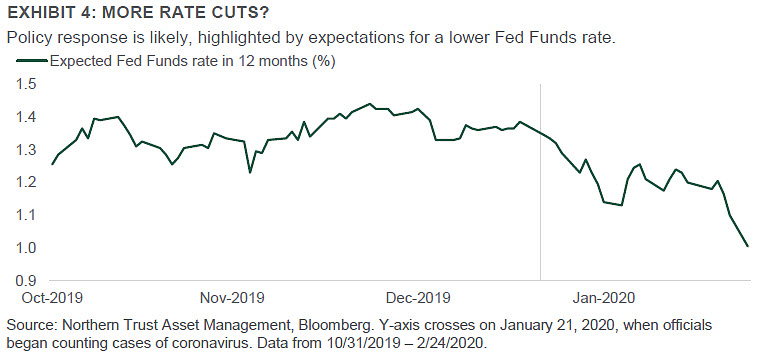 Conclusion: What It Means For Investors
At the time of our most recent investment policy meeting (February 13), COVID-19 was viewed as an ongoing threat but cases had been mostly contained to China. In response, we reduced our non-U.S. equity exposure by 2%, putting the proceeds into U.S. equities. In doing so, we reduced our exposure to Asian economies. According to FactSet, U.S. companies derive 16% of their revenue exposure from Asia — as compared to 37% for companies in developed markets outside the U.S. and 63% for emerging market companies.
Since our last investment policy meeting, and as detailed in this report, the virus has spread into some developed markets (notably Italy). As such, this has the potential to become a global issue that could have longer lasting impacts on economic activity and financial market returns. To wit, equity markets around the world are down 3-4% today and government bond yields are falling notably. Given markets are quick to price in (possibly overpricing in) new news, we do not view it prudent to come to a quick — and possibly uninformed — decision on investment policy. Instead, we will leverage our well-established asset allocation process to analyze and debate incoming information in coming days to determine if changes to our tactical asset allocation recommendations are justified. In the meantime, it is important to remember the importance of robust diversification. Risk-control assets — such as investment grade fixed income — are showing mostly positive returns on an otherwise dismal day while "lower risk" risk assets such as high yield and interest-rate sensitive asset classes (global real estate and infrastructure) are providing notable downside protection.
Special thanks to Tom O'Shea and Colin Cheesman, Investment Analysts, for data research.
---

IMPORTANT INFORMATION. The information contained herein is intended for use with current or prospective clients of Northern Trust Investments, Inc. The information is not intended for distribution or use by any person in any jurisdiction contrary to local law or regulation. Northern Trust and its affiliates may have positions in and may effect transactions in the markets, contracts and related investments different than described in this information. This information is obtained from sources believed to be reliable, and its accuracy and completeness are not guaranteed. Information does not constitute a recommendation of any investment strategy, is not intended as investment advice and does not take into account all the circumstances of each investor.
This report is provided for informational purposes only and is not intended to be, and should not be construed as, an offer, solicitation or recommendation with respect to any transaction and should not be treated as legal advice, investment advice or tax advice. Recipients should not rely upon this information as a substitute for obtaining specific legal or tax advice from their own professional legal or tax advisors. References to specific securities and their issuers are for illustrative purposes only and are not intended and should not be interpreted as recommendations to purchase or sell such securities. Indices and trademarks are the property of their respective owners. Information is subject to change based on market or other conditions.
Forward-looking statements and assumptions are Northern Trust's current estimates or expectations of future events or future results based upon proprietary research and should not be construed as an estimate or promise of results that a portfolio may achieve. Actual results could differ materially from the results indicated by this information.
Past performance is no guarantee of future results. Performance returns and the principal value of an investment will fluctuate. Performance returns contained herein are subject to revision by Northern Trust. Comparative indices shown are provided as an indication of the performance of a particular segment of the capital markets and/or alternative strategies in general. Index performance returns do not reflect any management fees, transaction costs or expenses. It is not possible to invest directly in any index. Gross performance returns contained herein include reinvestment of dividends and other earnings, transaction costs, and all fees and expenses other than investment management fees, unless indicated otherwise.
Northern Trust Asset Management is composed of Northern Trust Investments, Inc., Northern Trust Global Investments Limited, Northern Trust Fund Managers (Ireland) Limited, Northern Trust Global Investments Japan, K.K., NT Global Advisors, Inc., 50 South Capital Advisors, LLC, and personnel of The Northern Trust Company of Hong Kong Limited and The Northern Trust Company.
© 2020 Northern Trust Corporation. Head Office: 50 South La Salle Street, Chicago, Illinois 60603 U.S.A.