Subscribe to Asset Servicing & Fintech Insights
Discover more information in our monthly publication, the AXIS newsletter, including industry trends, product innovation, Fintech and more from our team of experts.
Outsourced Trading Comes Full Circle

An increasing number of buy-side firms have turned to outsourced trading in recent years. In fact, a 2020 survey of 300 global asset managers by Northern Trust found that 85% of respondents either already outsource their trading desk or are interested in doing so.1
This statistic is borne out by our experiences. At Northern Trust, we have brought more than 70 asset managers onto our outsourced trading platform in the last four years.  During this considerable growth period, one of the first questions prospective asset managers ask is: "What will my clients think?"  The question stems from the belief that an asset manager without a trading desk is like a ship without a captain.  The worry from the key decision makers at the asset manager, especially the client-facing ones, is that the decision to outsource trading will result in a flight of assets.
However, after many years of working with some of the largest and most dynamic asset managers, I have found the opposite to be true: assets are not flying out the door when trading is outsourced.  Plan sponsors and asset allocators recognize that outsourced trading leads to efficiency gains and increased expertise, which has actually been a tailwind for asset managers who have outsourced. 
Ironically, the buy-side trading desk is a relatively recent development.  It was not that long ago that only the largest asset managers had the capital and resources to maintain their own trading desks. Most portfolio managers worked directly with brokers to execute trades.  Go back even further to when no managers had their own trading desks.  Peter Lynch, the star portfolio manager at Fidelity Investments who ran the Magellan Fund, wrote about his direct interaction with brokers in his popular books on investing that he authored in the 80's and 90's.  In fact, when I started in the brokerage business in the late 90's, I took trade orders directly from portfolio managers nearly as often as from buy-side traders.  Only the largest asset managers had the ability to build and support their own trading operations.  And many firms that did have in-house traders used their staff more for oversight of working orders or pre-trade compliance and order transmission.
So, what happened to drive the trading desks in-house?  Well, firstly, the market experienced an unprecedented bull market run that rendered margin watching unnecessary.  During this period, managers saw their revenue and margins increase exponentially. 
Secondly, the markets were not as efficient 20 years ago as they are today.  For example, the New York Stock Exchange allowed specialists up to 90 seconds to fill an order.  In the years before decimalization, over-the-counter stocks traded in fractions and at much wider spreads than today. Bonds were traded by appointment only and with almost no reporting before the Financial Industry Regulatory Authority (FINRA) introduced their Trade Reporting and Compliance Engine (TRACE).
Thirdly, fee pressure was still years away.  Active management was en vogue.  Private equity, hedge funds, and alternatives were only just becoming popular.  The 90's and most of the oughts were a golden era of active management.
Lastly, the technology to support a buy-side trading desk grew steadily more affordable.  A variety of technology providers came to market with tools and trading platforms that allowed asset managers to build their desks using off-the-shelf products rather than having to develop these capabilities themselves. These third-party vended systems leveled the playing field. Any asset manager could build their own trading desk without extensive development costs, and many did just that. 
As buy-side trading desks proliferated, asset managers were excited to show them off.  Client visits generally included a stop by the trader's desk.  The "multiple screen" set-ups and scrolling ticker tape on the wall exuded sophistication and expertise.  What began as an honest and, at the time, very necessary effort to reduce the cost to enter and exit positions became a demonstration of sophistication.  Many asset managers asserted that their trading desks added alpha.
And then the marketing effort of those firms that built their own trading desks forced the hand of the holdouts.  A tipping point had been reached.  The message to investors was this: armed with a trading desk, we are superior at managing your money.  With the buy-side desk ubiquitous among any asset manager with aspirations to manage billions, the standard became in-house trading. 
But a strange thing started to happen in the late 2000s: active management returns came under closer scrutiny, with returns regularly compared to benchmarks.  And a competing new type of strategy emerged in public securities — the index fund.  Heavily marketed by managers like John Bogle at Vanguard, low cost index funds in equity and bond markets began to proliferate.  
The change was gradual.  In 1999, Vanguard—a champion of low cost, passive strategies—only had $500 billion in assets, compared to $8 trillion today2, making it the second largest asset manager in the world today.  Index funds also represent the largest investment class at Blackrock, the world's largest asset manager.
During this rise of indexed investment strategies, many of the factors that drove the rise of the buy-side trading desk have also shifted.  Markets are far more efficient today. And while there is still work to be done to drive down frictional trading costs, regulation (such as Reg NMS in the US and MiFID II in the EU), decimalization, enhanced TRACE reporting for bonds, commission compression and more transparency in the markets (to name but a few changes over the past 20+ years) have resulted in substantially more efficient markets.  Fees paid for active management have been under pressure (and will likely remain so).  Several new investment avenues have emerged that offer compelling alternatives to traditional public market investments.  And the cost to operate a trading desk has steadily risen. For example, as advanced technology becomes available in the marketplace, it is an increasingly complex and expensive project to upgrade outdated systems in order to take advantage of the newest tools.   
Today, operating a trading desk has become a non-essential component of a successful asset manager's front office.  And buy-side firms are continuing to find greater benefits to outsourcing some or all of their trading function. 
As asset managers have come full circle on their trading desks, plan sponsors and asset allocators stand to gain from outsourced trading trends. They recognize the benefits and have embraced the outcomes, which include:
Healthier asset managers: The cost to support a trading desk is significant. For example, the desk must be staffed for peak volumes and anticipation of staff absences. On an average day, there is spare capacity, rendering a trading desk an inefficient use of capital.  And infrastructure costs continue to increase to keep up with regulation and rapidly changing markets. Outsourcing eliminates the pressure to maintain a trading operation. 
Healthier returns: When an asset allocator hires an asset manager, they want to know that their manager is focused on what they do best (portfolio oversight and generating strong risk-adjusted returns). By outsourcing the trading function, buy-side firms have been able to better focus on their core business of portfolio construction. Instead of investing in trading, asset managers are increasingly investing in tools and technology to augment alpha generation.  For plan sponsors and investors, this shift is beneficial.
In-house managers: For assets that a plan sponsor manages in-house, outsourced trading provides expertise needed to express view in the market. As trading is a scale business, outsourced trading vendors with larger trading operations and more flow simply have an advantage in the market. More trading flow allows for more access to liquidity, better pricing, and increased access to primary market offerings. In addition, a larger trading operation results in better expertise and enhanced specialization.  An outsourced trading desk will have, for example, traders that specialize in certain types of trading, such as programs or blocks, as well as individuals that have unique experience in a specific security, such as asset-backed bonds or small cap stocks.
Start up and specialist asset managers: The cost to manage a trading desk is proportionally higher for asset managers focused on a particular segment or niche. Outsourcing the trading function puts start up and specialist managers on a more even keel with the industry's largest managers.


Institutional investors, plans sponsors, and investment consultants should be prepared for the trend to outsource trading among the investment managers and hedge funds that they hire.  Because of the various benefits to both managers and end investors, this trend will continue and even accelerate as it becomes more mainstream. There are going to be situations where asset managers decide to keep an inhouse trading desk, but our expectation is that more of the dealing and trading related functions will be outsourced.  And as plan sponsors and asset allocators grow savvier, asset managers will need to focus on how they are building portfolios and achieving superior risk-adjusted results.  Outsourcing their trading operations can help them achieve those goals.
1 https://cdn.northerntrust.com/pws/nt/documents/asset-servicing/driving_growth.pdf
2 https://investor.vanguard.com/corporate-portal/
---
IMPORTANT INFORMATION AND DISCLOSURES – MARKETING COMMUNICATIONS: This communication is issued and approved for distribution in the United Kingdom and Australia by Northern Trust Securities LLP (NTS LLP) and in the European Union and European Economic Area by Northern Trust Global Services SE (NTGS SE). Please see below for regulatory status disclosures for Northern Trust's legal entities. This communication is provided on a confidential basis for the sole benefit of clients and prospective clients of NTS LLP or NTGS SE and may not be reproduced, redistributed or transmitted, in whole or in part, without the prior written consent of NTS LLP or NTGS SE. Any unauthorised use is strictly prohibited. This communication is directed to clients and prospective clients that are categorised as eligible counterparties or professional clients within the meaning of Directive 2014/65/EU on markets in financial instruments (MiFID II), or in the UK, as amended by the Markets in Financial Instruments (Amendment) (EU Exit) Regulations 2018. NTS LLP and NTGS SE do not provide investment services to retail clients. This communication is a marketing communication prepared by a member of the NTS LLP or NTGS SE Sales or Trading department and is not investment research. The content of this communication has not been prepared by a financial analyst or similar; it has not been prepared in accordance with the legal requirements designed to promote the independence of investment research and it is not subject to any prohibition on dealing ahead of the dissemination of investment research. This communication is not an offer to engage in transactions in specific financial instruments; does not constitute investment advice, does not constitute a personal recommendation and has been prepared without regard to the individual financial circumstances, needs or objectives of individual investors. NTS LLP does not engage in proprietary trading, and NTS LLP and NTGS SE do not engage in market making in securities or corporate advisory activities. NTS LLP and NTGS SE do not hold a proprietary position in any of the financial instruments or issuers referred to in this communication, unless otherwise disclosed. This communication may contain investment recommendations within the meaning of Regulation (EU) No 596/2014 on market abuse (MAR), and in the UK, as amended by the Market Abuse (Amendment) (EU Exit) Regulations 2019. For more information about NTS LLP and NTGS SE's investment recommendations please refer to the author's MAR link provided in this communication, were applicable.
CONFIDENTIALITY NOTICE: This communication is confidential, may be privileged and is meant only for the intended recipient. If you are not the intended recipient, please notify the sender ASAP and delete this message from your system.
PRIVACY NOTICE: Please read our privacy notice at northerntrust.com/privacy-policy to learn about how we use the personal information you may provide and the rights you have in relation to it.
ABOUT NORTHERN TRUST SECURITIES LLP: NTS LLP is registered in England & Wales under number OC324323; registered office: 50 Bank Street, Canary Wharf, London E14 5NT; authorised and regulated by the Financial Conduct Authority; member of the London Stock Exchange. NTS LLP, Australia branch is registered as a foreign company in Australia (ARBN 165 830 937) under the Corporations Act 2001. Northern Trust Securities LLP is relying on the Australian Securities and Investment Commission (ASIC) Corporations (Repeal and Transitional) Instrument 2016/396 exemption for UK Financial Conduct Authority (FCA) regulated firms which exempts it from the requirement to hold an Australian financial services license under the Corporations Act 2001. The laws of the United Kingdom are different to Australia.
ABOUT NORTHERN TRUST GLOBAL SERVICES SE: NTGS SE is registered in Luxembourg under number B232281. Registered office: 10, rue du Château d'Eau, L-3364 Leudelange, Grand-Duchy of Luxembourg. Northern Trust Global Services SE is an authorised credit institution in Luxembourg under Chapter 1 of Part 1 of the Luxembourg law of 5 April 1993 on the financial sector. It is authorised by the European Central Bank (ECB) and subject to the prudential supervision of the ECB and the Luxembourg Commission de Surveillance du Secteur Financier (CSSF). NTGS SE, UK Branch: UK office is at 50 Bank Street, Canary Wharf, London E14 5NT. Authorised and regulated by the European Central Bank and Luxembourg Commission de Surveillance du Secteur Financier. Authorised by the Prudential Regulation Authority and with deemed variation of permission.
Subject to regulation by the Financial Conduct Authority and limited regulation by the Prudential Regulation Authority. The nature and extent of consumer protections may differ from those for firms based in the UK. Details of the Temporary Permissions Regime, which allows EEA-based firms to operate in the UK for a limited period while seeking full authorisation, are available on the Financial Conduct Authority's website.
NOTICE TO US INVESTORS: NTS LLP and NTGS SE are not US registered brokers or dealers and they are not registered with the Securities and Exchange Commission or members of FINRA. This communication is intended only for "major U.S. institutional investors" and is not intended for individual or non-institutional investors and should not be distributed to any such individuals or entities. Interested "major U.S. institutional investors" should contact Northern Trust Securities, Inc. (NTSI), our U.S. registered brokerdealer affiliate, or another US-registered broker-dealer, to effect transactions in any securities discussed herein. Northern Trust Securities, Inc.(NTSI), Member FINRA, SIPC and a subsidiary of Northern Trust Corporation. Products and services offered through NTSI are not FDIC insured, not guaranteed by any bank, and are subject to investment risk including loss of principal amount invested. NTSI does not accept time sensitive, action-oriented messages or securities transaction orders, including purchase and/or sell instructions, via e-mail.
Additional disclosures are included in the link, see northerntrust.com/disclosures.
This material is directed to professional clients only and is not intended for retail clients. For Asia-Pacific markets, it is directed to expert, institutional, professional and wholesale clients or investors only and should not be relied upon by retail clients or investors. For legal and regulatory information about our offices and legal entities, visit northerntrust.com/disclosures.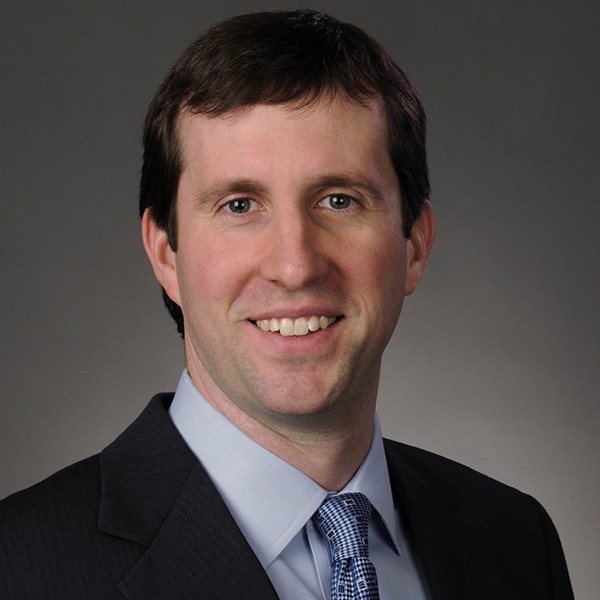 Grant Johnsey
Head of Client Solutions, Capital Markets, Americas
Grant Johnsey is Head of Client Solutions, Capital Markets for the Americas.
Well beyond cost efficiency, expertise and scale help create performance advantages for asset managers who work with external trading desks.
How does an asset manager know which outsourced trading model is best for them? Start by considering your ideal future state.
The stigma of outsourced trading is being challenged. Firms that outsource are experiencing increased benefits in their search for alpha.