Subscribe to Investing & Portfolio Construction Publications
Position for better investing outcomes through research that unveils best practices for asset allocation, portfolio construction and investment selection.
The Numbers Are In
Learn about the 2020 giving trends.
By Katrina Pipasts, CSPG, Director of Planned Giving Services – Foundation & Institutional Advisors

$471.44 billion donated to charities in 2020.[i]


WHO GAVE ….
The Giving USA study unveiled that in 2020 the generosity of individuals provided for 69 percent of total giving to charities, totaling roughly $324.1 billion. Adjusted for inflation, giving by individuals has increased by 12 percent since 2015 and by 31 percent since 2010.[ii]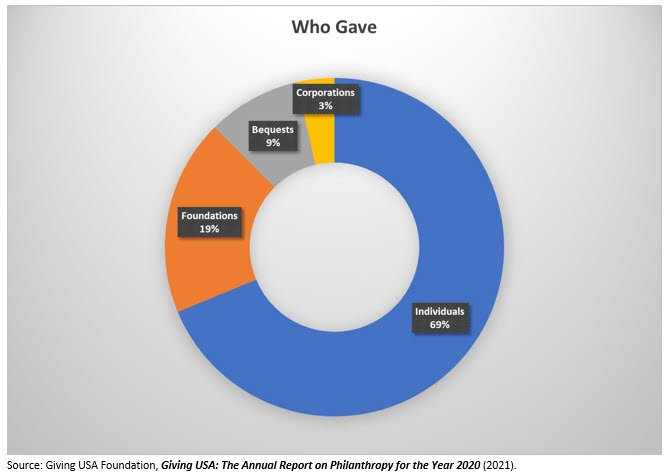 In a donor study conducted by Penelope Burk, donors who gave more in 2020 than in 2019 stated that their financial stability played a less significant role than in prior years. Nearly 75 percent of donors surveyed indicated that the COVID-19 pandemic prompted them to increase their giving and at least one gift was made to a not-for-profit related to the pandemic relief effort.[iii]
Some donors who received stimulus checks adopted the pay-it-forward mindset by deploying those dollars to social causes. One in five donors redirected at least some of their charitable giving budget to support a political party or candidate in advance of the 2020 Presidential election. Changes to the tax law and itemized deductions continued to have an impact on some donors, though to a lesser degree as donors considered tax-efficient strategies using donor-advised funds to make charitable donations or bunching donations, so as to take advantage of itemization.[iv]
However, for most donors, financial incentives are the least common reason for giving to charities. Interviews with donors conducted by CCS Fundraising indicate that a donor's motivation is the belief that their gift can make an impact and the belief that those who have the ability should give to those who are less fortunate.[v]
From the wealthiest of Americans, Philanthropy's 50 gave a total of $24.7 billion to nonprofits in 2020 up from $15.8 billion in 2019. The top five mega-gift donors gave $9.5 billion with MacKenzie Scott leading with $5.7 billion to various nonprofit charities.[vi] Jeff Bezos established the Bezos Earth Fund with $10 billion. Combined, these donors gave $2.7 billion to their private foundations, supported colleges and universities with $2.1 billion and contributed $1.3 billion to donor-advised funds. Historically, the ultra-rich have supported higher education, health care, museums and operas. But, Scott has raised the profile of causes and allocated funds to social services, racial and social injustice, food banks, medical debt relief, education and homelessness and housing issues.[vii]

WHO RECEIVED …..
Though religion is still the largest recipient of charitable dollars, its share of total giving has grown at a slower pace or remained relatively flat over the last ten years. In 1980, religion received 45 percent of total gifts, but by 1999, it had decreased to 35 percent of total giving. For the past five years, the dollars donated have remained roughly constant at an average of $131 billion.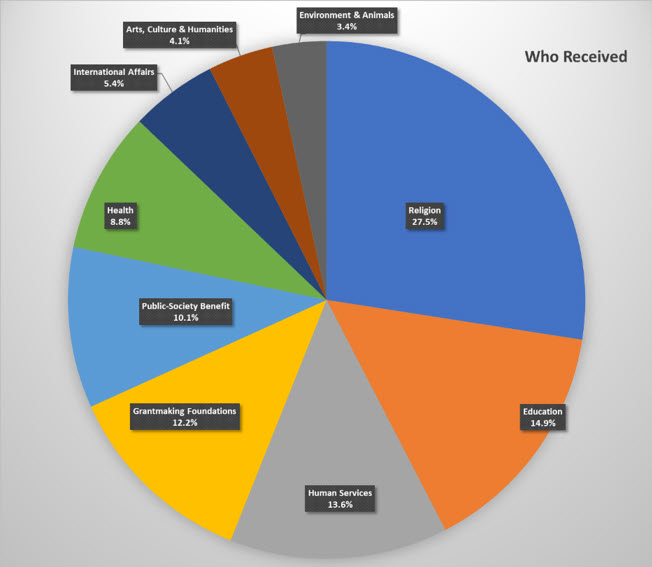 Source: Giving USA Foundation, Giving USA: The Annual Report on Philanthropy for the Year 2020 (2021). 
As a result of an unprecedented year, donations made by Americans flowed to nonprofits supporting food pantries, COVID-19 relief, racial justice, civil rights and community development. The largest donation increase in 2020 was seen by Public-Society Benefit Organizations while Arts, Culture & Humanities suffered the most with a decline in donations. Over the last ten-year period, the largest increases in charitable dollars were secured by grant making foundations, public-society benefit organizations and environment & animal welfare agencies.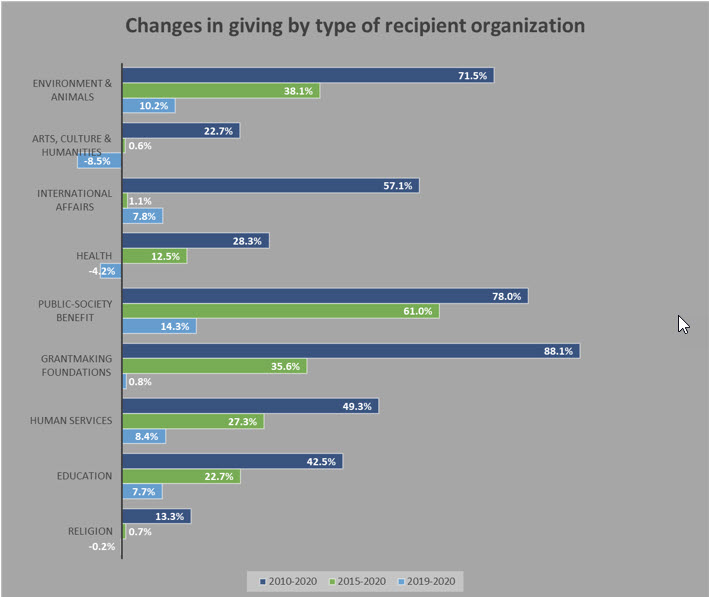 Source: Giving USA Foundation, Giving USA: The Annual Report on Philanthropy for the Year 2020 (2021). Inflation-Adjusted Dollars. 

THE OUTLOOK FOR CHARITABLE GIVING
Research and forecasting conducted by the Lilly Family School of Philanthropy has indicated that growth in GDP, growth in personal income and above-average growth in the S&P 500 can significantly influence total giving.[viii] However, the share of American households who donated to charity has dropped to 49.6 percent in 2018 down from 66.2 percent in 2000 per the Philanthropy Panel Study. This decline occurred among almost all socio-demographic groups with the greatest decease occurring after the Recession of 2008, yet the trends did not slow or reverse once the economy had recovered. [ix]
Although charitable giving reached an all-time high in 2020, it is not yet fully understood how normal giving patterns were disrupted by the impact of the pandemic, record high unemployment and record gains in the American stock market. Some American households were able to give generously, while others gave less or not at all. The future of engaging donors, past and present, will largely depend on ideas that look beyond the traditional financial contribution, promote volunteerism, transform digital outreach, inspire younger and more diverse donors and embrace trust in the nonprofit and its community.[x]
---
[i] Giving USA Foundation, Giving USA: The Annual Report on Philanthropy for the Year 2020 (2021), 22. 
[ii] Giving USA Foundation, Giving USA: The Annual Report on Philanthropy for the Year 2020 (2021), 346. 
[iii] Penelope Burk, The 2021 Burk Donor Survey…how to raise more money in a changing giving environment (Cygnus Applied Research, Inc., 2021), 9.
[iv] Burk, The 2021 Burk Donor Survey, 46.
[v] CCS Fundraising, Snapshot of Today's Philanthropic Landscape 10th Edition (2021), 23.
[vi] Maria Di Mento, "Philanthropy 50," The Chronicle of Philanthropy, February 9, 2021, www.philanthropy.com/article/the-philanthropy-50/
[vii] "What the $25 billion the biggest US donors gave in 2020 says about high-dollar charity today," The Conversation, February 9, 2021, https://theconversation.com/what-the-25-billion-the-biggest-us-donors-gave-in-2020-says-about-high-dollar-charity-today-154466.
[viii] Andy Ware, "The outlook for charitable giving," Lilly Family School of Philanthropy, February 19, 2021, https://blog.philanthropy.iupui.edu/2021/02/19/the-outlook-for-charitable-giving/
[ix] Indiana University Lilly Family School of Philanthropy, The Giving Environment: Understanding Pre-Pandemic Trends in Charitable Giving, July 2021, 5-6.
[x] Indiana University Lilly Family School of Philanthropy, The Giving Environment: Understanding Pre-Pandemic Trends in Charitable Giving, July 2021, 24-25.
---
© 2021 Northern Trust Corporation. Head Office: 50 South La Salle Street, Chicago, Illinois 60603 U.S.A. Incorporated with limited liability in the U.S.
This document is a general communication being provided for informational and educational purposes only and is not meant to be taken as investment advice or a recommendation for any specific investment product or strategy. The information contained herein does not take your financial situation, investment objective or risk tolerance into consideration. Readers, including professionals, should under no circumstances rely upon this information as a substitute for their own research or for obtaining specific legal, accounting or tax advice from their own counsel. Any examples are hypothetical and for illustration purposes only. All investments involve risk and can lose value, the market value and income from investments may fluctuate in amounts greater than the market. All information discussed herein is current only as of the date of publication and is subject to change at any time without notice. Forecasts may not be realized due to a multitude of factors, including but not limited to, changes in economic conditions, corporate profitability, geopolitical conditions or inflation. This material has been obtained from sources believed to be reliable, but its accuracy, completeness and interpretation cannot be guaranteed. Northern Trust and its affiliates may have positions in, and may effect transactions in, the markets, contracts and related investments described herein, which positions and transactions may be in addition to, or different from, those taken in connection with the investments described herein.
LEGAL, INVESTMENT AND TAX NOTICE. This information is not intended to be and should not be treated as legal, investment, accounting or tax advice.
PAST PERFORMANCE IS NO GUARANTEE OF FUTURE RESULTS. Periods greater than one year are annualized except where indicated. Returns of the indexes also do not typically reflect the deduction of investment management fees, trading costs or other expenses. It is not possible to invest directly in an index. Indexes are the property of their respective owners, all rights reserved.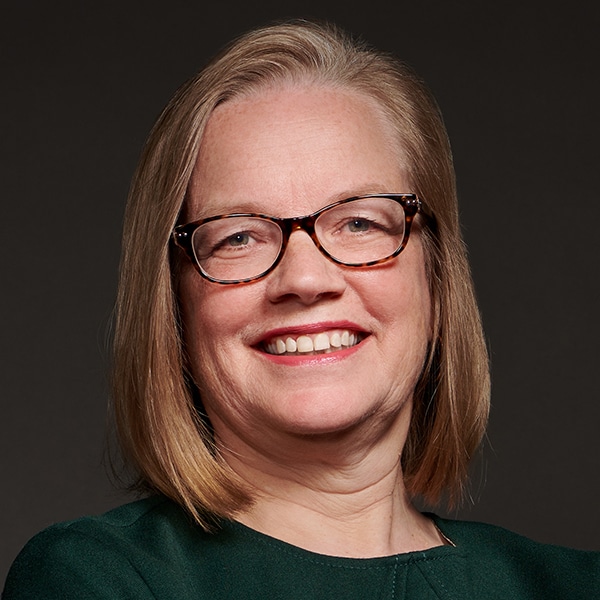 Katrina M. Pipasts
National Director of Planned Giving Services
Katrina M. Pipasts is the National Director of Planned Giving Services and is responsible for the gift administration and investment strategy implementation for charitable gift annuity funds and charitable remainder trusts for institutional clients.