Subscribe to Economic Trends & Insights
Discover our latest insights on all economic news, from breaking headlines to long-term trends.
Coming Out Of Retirement
A puzzling jump in retired Americans should reverse soon.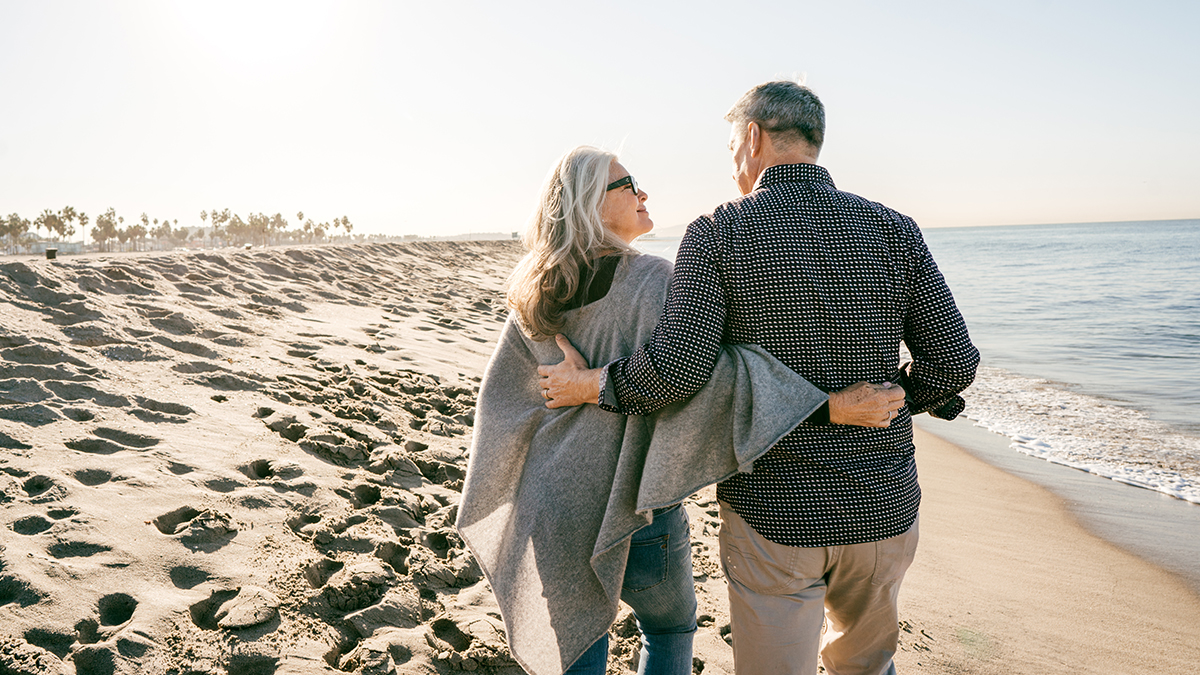 An increasing number of our friends and neighbors are thinking about retiring. Whenever the subject comes up in my house, my wife informs me that she needs at least one year's notice before my retirement so that she can find a full-time job. Apparently, she thinks that social distancing is not just for pandemics.
Apparently, an elevated number of Americans have not only contemplated retirement recently, but have actually followed through. Estimates suggest that somewhere between one and a half million and two and a half million people have retired since COVID-19 took root in the second quarter of last year. That is substantially higher than the pace we were witnessing prior to the pandemic.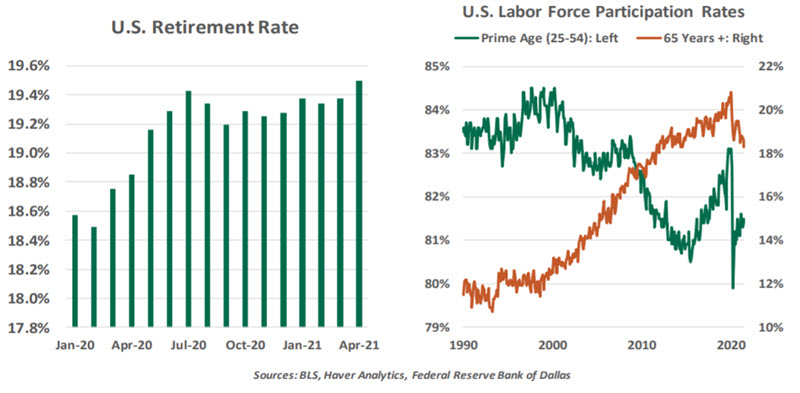 Prior to COVID-19, retirement had been occurring at increasingly advanced stages. Labor force participation for those over the age of 65 has been rising steadily for thirty years; more than one in five people in that group were still working or looking for work prior to the pandemic. Most jobs are no longer physically taxing, and accumulated experience is very valuable to service occupations. Those who continue working often do so for the mental stimulation and to remain connected to the community formed by colleagues. 
So the sudden curtailment of so many careers comes as quite a surprise. The unexpected departure of that many people from the labor force could create problems for the economy: while job creation has been robust over the past several months, there remain a lot of job openings and a lot of businesses hindered for want of help. Labor shortages have placed upward pressure on wages, which could carry over into uncomfortable levels of inflation.
It is easy to imagine reasons why workers might think about calling it a career under present circumstances. To some, workplaces present health risks that they can't get comfortable with; to others, hybrid work arrangements reduce the in-person interactions that they find valuable. Employees displaced by the pandemic might be facing dim prospects for re-employment, and decide that retirement is preferable to an extended and uncertain job search.
But many of the people who say that they have retired simply cannot afford to stop working. A study of the recent retirement boom by The New School illustrates that many recent retirees have very modest levels of education. The Federal Reserve's most recent Survey of Consumer Finances (SCF) found that those without a college degree typically have very limited financial resources.
Many Americans who say they have retired cannot afford to do so.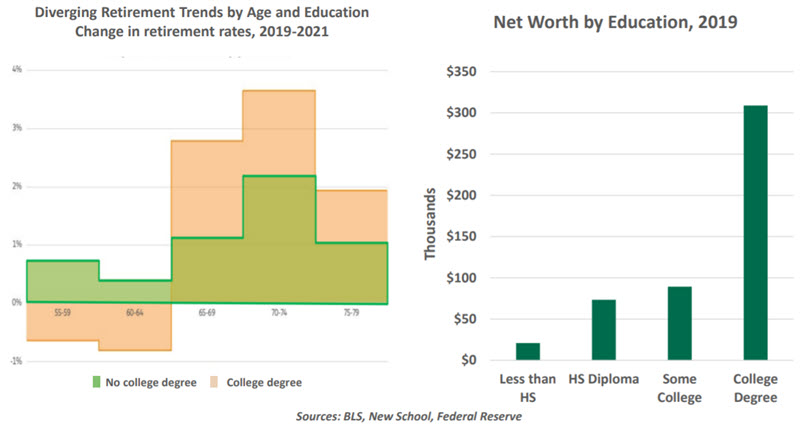 We've discussed the challenge of retirement preparation in the past. It isn't the easiest exercise, even for those who are better-educated; planning requires assumptions about health, asset returns, and lifestyle choices that go far off into the future. Gaps in financial literacy and the natural myopia of human perspective add to the challenge. Less than half of American workers in the private sector take advantage of employer-provided retirement plans when they are available.
Job interruptions caused by the pandemic have led many to deplete what little saving they had. Unemployment benefits have been available for a long period, but supplementary support passed by the Congress last year will expire next month. For most of the recent retirees, there is no gold left for their golden years.
So with more than ten million positions currently open in the U.S. economy and wages rising, expect a number of workers to come out of their reported retirement soon. That should help ease capacity constraints at service businesses and ameliorate the fierce competition for talent that has characterized the summer months.
The ranks of those returning to the workforce may include my wife, who has decided to begin a job search even though I have not yet signaled that I am near retirement. The risk of too much togetherness is apparently too much for her to bear.

Don't miss our latest insights:

Summer Reading: Perspectives On The Pandemic

House Prices Are Raising the Roof

---
Information is not intended to be and should not be construed as an offer, solicitation or recommendation with respect to any transaction and should not be treated as legal advice, investment advice or tax advice. Under no circumstances should you rely upon this information as a substitute for obtaining specific legal or tax advice from your own professional legal or tax advisors. Information is subject to change based on market or other conditions and is not intended to influence your investment decisions.
© 2021 Northern Trust Corporation. Head Office: 50 South La Salle Street, Chicago, Illinois 60603 U.S.A. Incorporated with limited liability in the U.S. Products and services provided by subsidiaries of Northern Trust Corporation may vary in different markets and are offered in accordance with local regulation. For legal and regulatory information about individual market offices, visit northerntrust.com/terms-and-conditions.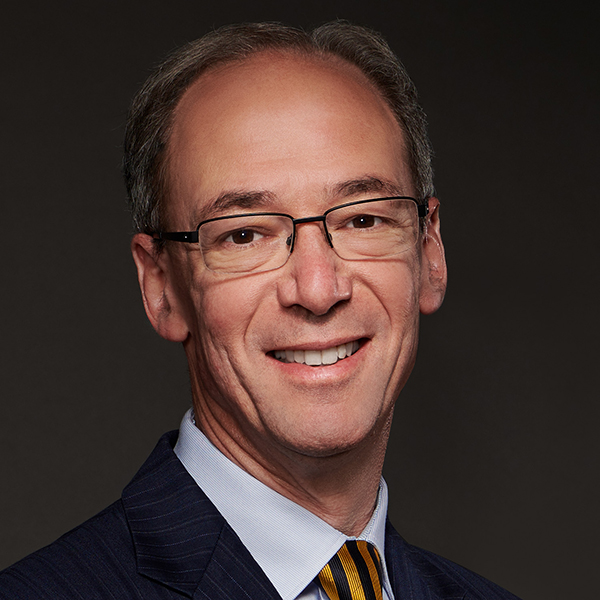 Carl R. Tannenbaum
Executive Vice President and Chief Economist
Carl Tannenbaum is the Chief Economist for Northern Trust. In this role, he briefs clients and colleagues on the economy and business conditions, prepares the bank's official economic outlook and participates in forecast surveys. He is a member of Northern Trust's investment policy committee, its capital committee, and its asset/liability management committee.
The pandemic has fueled a housing boom.
Many lessons from Spanish Flu are still relevant today.