Subscribe to Economic Trends & Insights
Discover our latest insights on all economic news, from breaking headlines to long-term trends.
Commodities Rising
Steel, lumber, oil, copper: Input prices have risen, but their importance as an inflation driver has fallen.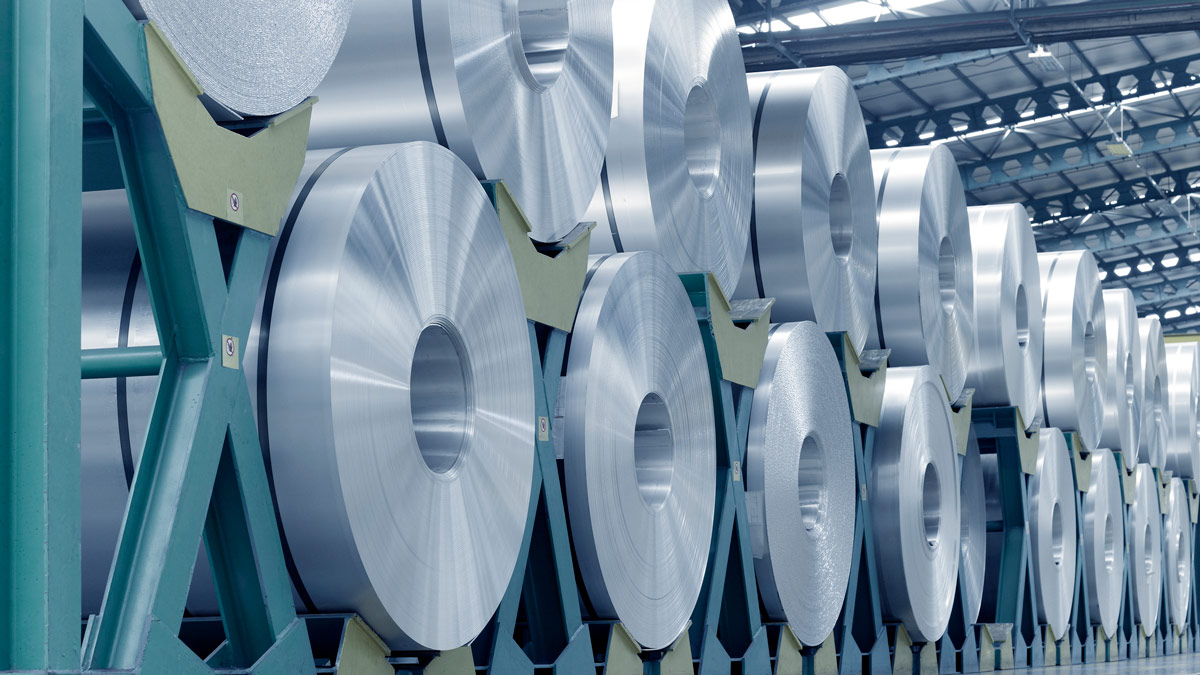 As U.S. economic activity gathers momentum, the economy is facing its biggest inflation scare in four decades.  The headline consumer price index (CPI) jumped 5% year-over-year in May.  As discussed below, some quirks have contributed to this outsized result.  But recent surges in commodity prices are harder to dismiss. 
Raw materials like aluminum, copper, oil, iron ore and lumber have all been in short supply in recent months, and their prices have hit record highs.  Copper, a metal closely linked to global growth owing to its usage in housing and electronics, had soared above $10,000 per metric ton.  Gasoline futures prices doubled over the past year, while lumber futures had more than tripled at their peak last month. 
There is little doubt that the economic reopening has contributed to higher demand for goods and services that utilize major commodities in many countries.  However, not everything is explained by improving demand.  Financial and supply-side factors have also been at work. 
Factories and mines were severely disrupted by COVID-19.  Inventories have been depleted, leading to pricing premiums.  As we wrote here, supply chain disruption has contributed to shortages of materials and delays in their receipt.  Both have added to increases in their costs.
Markets have also been a factor in the recent surge in prices of minerals, metals and energy.  Investors have been turning towards commodities as a way to hedge against inflation, which has become a central concern this year.  In the wake of this week's messaging from the Federal Reserve, though, futures prices for metals have been in steep retreat.  Hopefully, this will reduce pressure on spot prices in the weeks ahead.
Commodities play a vital role in the economy, but studies show their diminished importance, "both as share of final output and as a source of exogenous shocks to the economy."  According to research by economists at the Federal Reserve Bank of New York, commodities play a more limited role in the cost of production than they used to, as businesses have become more efficient. 
In advanced economies, goods represent a much smaller share of consumer inflation than do other costs.  Labor is the largest expense in the production of most commodities (less food), which account for a little over 20% of the U.S. consumer price basket.  Technological innovations have allowed producers to use raw materials more efficiently, which limits the inflation generated by resource prices. 
By contrast, services constitute more than 60% of the basket; labor is virtually the sole factor of production in these cases.  As a result of these factors, the correlation of key commodity prices with the CPI has weakened in recent decades and turned negative in the last 10 years.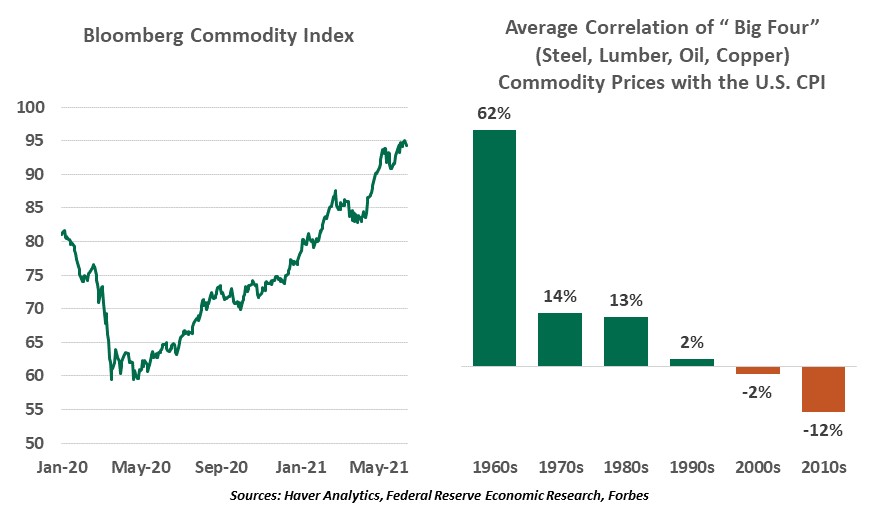 All that said, surging commodity prices cannot be ignored entirely.  Manufacturers are taking a hit on their margins from the temporary stress in raw materials markets and are under increasing pressure to pass the burden on to consumers.  Commodity prices also provide an important signal on the balance between supply and demand (a key factor in inflation) in an economy, and usually react more rapidly to changes in the economy than do prices of final products. 
The influence of commodity prices on consumer prices is not what it used to be.
Lumber became one of the hottest commodities earlier this year as housing boomed and supply issues limited the availability of wood.  But prices in this arena have declined significantly from their overall highs.  A shutdown in May of the East Coast's main pipeline for refined fuels pressed gasoline prices sharply higher, but the pressure receded once the pipeline resumed operation.  Copper prices have tumbled to their multi-week lows on the back of China's decision to release key industrial metals reserves and a reversal of sentiment surrounding inflation risk.
These developments support our view that elevated commodity prices are likely to be transitory.  After producers work through supply chain bottlenecks, pent-up demand will fade.  The steamy commodities markets will likely lose steam over the balance of this year.
Don't miss our latest insights:

The Fed's Next Steps
---
Information is not intended to be and should not be construed as an offer, solicitation or recommendation with respect to any transaction and should not be treated as legal advice, investment advice or tax advice. Under no circumstances should you rely upon this information as a substitute for obtaining specific legal or tax advice from your own professional legal or tax advisors. Information is subject to change based on market or other conditions and is not intended to influence your investment decisions.
© 2021 Northern Trust Corporation. Head Office: 50 South La Salle Street, Chicago, Illinois 60603 U.S.A. Incorporated with limited liability in the U.S. Products and services provided by subsidiaries of Northern Trust Corporation may vary in different markets and are offered in accordance with local regulation. For legal and regulatory information about individual market offices, visit northerntrust.com/terms-and-conditions.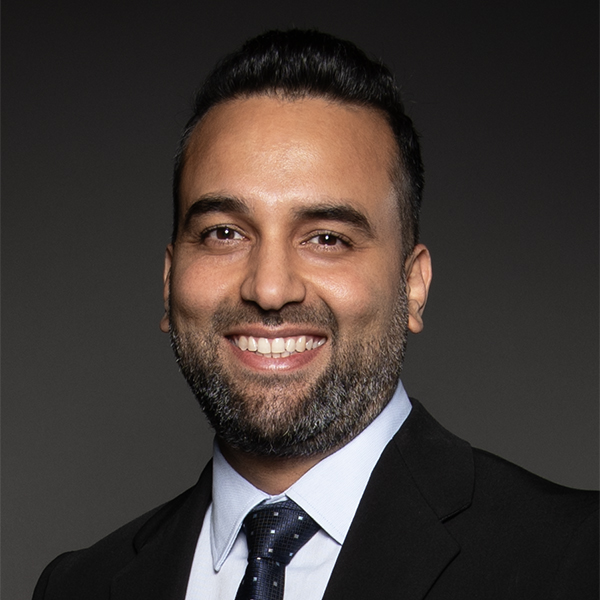 Vaibhav Tandon
Vice President, Economist
Vaibhav Tandon is an Economist within the Global Risk Management division of Northern Trust. In this role, Vaibhav briefs clients and colleagues on the economy and business conditions, supports internal stress testing and capital allocation processes, and publishes the bank's formal economic viewpoint. He publishes weekly economic commentaries and monthly global outlooks.
Investors are getting more confident that inflation will remain modest.
The Fed is talking about tapering its asset purchases.