Subscribe to Economic Trends & Insights
Discover our latest insights on all economic news, from breaking headlines to long-term trends.
This Expansion Doesn't Get A Lot Of Credit
Household savings and central bank policies have reduced the need for credit.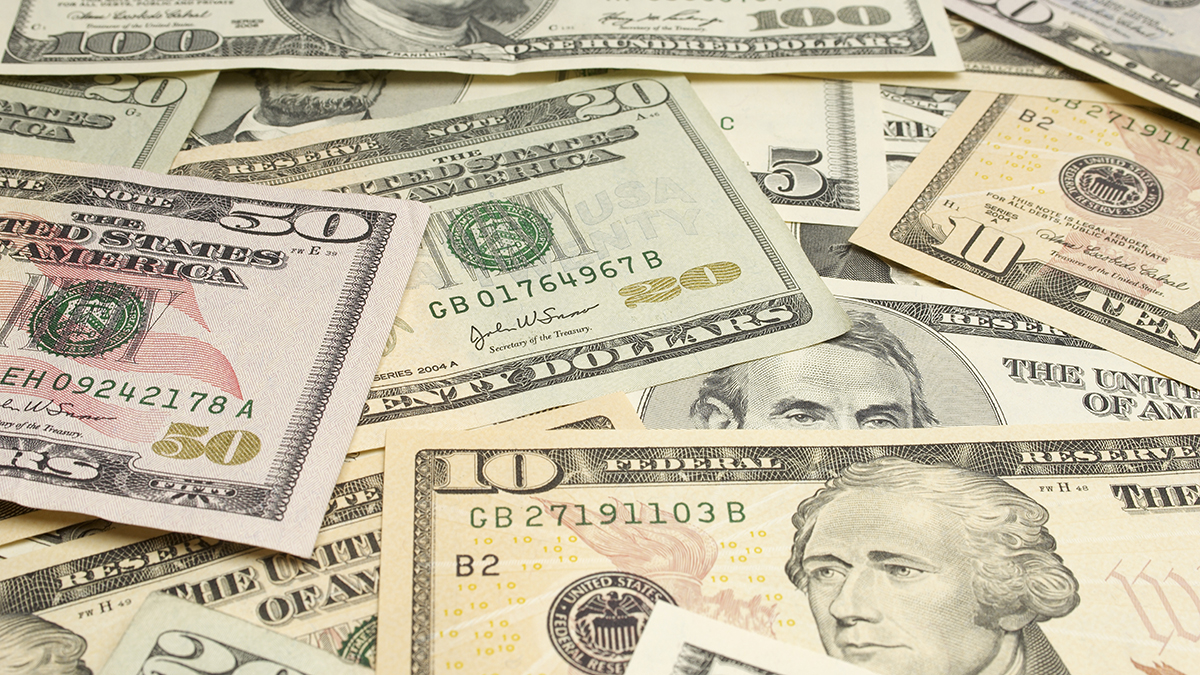 Lending is fundamentally quite simple. Many of us first figured it out on the schoolyard, when we were asked to lend a classmate lunch money. The credit decision came down to three basic questions: How well do I know this person, and will I see him again? Is he the sort of person who borrows frequently? And does he have a good baseball card collection that I could pursue if he fails to pay me back?
As we grow older, the stakes of lending and borrowing get higher as we take out loans for business creation or major purchases like homes and automobiles. Credit files take the place of classroom observations. However, the decision still comes down to the "three C's" of lending: assessing the borrower's character, capacity and collateral.
This year, a new challenge has emerged for lenders, and the three C's are now accompanied by a D: demand. Lenders have been accustomed to an ample flow of potential borrowers, which allowed them to be selective about the loans they issued. But now, demand for most types of loans is much lower than would be expected in a rapidly growing economy.
Consumer lending is showing uneven growth. Mortgage and auto balances have risen steadily, especially as those assets have gained value. Aggregate credit card balances, however, stand $140 billion below the level recorded at the end of 2019, holding at levels last seen in 2017.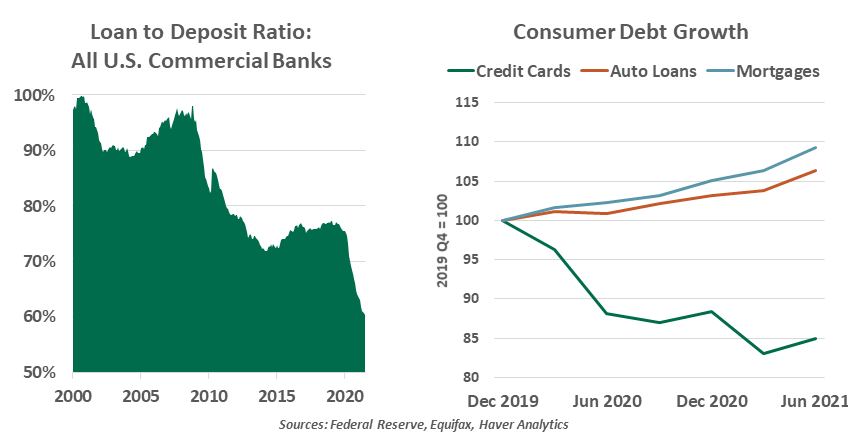 In the recovery from a recession, we might expect consumers to spend less money, but that has not been the story this time around. Second quarter U.S. gross domestic product (GDP) growth was led by strong consumer spending. Retail sales are well above their pre-pandemic levels, and they do not fully reflect the rebound in services spending in this year of reopening. And card accounts are getting a workout: As e-commerce and contactless transactions have gained lasting popularity, consumers are certainly using their cards actively—but they are now more likely to pay their balances in full each month.
A very high level of saving is limiting the need for households to carry credit card balances. Most U.S. consumers have received at least $3,400 in direct stimulus payments since spring of 2020 (more for parents). For consumers living on tight budgets who carried credit card balances out of necessity, that cash infusion was an opportunity to pay down loans. With each successive round of stimulus payments, recipients were more likely to use the proceeds for saving or reducing debt. Personal saving rates set new records in the crisis, as consumers received payments with fewer opportunities to spend them. The most recent reading of 9.6% aggregate savings (as a percent of annual income) remains above the pre-pandemic norm.
Loans were not the remedy for the economic challenges of COVID-19.
Consumers gained other subsidies over the past year. Many had their student loan payments suspended and filed for mortgage forbearance, while some went so far as to simply choose not to pay rent. While these obligations will still come due in the future, they did immediately serve to improve household cash flows, enabling more saving and less reliance on credit. 
Business lending has similarly not encountered a great deal of demand. In last year's crisis, the Fed acted decisively to keep corporate bond markets open. Rates were low, and corporate treasurers took great advantage. According to SIFMA, corporate bond issuance surged to $333 billion in April 2020 and still remains well above its average monthly pace of $119 billion in 2019. With credit spreads holding near historic lows, it is no wonder that bond markets have become a preferred source of capital; private debt and equity also stand at the ready.
Cheap funding in bond markets has crowded out bank lending. Banks have relaxed their loan underwriting standards after abruptly tightening in the uncertainty of the initial COVID-19 shutdowns. Now, the glut of savings has pushed up banks' deposit base from which to issue loans, and low interest rates have kept the cost of interbank funding low. Banks' vaults are full, but their loan application baskets are empty.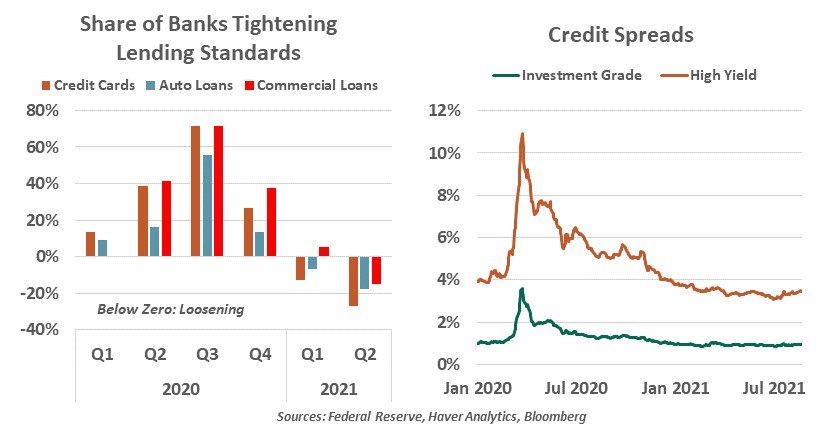 Loans were not the remedy needed to bring the economy through the crisis; direct stimulus proved much more effective. The Federal Reserve spun up the Main Street Lending facilities to encourage banks to make business loans, but they saw little uptake. Businesses have returned to growth but have not needed to pursue much additional capital; the mix of low rates and high savings have left credit markets in a liquidity trap.
Debt markets are especially liquid today due to the Federal Reserve's ongoing asset purchases. By buying $120 billion per month of U.S. Treasury debt and mortgage-backed securities, the Fed is pushing more private capital into higher-risk assets, driving yields lower. While the central bank's actions in the crisis were applaudable, we have reached a state of more money in the system than needed and more credit than could be absorbed. The Fed is being cautious in its announcement and rollout of a tapering plan, but it is clear that markets are ready for the Fed's participation to end.
Lending will resume as savings are depleted and asset purchases end.
Ample liquidity and elevated savings are favorable conditions, certainly better than the alternatives of scarcity and leverage that could lay the foundation for a financial crisis. We view the current sluggish state of lending as a sign of excess liquidity keeping the economy from returning to normal. In the year ahead, the Fed will reduce its role in bond markets, and consumers will deplete their cash cushions. 
A return to growth in responsible borrowing will be another indicator of an a return to normalcy. To monitor the situation, we are collecting data from local schoolyards on the market for lunch money. So far, nothing to be concerned about.
Don't miss our latest insights:

Food for Thought

Trucking Is In The Slow Lane
---
Information is not intended to be and should not be construed as an offer, solicitation or recommendation with respect to any transaction and should not be treated as legal advice, investment advice or tax advice. Under no circumstances should you rely upon this information as a substitute for obtaining specific legal or tax advice from your own professional legal or tax advisors. Information is subject to change based on market or other conditions and is not intended to influence your investment decisions.
© 2021 Northern Trust Corporation. Head Office: 50 South La Salle Street, Chicago, Illinois 60603 U.S.A. Incorporated with limited liability in the U.S. Products and services provided by subsidiaries of Northern Trust Corporation may vary in different markets and are offered in accordance with local regulation. For legal and regulatory information about individual market offices, visit northerntrust.com/terms-and-conditions.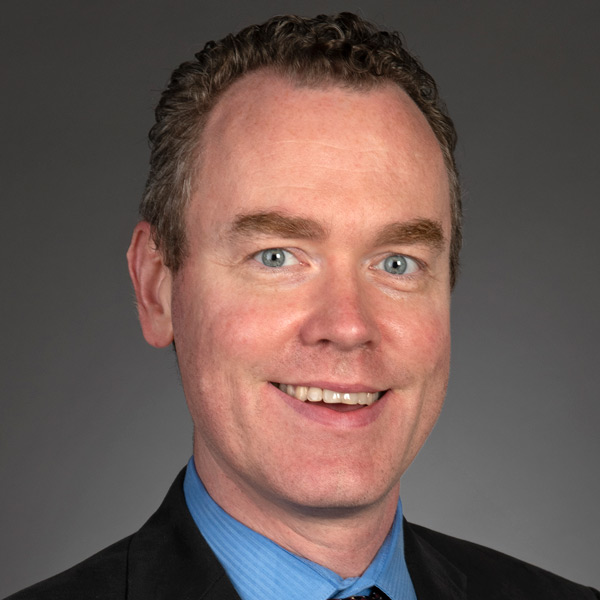 Ryan James Boyle
Vice President, Senior Economist
Ryan James Boyle is a Vice President and Senior Economist within the Global Risk Management division of Northern Trust. In this role, Ryan is responsible for briefing clients and partners on the economy and business conditions, supporting internal stress testing and capital allocation processes, and publishing economic commentaries.
Food inflation is the last thing that people or policymakers can afford.
Trucks are a vital link in supply chains, but there aren't enough people to drive them.