Who We Serve

What We Do

About Us

Insights & Research
Who We Serve

What We Do

About Us

Insights & Research
Subscribe to Economic Trends & Insights
Discover our latest insights on all economic news, from breaking headlines to long-term trends.
The Fed's Next Steps
The Fed is talking about tapering its asset purchases.
This week's meeting of the Federal Open Market Committee (FOMC) gave further evidence of recovery: In its quarterly Summary of Economic Projections (SEP), the "dot plot" outlook showed that a majority of Fed governors expect a higher federal funds rate by 2023.  In March, the median called for unchanged rates until at least 2024. While the direction of the change is logical (few would argue that the policy rate should stay near zero in perpetuity), a documented timeline makes the shift feel tangible. 
With the possibility rising of a change in policy, the Fed will face greater scrutiny in its decision-making.  Its responses to the COVID-19 crisis were swift, helpful, and applauded by investors. It now faces the challenge of pulling back a bit without upsetting markets.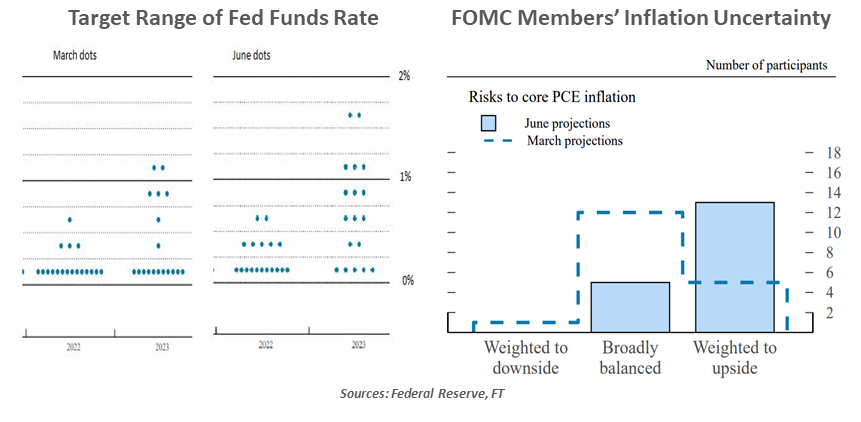 Inflation and employment metrics are both in perplexing states that may complicate the Fed's upcoming decisions. Much ink has been spilled on the topic of inflation, including our own recent commentaries (here and here).  In his post-meeting press conference, Fed Chair Jerome Powell reiterated his view that temporary bottlenecks were responsible for the bulk of recent jumps in prices, and the FOMC would appear to agree.  The SEP inflation forecast for 2022 rose, but expectations for 2023 did not change much.  That said, a majority of FOMC participants indicated inflation risk is to the upside.
The Fed is a lightning rod for inflation concerns, as it has a mandate to maintain stable prices.  Some have called for immediate reductions in asset purchases to head off problems later on.  However, much of the current attention is misplaced.  The Fed has no tools or remit to advance vaccines, bolster semiconductor supply chains or control the prices of used cars.  Changing course to battle inflation that proves fleeting could unsettle markets and put the booming recovery at premature risk.
Excessive focus on inflation also takes attention away from the other side of the Fed's dual mandate: maximum employment.  While they have not set an explicit target, Powell and other Fed governors have expressed the desire to recreate the strong and inclusive state of the labor market through 2019, when the unemployment rate held at 3.5% and job growth and wage gains accrued to workers across races and income levels.  With current unemployment of 5.8% and labor force participation still well down from its pre-pandemic standing, the labor market has a lot of ground to retrace. 
In April, Powell said the FOMC would need to see "a string of months" of job creation of a million jobs or more as evidence of recovery.  That statement came on the heels of the report of more than 900,000 jobs created in March; a million seemed to be in sight.  Job creation since then, however, has been tepid: March was revised down, April was far below expectations, and May was still well below potential.  The problem may be on the supply side: a variety of temporary factors are holding workers back from the labor markets.  These constraints should ease significantly between now and the end of the year.
The inclusiveness of the employment recovery is improving.  Earlier in the recovery, white workers returned to work earlier, and men experienced less of a decline in employment.  For the past several months, however, labor force participation and employment by women and minorities have all shown gains.  There is still ground to cover; Fed chair Powell indicated he is still seeking more broad-based and inclusive outcomes.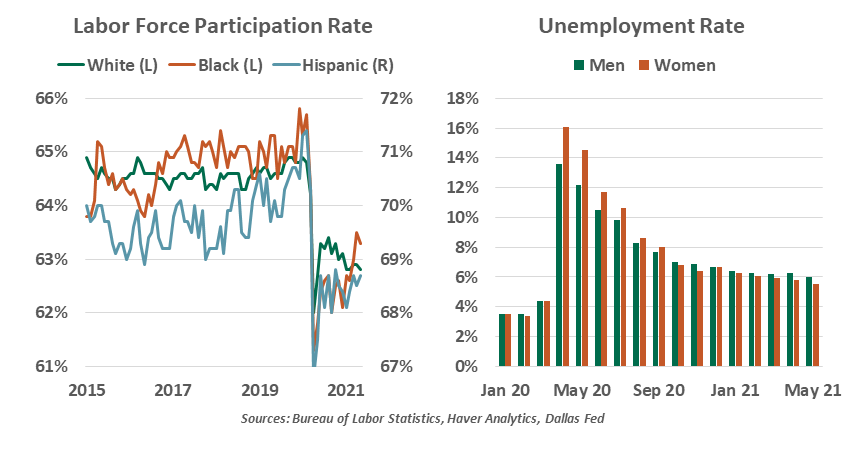 The Fed's next step will need to be a tapering of its asset purchases.  It is still purchasing $80 billion of U.S. Treasuries and $40 billion of mortgage-backed securities every month, the same pace of purchases it began in the heat of COVID-19 shutdowns in March of 2020.  While dislocations remain, the economic outlook is comprehensively better today than it was last year, and the same level of accommodation is no longer needed.  A substantial portion of the liquidity the Fed has pushed into the financial system over the past 15 months has returned unused.
Labor markets still have considerable room for improvement.
The Fed will be careful in its communication so as to not upset markets with incomplete guidance, as happened in the 2013 "taper tantrum." Earlier in 2021, Powell said the FOMC wasn't even "thinking about thinking about" any changes. As the months have progressed and the indicators have improved, officials have gradually changed their language: In his press conference this week, Powell admitted the FOMC was "talking about talking about tapering."
The discussions will likely intensify in the coming months.  The Fed's annual Jackson Hole conference (which will apparently be held in person again this year) has often been used to provide signals, and we'll get an updated set of forecasts and expectations from the FOMC in September.  If the U.S. economy continues to progress as we anticipate it will, the Fed's asset purchases will be reduced starting in January and its balance sheet will be stabilized in the middle of 2022.
Tapering is on the horizon, but rate increases are further in the distance.
It should be noted here that "tapering" is not "tightening."  Even at a reduced rate, asset purchases by the Fed will still be expanding, adding to the level of reserves in the financial system.  But beginning to taper would start the countdown towards potential increases in interest rates, which would be restrictive.  Current readings from the Fed, the markets, and private forecasters suggest that juncture may arrive sooner than previously thought.  This prospect has led long-term interest rates and inflation expectations lower.
To be sure, the dot charts are not the best signal of Fed policy. Each depends on the forecast of the contributor; as Chair Powell said in his press conference, forecasters have a lot to be humble about.  Some dots come from more influential members of the FOMC, but we can't tell which ones they are. 
Nonetheless, the messaging from Washington this week marks a progression.  This is good news, because it reflects economic improvement.  But it also begins a delicate period ahead for the Fed.


Don't miss our latest insights:
---
Information is not intended to be and should not be construed as an offer, solicitation or recommendation with respect to any transaction and should not be treated as legal advice, investment advice or tax advice. Under no circumstances should you rely upon this information as a substitute for obtaining specific legal or tax advice from your own professional legal or tax advisors. Information is subject to change based on market or other conditions and is not intended to influence your investment decisions.
© 2021 Northern Trust Corporation. Head Office: 50 South La Salle Street, Chicago, Illinois 60603 U.S.A. Incorporated with limited liability in the U.S. Products and services provided by subsidiaries of Northern Trust Corporation may vary in different markets and are offered in accordance with local regulation. For legal and regulatory information about individual market offices, visit northerntrust.com/terms-and-conditions.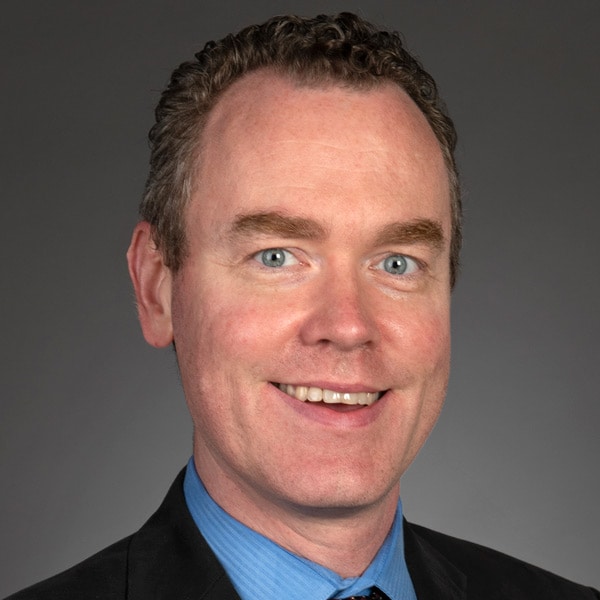 Ryan James Boyle
Senior Vice President, Senior Economist
Ryan James Boyle is a Senior Vice President and Senior Economist within the Global Risk Management division of Northern Trust. In this role, Ryan is responsible for briefing clients and partners on the economy and business conditions, supporting internal stress testing and capital allocation processes, and publishing economic commentaries.
Investors are getting more confident that inflation will remain modest.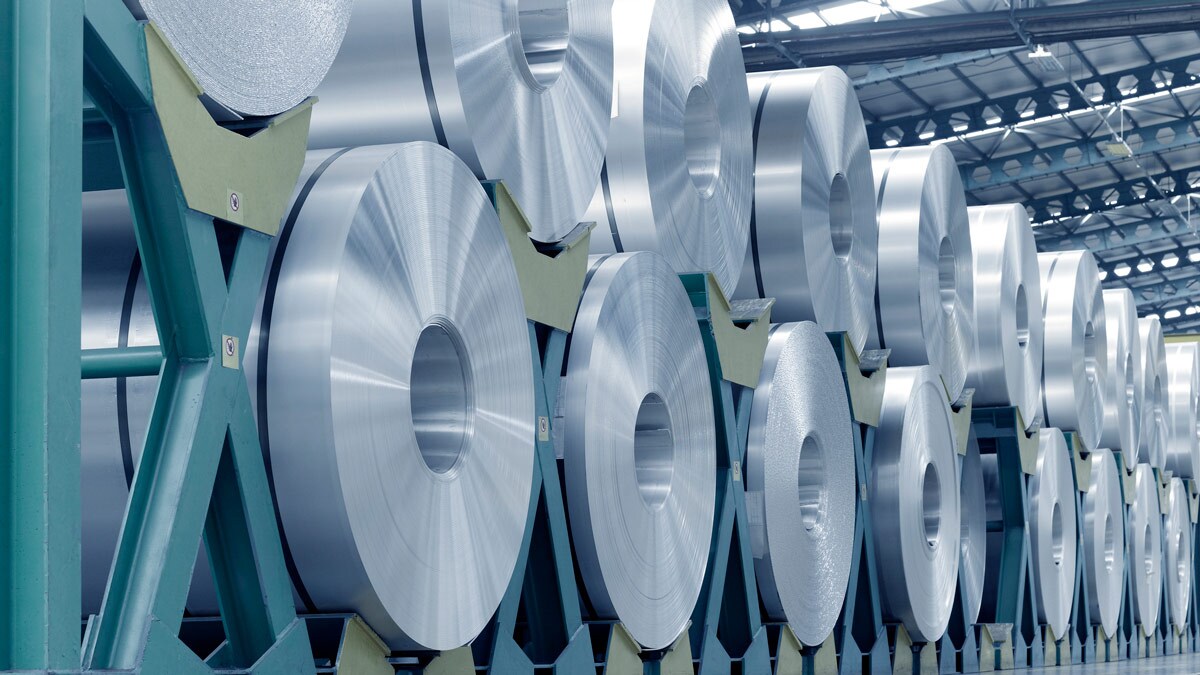 Steel, lumber, oil, copper: Input prices have risen, but their importance as an inflation driver has fallen.