Subscribe to Economic Trends & Insights
Discover our latest insights on all economic news, from breaking headlines to long-term trends.
Will Germany Get Stuck At A Traffic Light?
A major overhaul of German and European fiscal rules is unlikely.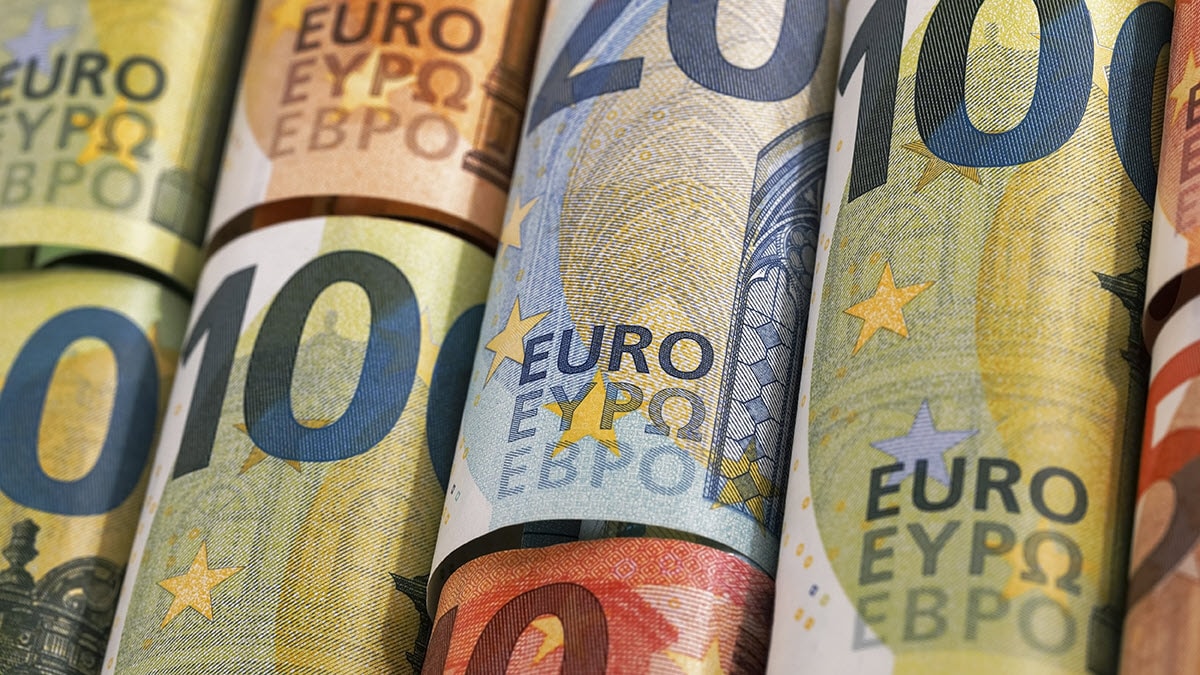 For decades, Germany has enjoyed relatively stable governments with its leading party sitting in the driving seat and a smaller one helping to navigate.  Things are likely to be a bit different in the next German government, with more than two parties along for the ride.  The world is eagerly awaiting news of who will be driving, who the passengers will be, and what course they will set.
The September 26 German election was a watershed moment.  Outgoing Chancellor Angela Merkel has presided over the Bundestag for 16 years; she is, by far, the longest-tenured leader in the world's top ten economies.  She survived at least three economic crises, yet the country has witnessed immense prosperity.  Output per capita in Germany has far exceeded other western nations, while unemployment and public debt are the lowest among its regional peers.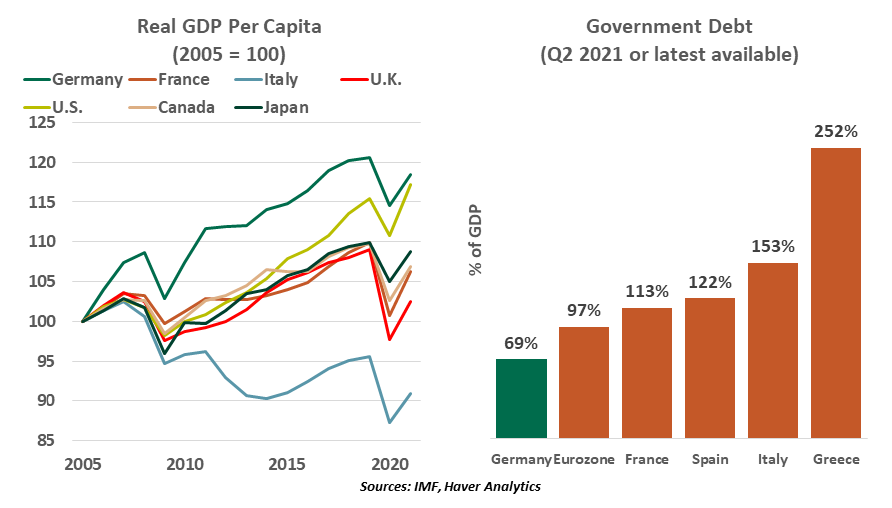 Merkel has become very influential on European and global stages, and was central to guiding the eurozone through crises in 2008, 2012, and 2020.  Some say that the common currency region might have fractured by now if it hadn't been for Merkel's ability to hold the group together.
During the 2012 debt crisis, Germany was instrumental in calming concerns and clearing hurdles to construct bailouts for the worst-hit member states.  Merkel was also able to provide backing for the massive European Central Bank easing program, despite the objection of some within the country.  Germany's economy, like any other, has had its share of ups and downs during her sixteen-year tenure, but most Germans have prospered under Ms. Merkel's leadership. 
The pandemic inflicted deep wounds on the German economy, but the pain was less severe than several other nations felt.  Berlin's effective fiscal response, coupled with a strong health care system, helped soften the social and economic blows.  Thanks to the extensive utilization of the short-time work scheme (kurzarbeit), the 1.4 percentage point increase in the unemployment rate in the first half of the year was modest. 
That said, all this damage control was expensive.  The pandemic forced Germany to ease spending rules last year, leading to the country's first public deficit since 2013, and its largest since reunification in 1990.  The federal government raised an additional €370 billion of debt in 2020 and 2021.  Fortunately, the majority of this debt carried negative interest rates.
Sunday's election delivered an inconclusive outcome.  Since then, colorful descriptions of possible coalitions have emerged, drawing from the hues associated with the various German parties.  Various combinations of green, red, yellow, and black might characterize the new coalition; variants therefore are referred to as traffic lights, or Jamaican, German, or Kenyan flags.
With no party gaining a majority at the polls, a coalition government may take a long time to form.  A Social Democratic Party (SDP)-led Traffic Light combination with the Greens and the Free Democratic Party (FDP) is the leading possibility for the next German government. 
While there is some economic policy overlap among the three parties of a potential Traffic Light coalition, there are major differences, too.  The SDP and the Greens are seeking to raise taxes on high income groups and increase investments, while the pro-business FDP favors tax cuts.  It seems very likely that fiscal policy divisions will stay high within the new German government and within the euro area. 
Germany's domestic fiscal stance will likely shape the EU's finances.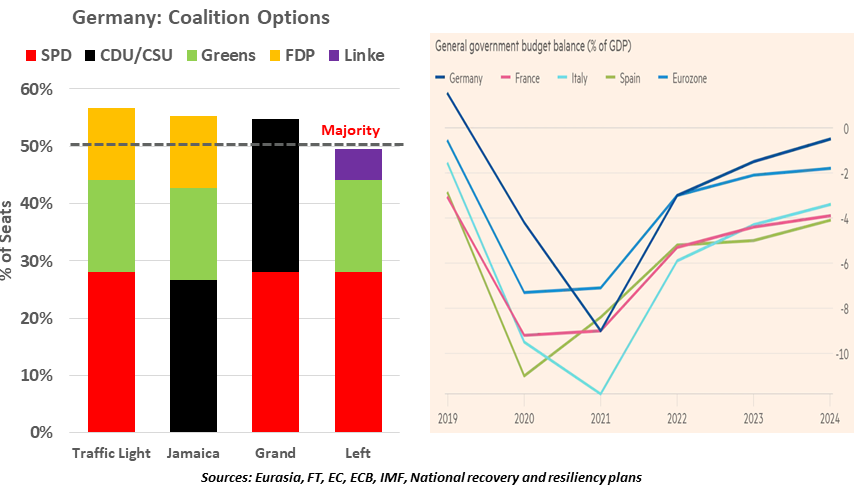 With the worst of the pandemic (hopefully) over, the first big challenge for the incoming government will be on dealing with the constitutional "debt brake" ─ a rule that limits the federal government's structural deficit to 0.35% of gross domestic product (GDP).  The SDP supports new borrowing, but only within the framework, while the pro-environment Greens are seeking to relax the rules with a €500 billion investment plan for the next decade.  On the other hand, the pro-business and fiscally conservative FDP is opposed to rewriting the debt brake rules.
Sticking to strict spending policies has had its own downsides. Despite being a world leader in technology and engineering, Berlin lags its peers on infrastructure as well as on progress towards a greener and more digital economy. Infrastructure spending in Germany remains much lower (2.7% of GDP) than other advanced economies. About 11,000 rail bridges are over a century old, and broadband speeds are slower in Germany than in many neighboring states. Even before COVID-19, Germany needed an estimated €450 billion of public investment for decarbonizing and improving communications, education and transport infrastructure.
As the largest economy in Europe, Germany's fiscal stance will also have implications for the broader region. A conservative fiscal policy at home will likely drive the EU back to the Stability and Growth Pact rules in 2023, and rekindle the tension between Northern and Southern European nations. The best outcome will be a more gradual debt adjustment, to ensure a robust recovery and prevent any long-term scarring from the pandemic.
Germany's fiscal prudence has weighed on its infrastructure.
On international matters, Germany, under a new government, could tilt towards adopting a tougher stance on China. However, it would likely come at a cost, considering Berlin's dependence on Beijing for its exports. About 8% of German goods are exported to China, the highest in the EU.
Merkel has been in power for four terms. She proved to be a steady hand at the wheel, both at home and abroad. The next German Ampelmännchen (traffic light man) will have to display exceptional skills in managing all the crucial junctions.
---
Information is not intended to be and should not be construed as an offer, solicitation or recommendation with respect to any transaction and should not be treated as legal advice, investment advice or tax advice. Under no circumstances should you rely upon this information as a substitute for obtaining specific legal or tax advice from your own professional legal or tax advisors. Information is subject to change based on market or other conditions and is not intended to influence your investment decisions.
© 2021 Northern Trust Corporation. Head Office: 50 South La Salle Street, Chicago, Illinois 60603 U. S. A. Incorporated with limited liability in the U. S. Products and services provided by subsidiaries of Northern Trust Corporation may vary in different markets and are offered in accordance with local regulation. For legal and regulatory information about individual market offices, visit northerntrust. com/terms-and-conditions.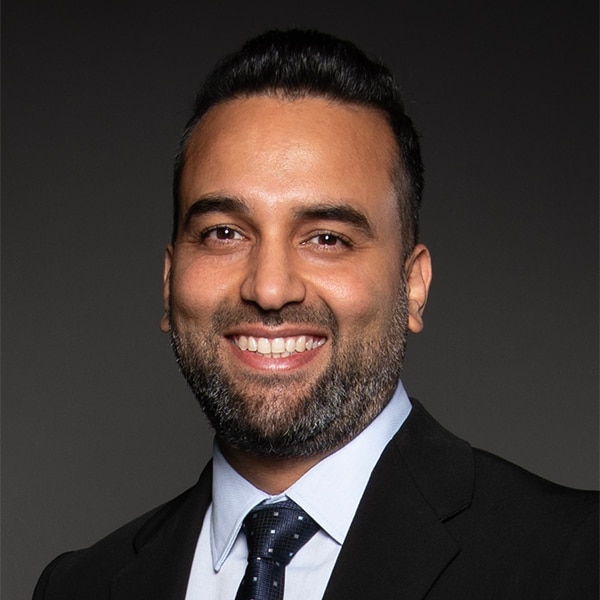 Vaibhav Tandon
Vice President, Economist
Vaibhav Tandon is an Economist within the Global Risk Management division of Northern Trust. In this role, Vaibhav briefs clients and colleagues on the economy and business conditions, supports internal stress testing and capital allocation processes, and publishes the bank's formal economic viewpoint. He publishes weekly economic commentaries and monthly global outlooks.
Energy bills will deliver a cold shock this winter
The end of special unemployment programs will encourage more workers to return.