Who We Serve

What We Do

About Us

Insights & Research
Who We Serve

What We Do

About Us

Insights & Research
Subscribe to Economic Trends & Insights
Discover our latest insights on all economic news, from breaking headlines to long-term trends.
Undoing Unemployment
The end of special unemployment programs will encourage more workers to return.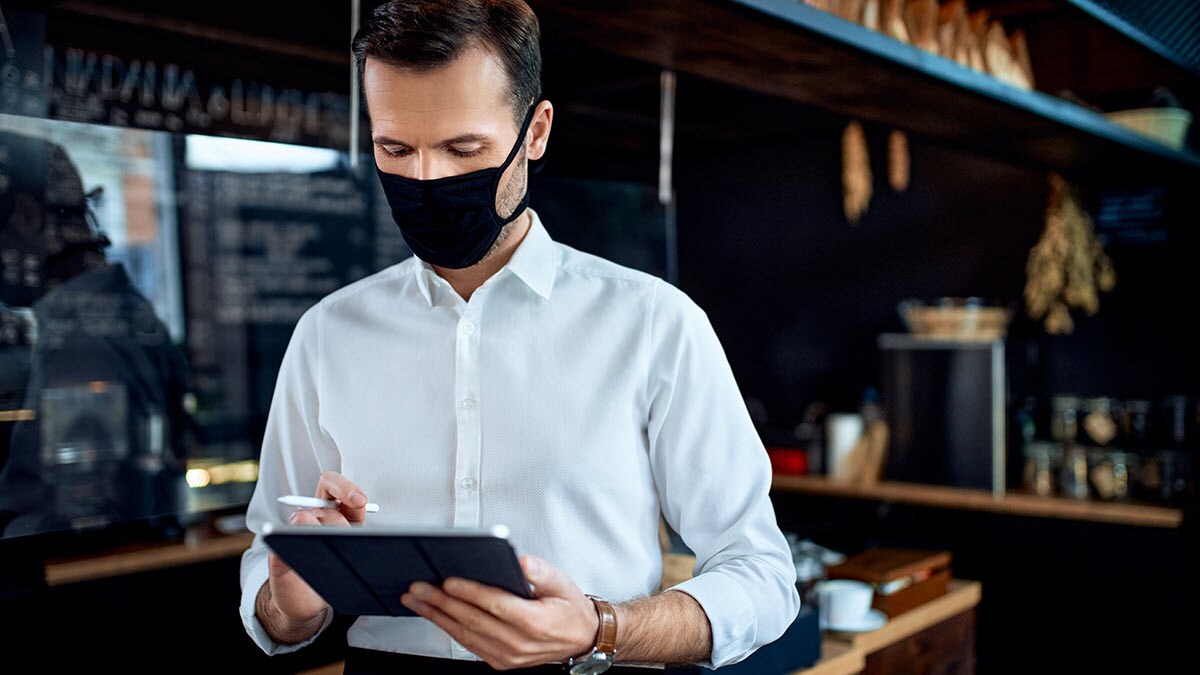 Returning to economic normalcy after the pandemic requires rolling back the extraordinary measures that supported the economy through the crisis.  On September 5, the special expansions of unemployment insurance (UI) made their last payments.  As of this week, the count of claimants in special federal programs, reported with a two-week lag, fell by a whopping 6.5 million people.  Will the end of this support lead to the start of employment for those workers?
As a refresher, the CARES Act launched three special programs that have just concluded.  Regular state UI payments were supplemented by $600 per week initially, then by $300, to help bridge the gap between typical income and the low value of state UI payments.  New programs were launched: Pandemic Unemployment Assistance (PUA) made UI payments to self-employed and gig workers who were previously ineligible, while Pandemic Emergency Unemployment Compensation (PEUC) extended benefits to those who exhausted their regular UI, which lasts 40 weeks in most states.
Early results from states that terminated the special programs as early as mid-June do not show a strong effect on employment.  Official measures of state unemployment rates did not show much marginal gain in these states; those who left the workforce were not compelled to return.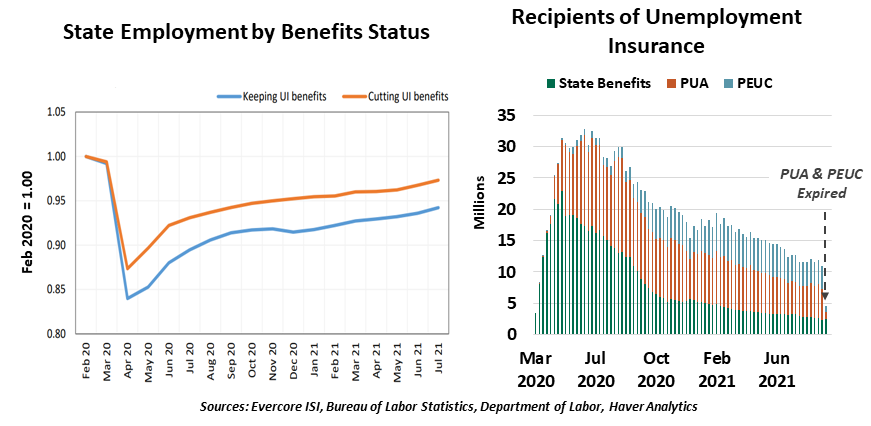 Expanded unemployment benefits were not the only reason for a slow return to work.
Anecdotes are emerging of lapsed benefits prompting greater search activity.  Employers with a large need for lower-paid workers, like fast food chains and hotels, report that applications increased in states that curtailed benefits.  Employers in those states observed fewer teenagers and a greater proportion of adults applying, suggesting an end to the boom in teen employment.
But millions remain on the employment sidelines.  This seems to confirm that UI benefits were not the only factor restraining the return to work.  Fortunately, other constraints are easing: schools are back in session, giving working parents more flexibility.  The Delta surge appears to be past its peak, allowing COVID-cautious workers to return with less trepidation.  Elevated consumer saving is depleting, and the number of job openings has set a new record for four months and counting.
We expect more and more workers to return to the labor force over the coming months.  But for those still on the fence, money isn't everything.
---
Information is not intended to be and should not be construed as an offer, solicitation or recommendation with respect to any transaction and should not be treated as legal advice, investment advice or tax advice. Under no circumstances should you rely upon this information as a substitute for obtaining specific legal or tax advice from your own professional legal or tax advisors. Information is subject to change based on market or other conditions and is not intended to influence your investment decisions.
© 2021 Northern Trust Corporation. Head Office: 50 South La Salle Street, Chicago, Illinois 60603 U.S.A. Incorporated with limited liability in the U.S. Products and services provided by subsidiaries of Northern Trust Corporation may vary in different markets and are offered in accordance with local regulation. For legal and regulatory information about individual market offices, visit northerntrust.com/terms-and-conditions.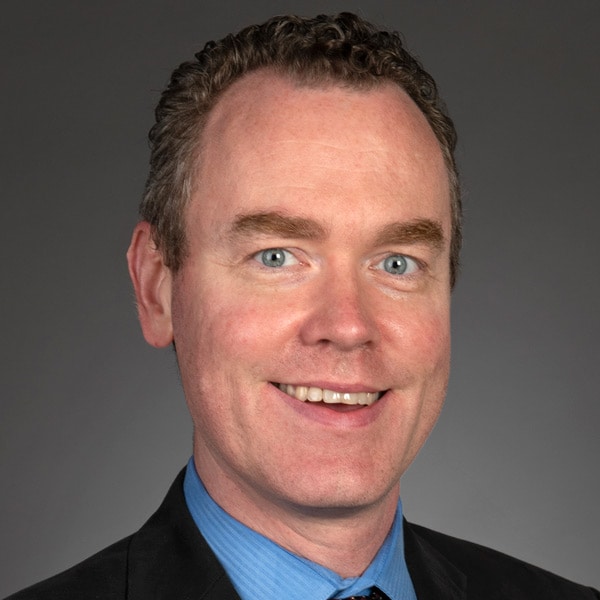 Ryan James Boyle
Senior Vice President, Senior Economist
Ryan James Boyle is a Senior Vice President and Senior Economist within the Global Risk Management division of Northern Trust. In this role, Ryan is responsible for briefing clients and partners on the economy and business conditions, supporting internal stress testing and capital allocation processes, and publishing economic commentaries.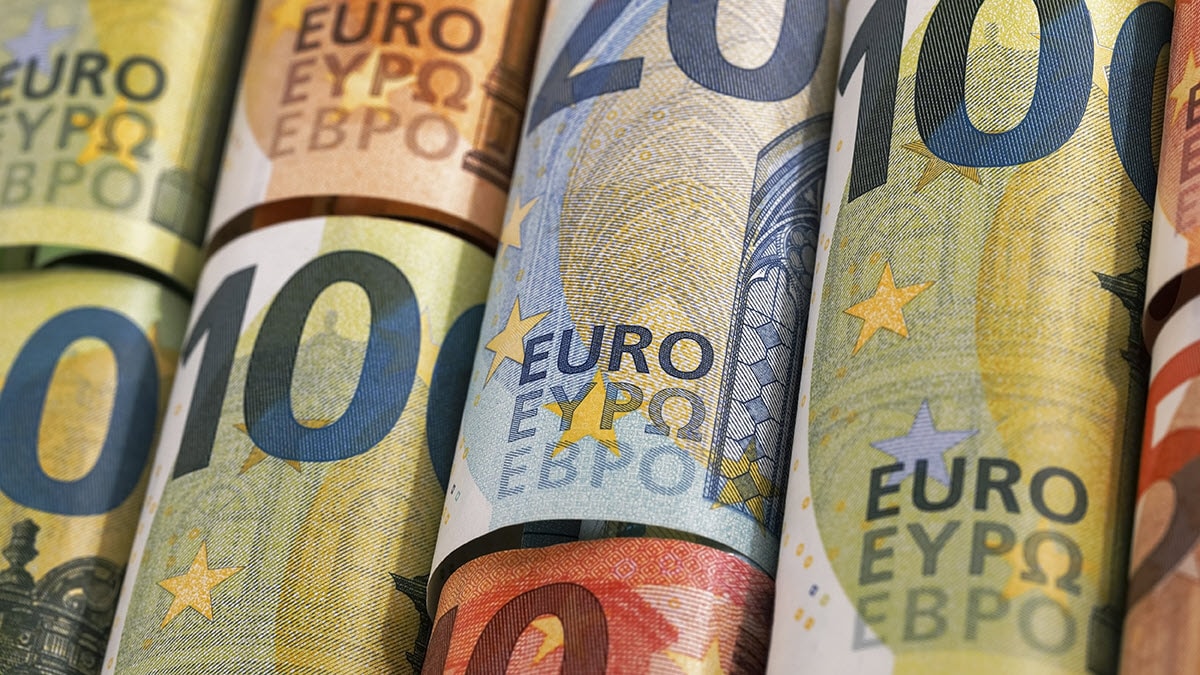 A major overhaul of German and European fiscal rules is unlikely.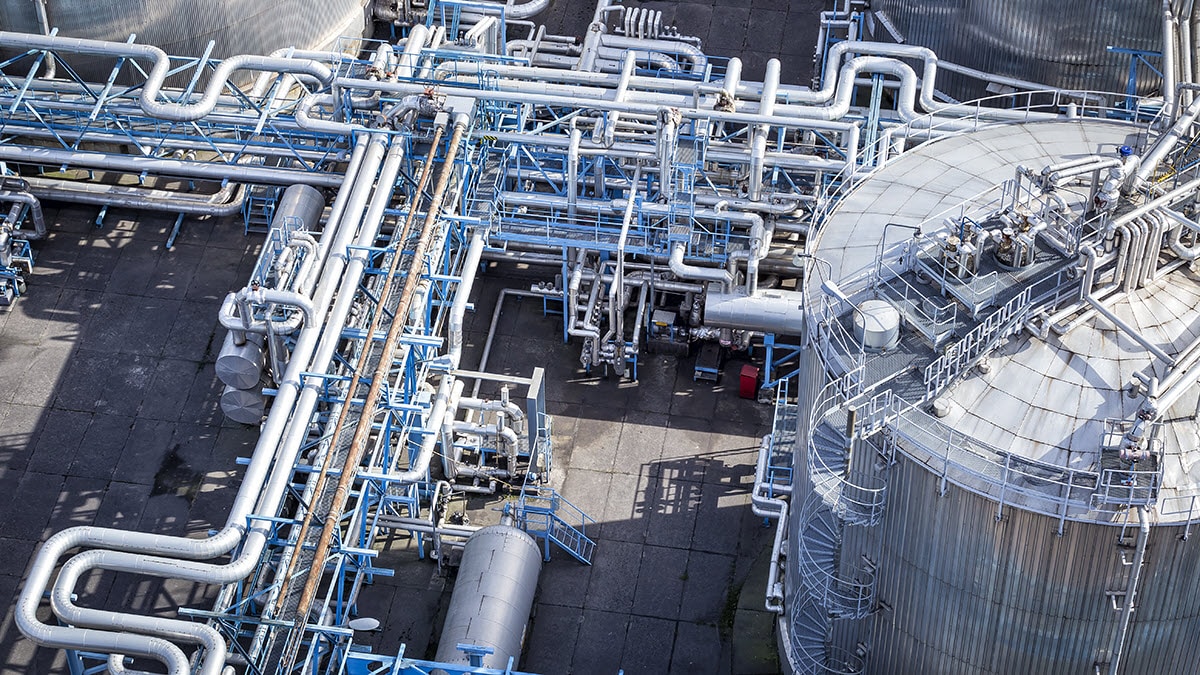 Energy bills will deliver a cold shock this winter