Subscribe to Economic Trends & Insights
Discover our latest insights on all economic news, from breaking headlines to long-term trends.
The Return of Industrial Policy
Governments are finding their place in supporting development.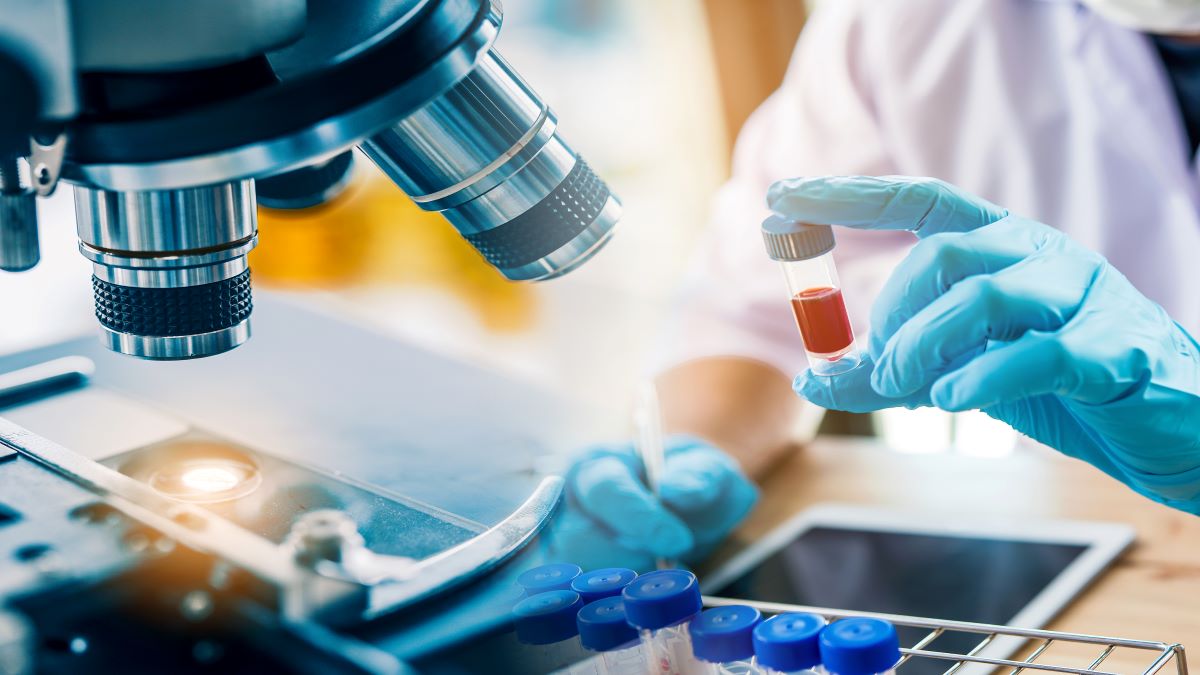 In my lifetime, the world economy has been on a trajectory toward free markets. Some of the earliest geopolitical headlines I can recall include the fall of the Berlin Wall, a major blow to communism, and the signing of the North American Free Trade Agreement, which cemented a free market on my home continent. In this era, India liberalized its economy while other Asian nations gained prominence in world trade.
Now, after a long run, the winds are shifting. The U.S. and many other nations are moving away from free market capitalism and toward active industrial policy: national strategies to support growth and geopolitical advantages within parts of the economy.
The COVID-19 pandemic brought many market shortcomings to light. In the first wave of the pandemic in spring 2020, nations scrambled to secure their supplies of personal protective equipment, revealing that most of these products were imported from China. Later in the year, as vaccines went into production, dependencies on foreign suppliers presented a risk for access to the vaccine. In recent months, the semiconductor shortage disrupted the automotive market and remains a risk to other sectors, with little global capacity to produce chips outside of Taiwan and mainland China.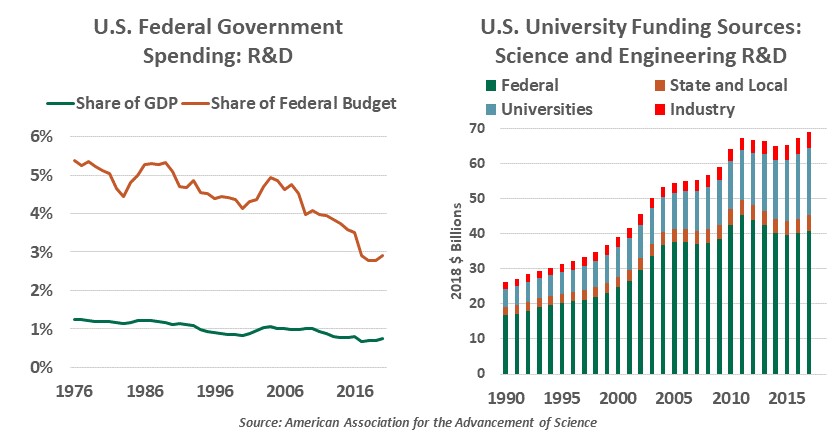 These market concentrations developed naturally through rational business decisions. Over the long run, they led to lower costs, but now the risks of those orientations have become sharper, adding to a push for a more active industrial policy. Most recently, the U.S. has restricted exports of key technologies to China and pushed to repatriate supply chains, especially in semiconductor manufacturing.
This realignment crosses most political persuasions. President Biden's domestic agenda builds upon his predecessor's signature economic policy of trade confrontations meant to support domestic production; in fact, most of the Trump administration's tariffs remain in force. Republican Senator Marco Rubio recently made a case for "common good capitalism."  While Rubio noted that market outcomes are "generally right," job losses can upset families, and losing productive capacity jeopardizes national security. Consensus is emerging that there is room for state intervention.
Governments are in the best position to perform early-stage, high-risk research.
New opportunities arise from novel research, and past government-led research and development (R&D) has many wins to celebrate, not least the invention of the internet. The Defense Advanced Research Projects Agency (DARPA) created protocols for military computers to communicate, then opened the network, and the rest is history. DARPA's researchers have contributed innovations evident throughout the civilian world, such as weather satellites and voice interfaces. Government researchers in the National Institutes of Health (NIH) can look back on decades of advancements in disease identification and treatment.
Private entities bring products to market built upon the foundation begun by government researchers, from high-tech devices to prescription drugs. The outputs of government research are licensed on favorable terms. For example, the Government Accountability Office reported the NIH collects about $100 million in license fees for prescription drugs per year, a rounding error in an industry with U.S. revenues of over $500 billion.
The private sector excels at developing products for consumer markets. Consider the smartphone. Designers knew consumers would buy a sleek device that met all of a person's communication needs. They achieved their goal by bundling together a suite of technologies built from prior government research: touch screens, wireless communication signaling, the global positioning system, and data transfer protocols all stem from government projects.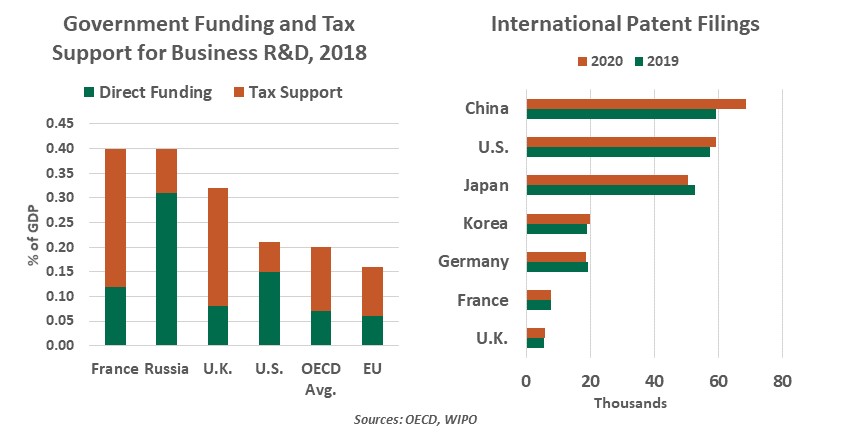 As government agencies have faced ongoing budget pressure, more funding has moved away from direct research and toward grants to universities and private entities. Federal government funds represent the majority of research funding to universities. The NIH is the largest grant underwriter, but the Departments of Defense, Energy, and Agriculture and other agencies together invest over $40 billion per year in research grants, though that figure has plateaued.
Support to businesses is a more contentious topic. U.S. voters may recall Solyndra.  The firm developed a promising new approach to solar energy generation and received a $535 million federal loan guarantee, but it could not compete with the falling prices of conventional photovoltaic panels and went bankrupt in 2011. It was criticized as an example of the government picking winners and wasting taxpayer funds. But it's the nature of research that some projects will meet dead ends. As a portfolio manager, the Department of Energy (DoE) has done quite well. Past loan recipients have prospered, including a now-prominent manufacturer of electric vehicles. The interest income from the DoE's clean energy research loans far exceeds its charge-offs.
Most nations offer tax incentives for R&D. The Organization for Economic Cooperation and Development (OECD) estimates that R&D tax incentives lower a firm's cost of capital by 3.5 percentage points. Offering tax incentives as a blanket policy eliminates the problem of government picking winners. However, tax credits are of most value to established firms that have taxable net income to reduce; for early stage companies, incentives might be carried forward. Tax credits are a useful nudge, but some challenges call for more overt pushes.
There is no best model for balancing public and private investment.
The loose public-private linkages in the U.S. stand in contrast with the centralized approach of China, where the relationships between government, private enterprise and academia are more fluid. The Chinese state has made ambitious pronouncements of its support for domestic innovation and production, notably its Made in China 2025 initiative. Their push to support research is yielding results: China's patent filings surpassed the U.S. in 2019 and are still growing.
Many other nations are embarking on a path toward ensuring they remain competitive and ready for the future. In India, the Prime Minister Narendra Modi has launched the Atmanirbhar Bharat Abhiyaan or "Self-Reliant India" campaign to support India's economic independence, building on his earlier "Make In India" platform. Germany set forth a ten-year vision of industrial policy in 2019, and the European Union followed suit the next year. Many nations foster national champions to support their economies and compete in international markets.
There is no single formula for the best way to fund research. If something is worth doing, we should find a way to do it. The world now faces the significant challenge of stopping climate change. It has become clear that the effort will require technologies that don't exist yet. Research is needed by both the government and private enterprise.
Free markets have created tremendous wealth and aided countless technological advancements; they are not meeting their demise. The state also has an important role in fostering innovation, managing externalities and protecting those who lose from free trade. Today's challenge is to strike the right balance between the two.
Don't miss our latest insights:

Inflation: What's the Worst That Could Happen?
---
Information is not intended to be and should not be construed as an offer, solicitation or recommendation with respect to any transaction and should not be treated as legal advice, investment advice or tax advice. Under no circumstances should you rely upon this information as a substitute for obtaining specific legal or tax advice from your own professional legal or tax advisors. Information is subject to change based on market or other conditions and is not intended to influence your investment decisions.
© 2021 Northern Trust Corporation. Head Office: 50 South La Salle Street, Chicago, Illinois 60603 U.S.A. Incorporated with limited liability in the U.S. Products and services provided by subsidiaries of Northern Trust Corporation may vary in different markets and are offered in accordance with local regulation. For legal and regulatory information about individual market offices, visit northerntrust.com/terms-and-conditions.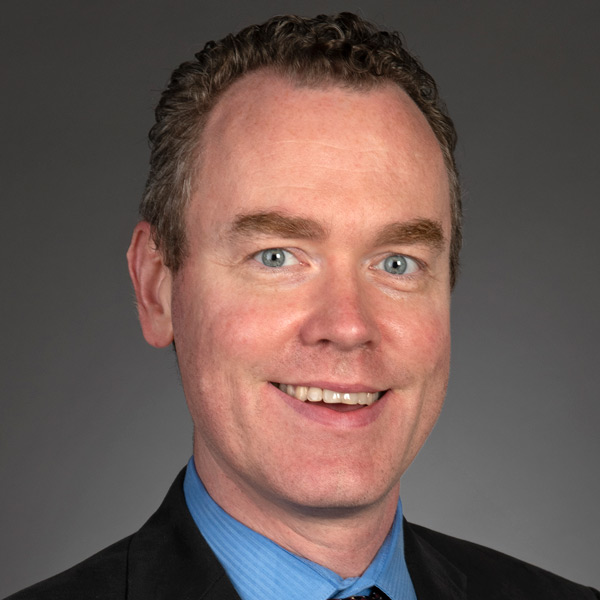 Ryan James Boyle
Vice President, Senior Economist
Ryan James Boyle is a Vice President and Senior Economist within the Global Risk Management division of Northern Trust. In this role, Ryan is responsible for briefing clients and partners on the economy and business conditions, supporting internal stress testing and capital allocation processes, and publishing economic commentaries.