Subscribe to Economic Trends & Insights
Discover our latest insights on all economic news, from breaking headlines to long-term trends.
What Next for Europe's Fiscal Rules?
Europe still needs fiscal support to preserve stability and growth.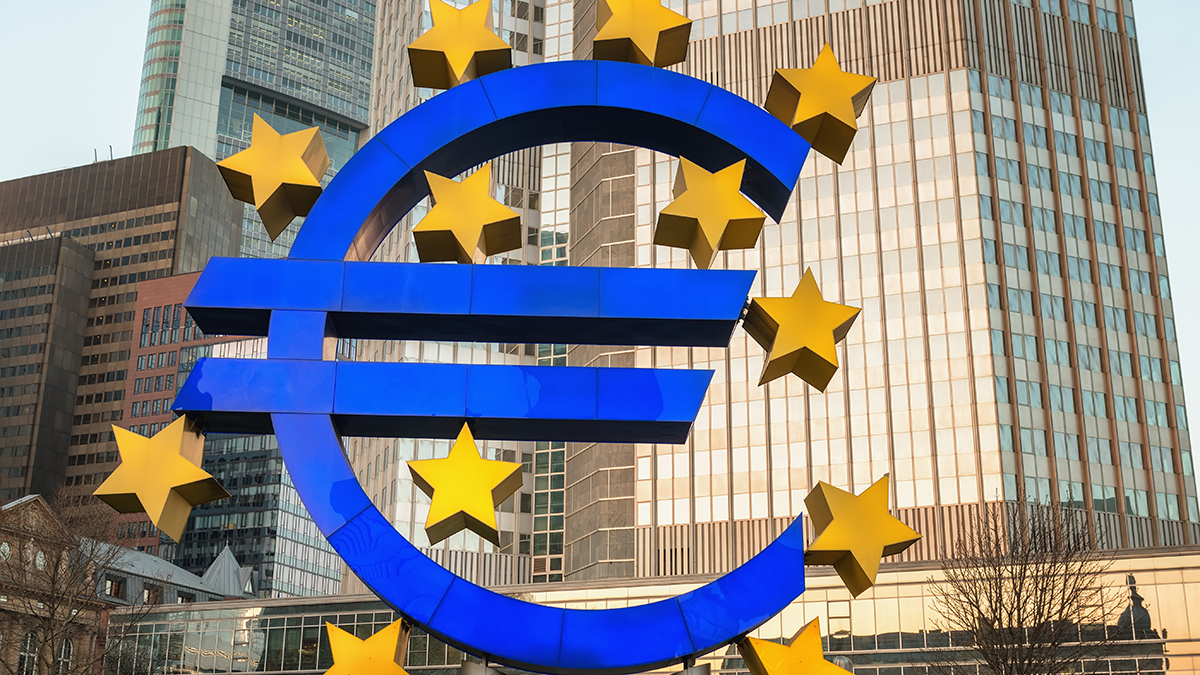 The European Union (EU) is governed by agreements between member states, from the charter of the European Economic Community in 1957 to the Treaty of Lisbon in 2007. Several foundational accords have evolved over the years, including the Stability and Growth Pact (SGP) that governs fiscal practices. But COVID-19 has set the stage for revolutionary, not evolutionary change.
The countries which signed the SGP agreed to cap their ratios of public debt to gross domestic product (GDP) at 60%, and annual budget deficits at 3% of GDP. Applying fiscal rules has proven to be complex and contentious within the bloc; their rigidity leaves little room for responding to downturns, and forces austerity measures at inopportune times. Prior to the pandemic, almost every country was in violation of one ceiling or the other.
The pandemic did what southern European states together couldn't: break the boundaries of fiscal rules. Last year's economic shock forced the European Commission (EC) to trigger the "general escape clause" in the SGP, allowing member nations to increase spending without obeying the deficit and debt-to-GDP limits.
Expansionary economic policies have played a key role in mitigating the economic fallout from the pandemic. The suspension of SGP limits, along with the disbursements from Europe's Recovery Fund, have helped to support economic recovery.
The fiscal frameworks will remain suspended this year and next. That is probably a good thing: the eurozone is likely to run a budget deficit of 8% of GDP this year, up from 7.2% last year, with a public debt to GDP ratio of 102.4%. But beyond that, countries may be asked to get back into compliance. This will be exceptionally difficult to do; the prevailing convergence rule "requires an annual reduction of the ratio by 1/20 of the difference between the actual debt-to-GDP and the 60% threshold." Given elevated debt levels, that mechanism maybe be unviable for some, economically and politically.
Suspension of debt and deficit limits has helped Europe avoid an economic and political disaster.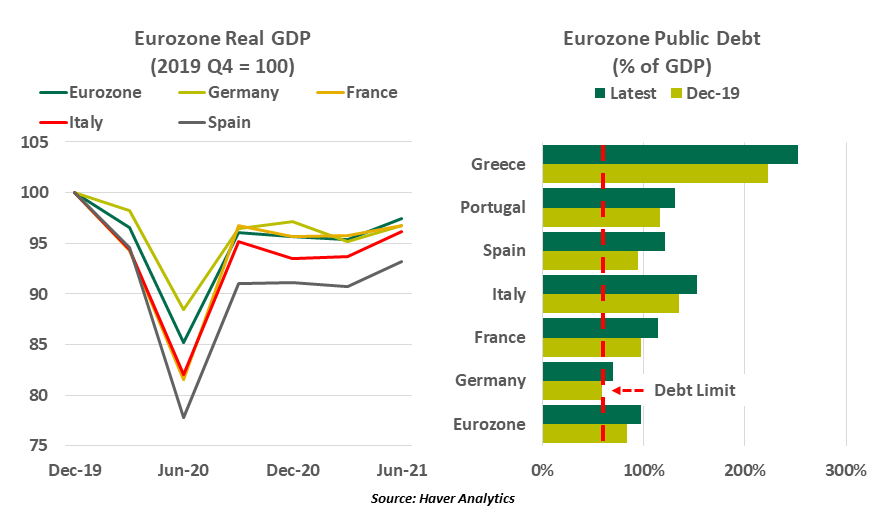 Even though the end of the pandemic is nowhere in sight, the debate over the withdrawal of fiscal and monetary policy support is starting to take center stage. Already, a group of finance ministers from northern European countries is advocating for a return to SGP rules as soon as possible, even if it leads to extreme austerity.
Considering the economic and philosophical divisions between northern and southern states over fiscal policy, restoring a unified framework amid an uneven fiscal landscape will be difficult. A premature withdrawal of support could leave long-term scars on the most affected countries and a resurgence of Euroscepticism. Even though public finances have worsened, a debt crisis is not imminent, as interest rates are likely to remain low (or negative) for some time.
Reverting to the pre-COVID era fiscal rules is not really an option, at least for now. The aims of the Stability and Growth Pact were admirable, but right now, the best policies to preserve stability and growth will be those that continue the recovery from the pandemic.

Don't miss our latest insights:
Fiscal Policy: A September To Remember

China's Debts Are Coming Due
---
Information is not intended to be and should not be construed as an offer, solicitation or recommendation with respect to any transaction and should not be treated as legal advice, investment advice or tax advice. Under no circumstances should you rely upon this information as a substitute for obtaining specific legal or tax advice from your own professional legal or tax advisors. Information is subject to change based on market or other conditions and is not intended to influence your investment decisions.
© 2021 Northern Trust Corporation. Head Office: 50 South La Salle Street, Chicago, Illinois 60603 U. S. A. Incorporated with limited liability in the U. S. Products and services provided by subsidiaries of Northern Trust Corporation may vary in different markets and are offered in accordance with local regulation. For legal and regulatory information about individual market offices, visit northerntrust. com/terms-and-conditions.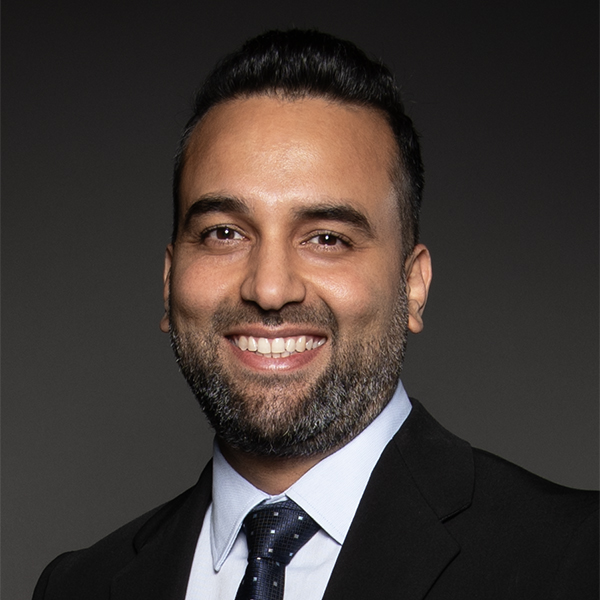 Vaibhav Tandon
Vice President, Economist
Vaibhav Tandon is an Economist within the Global Risk Management division of Northern Trust. In this role, Vaibhav briefs clients and colleagues on the economy and business conditions, supports internal stress testing and capital allocation processes, and publishes the bank's formal economic viewpoint. He publishes weekly economic commentaries and monthly global outlooks.
The U.S. Congress faces major financial deadlines in the month ahead.
Evergrande is an example of the risk of debt defaults to China's financial stability.