Subscribe to Economic Trends & Insights
Discover our latest insights on all economic news, from breaking headlines to long-term trends.
Consumer Credit Growing
Consumer spending and borrowing have rebounded, and delinquencies have not.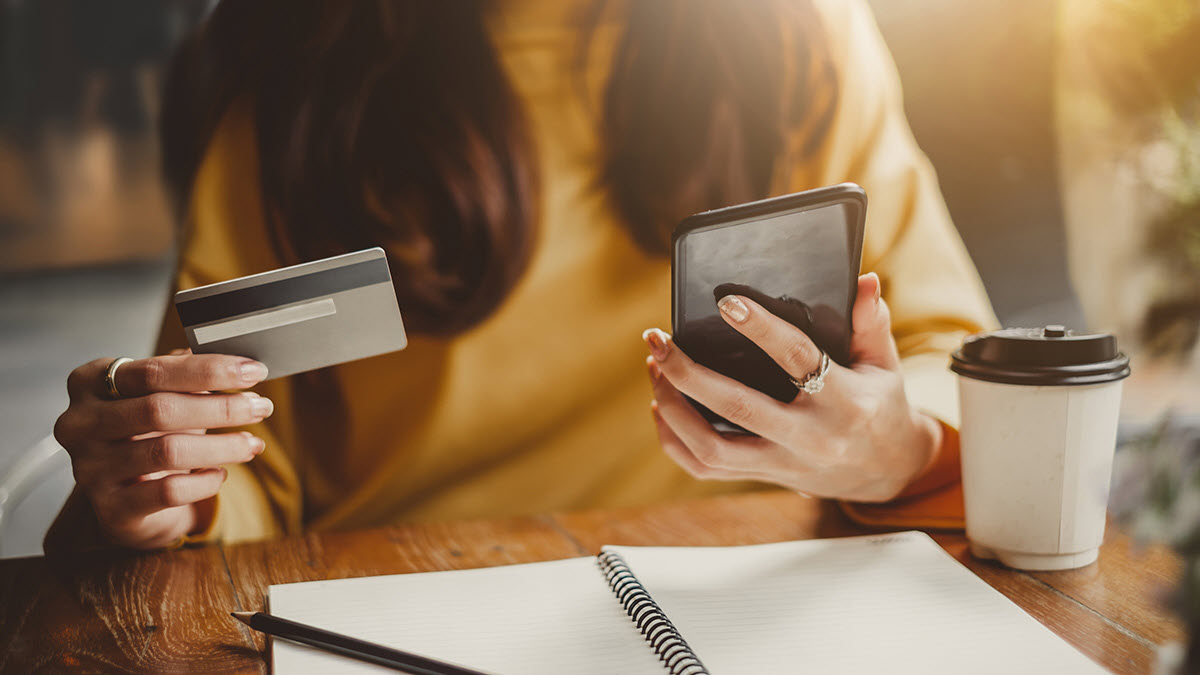 Consumer debt increased more in 2021 than in any year since the global financial crisis.  Additional borrowing can sometimes be a sign of trouble, but we see this as constructive for continued economic recovery.
Credit balances, especially for revolving debt, are expected to fall in recessions as consumers default on their credit obligations following job losses.  Difficult circumstances force consumers to prioritize payments, often leaving their unsecured credit cards to go unpaid. 
But as the COVID-19 crisis unfolded, credit card balances fell for new reasons.  Consumers received stimulus payments, and those who were jobless received expanded unemployment benefits.  With fewer opportunities to spend, surveys found that the most common use of stimulus payments was to repay debt.  Even as spending rose, elevated savings allowed consumers to spend without incurring higher debt.

As 2021 closed, however, credit card spending was back on the rise. Credit card balances have been increasing since the first quarter of 2021, rising in the fourth quarter at a rate not seen since 2000.  The rapid rise in balances in the fourth quarter suggests consumers are returning to old spending and borrowing behaviors.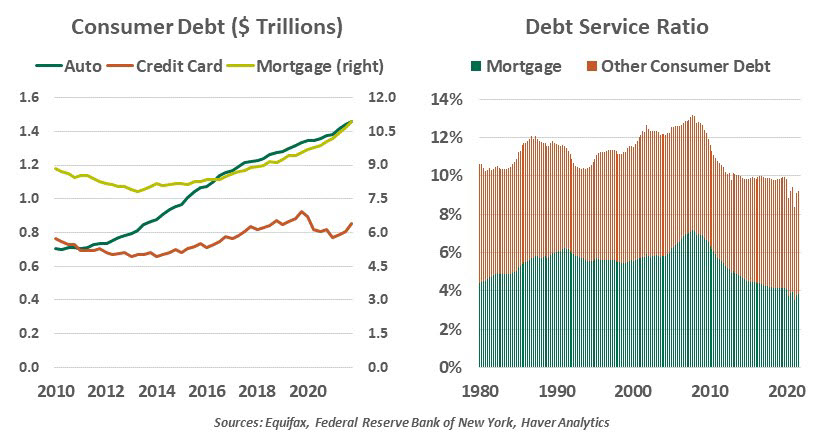 Consumer balance sheets are generally healthy, allowing room for additional leverage.

Cards were not the only type of credit to see growth in the pandemic.  Surging house prices have pushed up borrowing for home purchases and cash-out refinancing.  Automotive loans also grew as vehicle values rose.  Amid limited new car inventories, up to 80% of new car sales are above the vehicle's sticker price.  The high cost of used vehicles is also pushing up the value of used car loans.
More debt does not always equate to more problems.  Encouragingly, delinquencies have not rebounded even as balances rose and temporary COVID-19 mortgage forbearance protections expired.  In aggregate, credit scores are trending upward.  Consumers are managing their debts, and total indebtedness relative to income remains historically low; even if borrowing increases, consumers are equipped to handle their obligations.  We will continue to track this space closely, particularly as federal student loan repayments resume at the start of May.
Used appropriately, debt is a helpful financial tool.  And as consumers return to borrowing, debt will help maintain demand and allow the economy to continue growing.
---
Information is not intended to be and should not be construed as an offer, solicitation or recommendation with respect to any transaction and should not be treated as legal advice, investment advice or tax advice. Under no circumstances should you rely upon this information as a substitute for obtaining specific legal or tax advice from your own professional legal or tax advisors. Information is subject to change based on market or other conditions and is not intended to influence your investment decisions.
© 2022 Northern Trust Corporation. Head Office: 50 South La Salle Street, Chicago, Illinois 60603 U.S.A. Incorporated with limited liability in the U.S. Products and services provided by subsidiaries of Northern Trust Corporation may vary in different markets and are offered in accordance with local regulation. For legal and regulatory information about individual market offices, visit northerntrust.com/terms-and-conditions.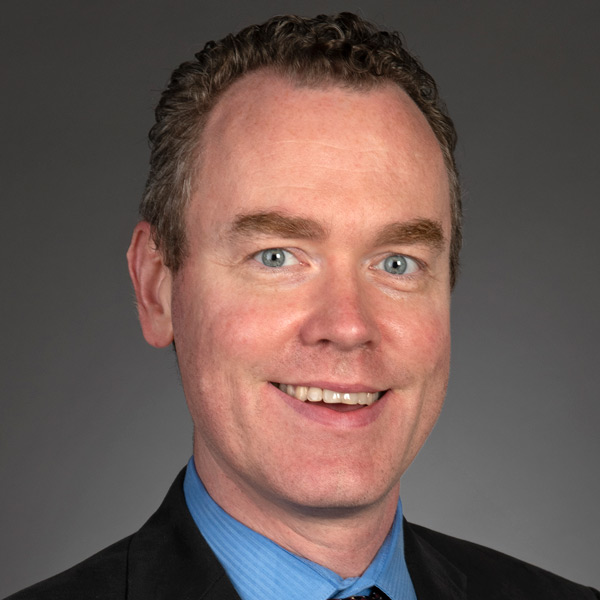 Ryan James Boyle
Vice President, Senior Economist
Ryan James Boyle is a Vice President and Senior Economist within the Global Risk Management division of Northern Trust. In this role, Ryan is responsible for briefing clients and partners on the economy and business conditions, supporting internal stress testing and capital allocation processes, and publishing economic commentaries.
Inflation in the housing market will continue to build.
Disruptions from Canada's protests further expose the vulnerability of supply chains.