Subscribe to Economic Trends & Insights
Discover our latest insights on all economic news, from breaking headlines to long-term trends.
The State And Local Government Crisis That Wasn't
Federal support is no longer needed, but states aren't turning the funds down.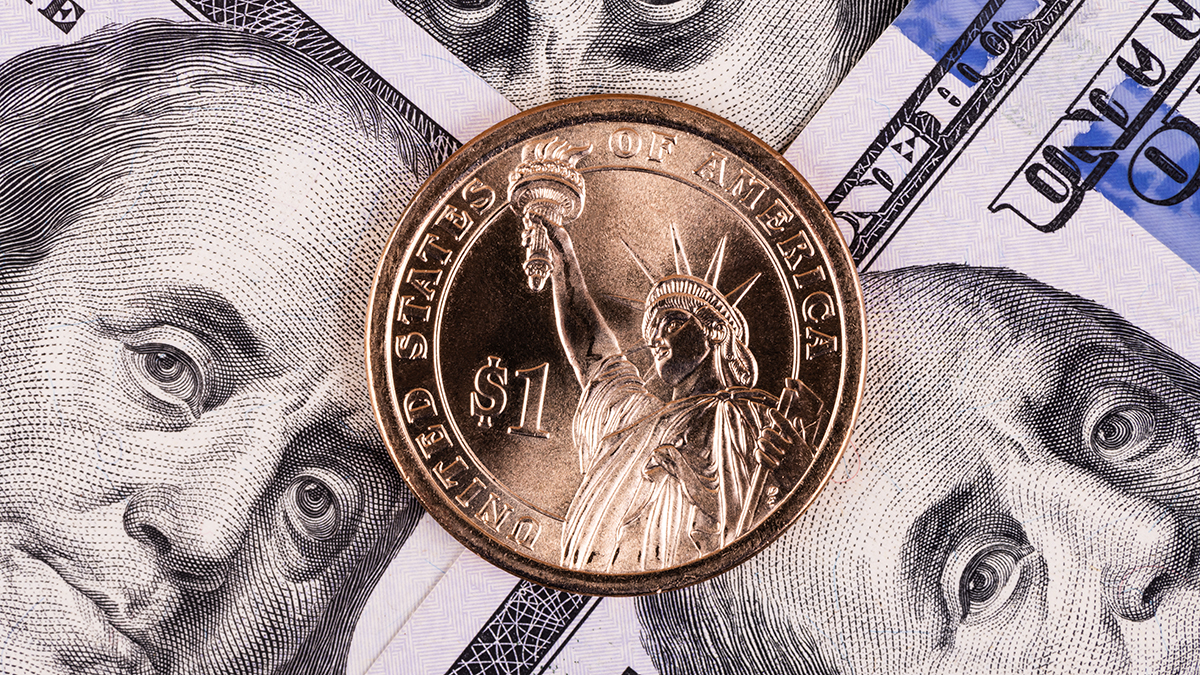 As tax filing season gets underway, attention focuses initially on the federal return: income, gains, losses, rebates, credits and deductions can be quite a lot to compute. Just when the paperwork appears complete, the next step appears: The state return, bringing more calculations, different rules, and plenty of opportunities for headaches.
During the initial months of the pandemic, the finances of state and local governments were a headache. While every region has its own tax structure, most municipalities collect their operating income through sales taxes. Spending dried up immediately as businesses closed and consumers stayed home. The outlook was dire. Treasurers dusted off their playbooks to be ready for shortfalls in income.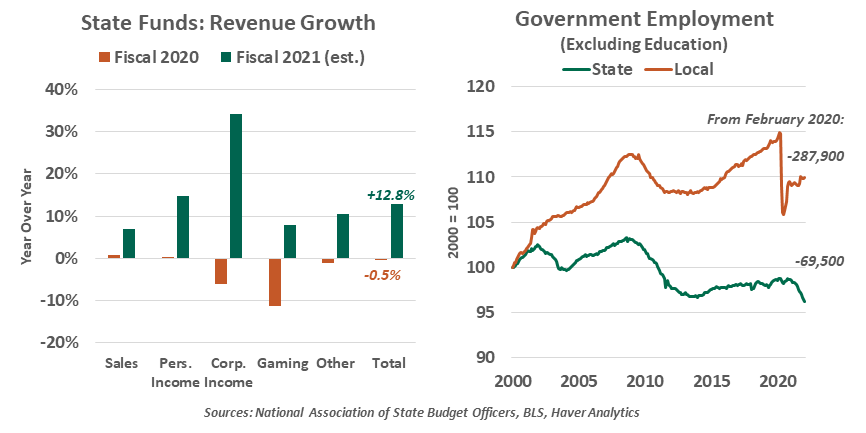 But as we have often observed, this cycle was not typical. Most wage earners maintained their incomes or got back to work quickly, and higher earners benefitted from equity appreciation. State and local income tax revenues were consequently strong. Appreciating home prices kept a floor under valuations for property taxes. And consumers spent heartily, ensuring that sales tax revenues stayed healthy.
On top of that, the federal government intervened with support for local governments, first with $150 billion from the CARES Act in March 2020, and then a further $350 billion in the March 2021 American Rescue Plan Act (ARPA). The funding of the CARES Act was targeted at public health measures in states and large cities. Meeting those requirements proved burdensome, so ARPA funds were more permissive, available to every county and any town with a population over 50,000. The funds will remain available through 2024 and are loosely tied to the pandemic; they may be used to offset "negative economic impacts," fund essential workers, and make investments in water, sewer, and broadband infrastructure. 
Federal support has surpassed the crisis need, but states aren't turning the funds down.
Local leaders in every state are putting those dollars to work in various ways. Illinois is paying down debt, California is funding schools, and infrastructure projects are kicking off everywhere from Montana to Florida. Many states entered the pandemic in precarious financial condition and are hesitant to incur new ongoing expenses, but one-time investments and fiscal advances are great ways to make use of this windfall.
And this is additive to other federal interventions. The $550 billion of additional spending in the bipartisan infrastructure bill will support further local investments. That bill was passed without tax increases in large part by reclaiming undisbursed funds from COVID-19 relief, such as the funding forfeited by states that ended supplemental unemployment benefits ahead of schedule. 
Governments are flush for a less encouraging reason: Their costs remain low due to reduced payrolls. The reaction to the virus by local leaders was swift. While teachers and public safety workers stayed on the job, millions of less essential government workers were laid off early in the pandemic. To this day, state and local payrolls are 4% below their February 2020 levels, defying the reputation of government jobs not being affected by economic cycles. Local layoffs were immediate, while state headcounts appear to still be shrinking. Amid rising wages, lower-paying government jobs may less attractive to job seekers, and this dislocation may persist for some time.
Support for states was a contentious topic early in the pandemic, with fears that federal funds would be used to bail out profligate state treasuries. However, no state could be expected to run enough of a surplus to withstand a pandemic alone. Federal intervention kept local economies open, providing essential services and paying their debts. Now that funding is flowing faster than communities can absorb it, slower spending is appropriate. A more generous state tax refund would be nice, but I won't get my hopes up.
Don't miss our latest insights:
Russia: Sanctions and Shortages
---
Information is not intended to be and should not be construed as an offer, solicitation or recommendation with respect to any transaction and should not be treated as legal advice, investment advice or tax advice. Under no circumstances should you rely upon this information as a substitute for obtaining specific legal or tax advice from your own professional legal or tax advisors. Information is subject to change based on market or other conditions and is not intended to influence your investment decisions.
© 2022 Northern Trust Corporation. Head Office: 50 South La Salle Street, Chicago, Illinois 60603 U.S.A. Incorporated with limited liability in the U.S. Products and services provided by subsidiaries of Northern Trust Corporation may vary in different markets and are offered in accordance with local regulation. For legal and regulatory information about individual market offices, visit northerntrust.com/terms-and-conditions.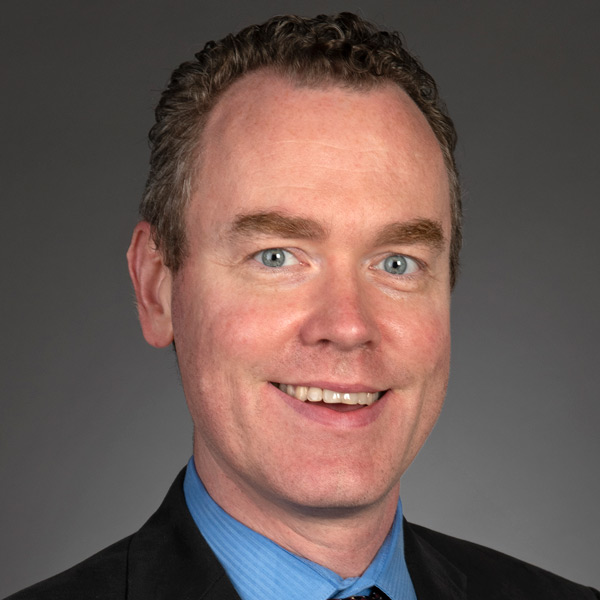 Ryan James Boyle
Vice President, Senior Economist
Ryan James Boyle is a Vice President and Senior Economist within the Global Risk Management division of Northern Trust. In this role, Ryan is responsible for briefing clients and partners on the economy and business conditions, supporting internal stress testing and capital allocation processes, and publishing economic commentaries.
The macroeconomic picture still doesn't support the case for monetary tightening in the eurozone.
The potential economic costs will hopefully be significant enough to head off Ukraine-Russia conflict.