Subscribe to Economic Trends & Insights
Discover our latest insights on all economic news, from breaking headlines to long-term trends.
House Prices Hit the Roof in Canada and Australia
A real estate correction would have consequences far beyond just lower home values.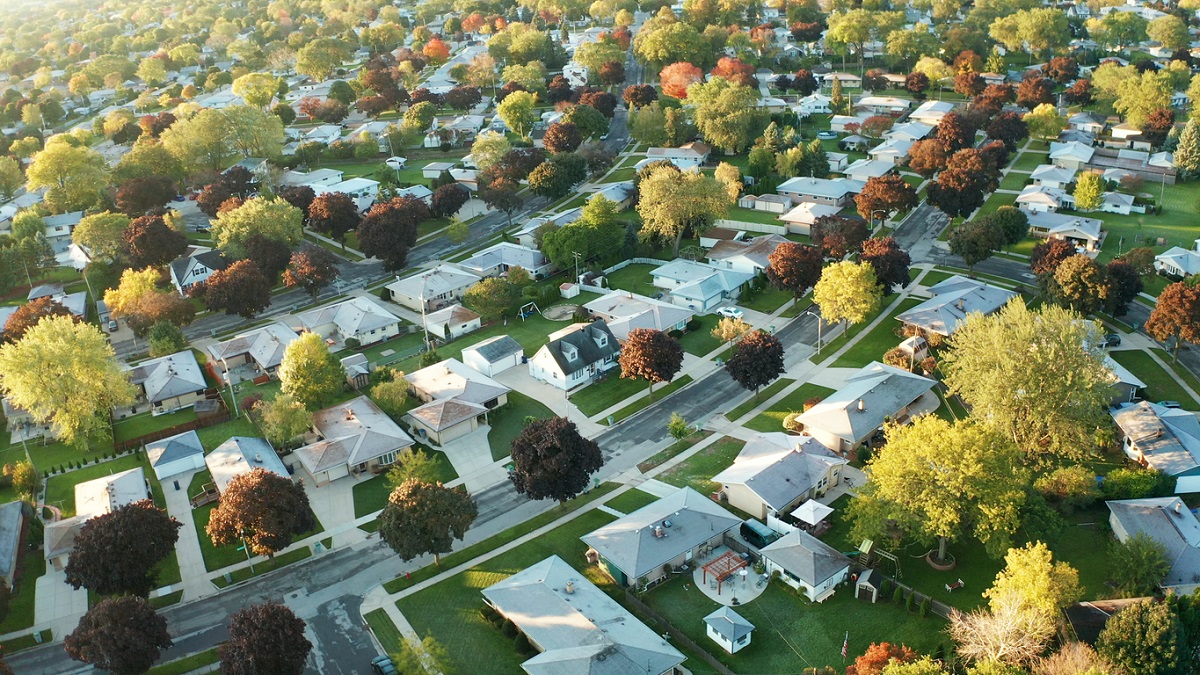 A soft landing is a transition from one stage to another which does not result in damage to the object. The term originated in aeronautics, but it is being used with increasing frequency in economics. As we wrote here, the Federal Reserve is currently trying to engineer one in the U.S. 
There is also a renewed push in some countries to put the brakes on home prices, but without crash landing the market. Australia and Canada are two prominent cases. House prices in those nations have been rising for the most part of the past two decades. The buoyancy of their property markets was an outcome of factors like economic prosperity, an influx of immigrants and tax preferences for homeowners.
Hoping to avert a bubble, policymakers in Canada and Australia made multiple efforts to tame prices. These measures include increases in stamp duties and vacancy taxes and other restrictions on non-resident owners. But they have had little success.
COVID-19 did what past government interventions couldn't. Housing values started to decline during the initial, uncertain phase of the pandemic. However, the correction didn't last for long. The need for space along with ultra-loose monetary and fiscal policies have fueled a renewed housing boom. Since the onset of the pandemic, residential property prices have jumped by about 20% in Canada and around 25% in Australia.
With interest rates at record lows, lower debt costs enabled mortgagors to access more credit. Housing interest payment-to-income ratios fell to over a two-decade low in Australia and to its lowest on record in Canada. In addition, authorities provided rounds of support and incentives to the sector. For example, the Australian government offered grants and stamp duty concessions on house purchases to keep the industry from declining too far. 
That said, low interest rates are less beneficial than they sound.  Home values are rising faster than rents and incomes, a potential sign of overheating. Households are more indebted than ever. The ratio of household debt to income stands at 203% in Australia and 186% in Canada, in both cases not very far from recent peaks. This proportion stands apart from countries like the U.S. and the U.K., where property values have appreciated sharply, but families aren't as heavily indebted relative to income.
Higher rates are a threat for overheated housing markets.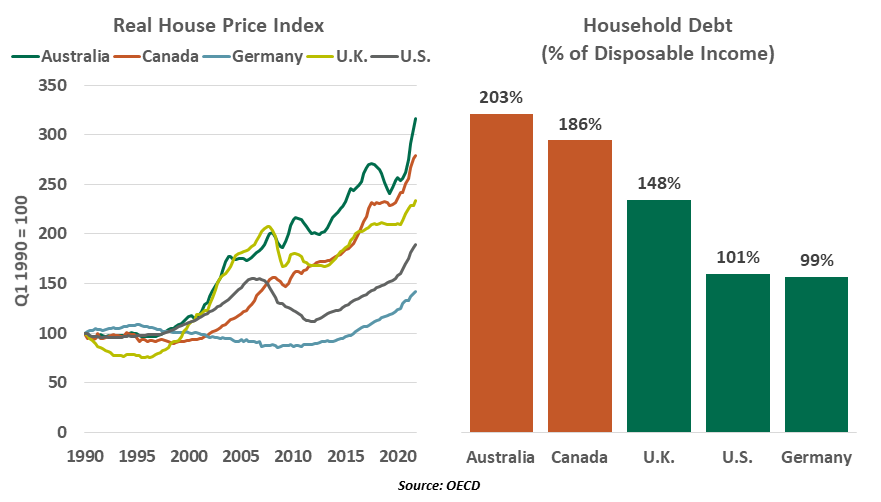 High household debt warrants a tightening of monetary policy to reduce further leveraging.  The Bank of Canada (BoC) is already raising interest rates, with a 50 basis points increase at its April meeting. The Reserve Bank of Australia (RBA) is preparing the ground for hikes. Fighting inflation without causing a hard landing is a challenge faced by most central banks. But elevated household indebtedness constrains the space to tighten monetary policy by the BoC and RBA, as most mortgages are obtained at floating rates.
Elevated inflation and interest rates can be lethal for housing. Higher financing costs tend to impact affordability, triggering a slowdown in home sales. Existing home sales dropped by 5.4% in March in Canada over the previous month. This is an indication that the market has started to soften amid tighter monetary policy and efforts to stem soaring property prices. 
A housing market crash can have nasty, enduring consequences. It affects real estate developers, consumer confidence and the financial system.  Achieving a soft landing for the residential property sector will be no small feat for Canadian and Australian authorities; precise piloting will be required to avoid extremes of pitch and yaw.
---
Information is not intended to be and should not be construed as an offer, solicitation or recommendation with respect to any transaction and should not be treated as legal advice, investment advice or tax advice. Under no circumstances should you rely upon this information as a substitute for obtaining specific legal or tax advice from your own professional legal or tax advisors. Information is subject to change based on market or other conditions and is not intended to influence your investment decisions.
© 2022 Northern Trust Corporation. Head Office: 50 South La Salle Street, Chicago, Illinois 60603 U.S.A. Incorporated with limited liability in the U.S. Products and services provided by subsidiaries of Northern Trust Corporation may vary in different markets and are offered in accordance with local regulation. For legal and regulatory information about individual market offices, visit northerntrust.com/terms-and-conditions.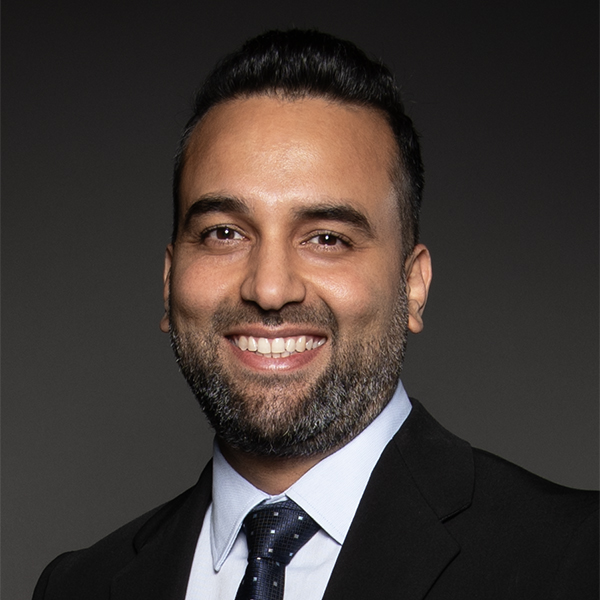 Vaibhav Tandon
Vice President, Economist
Vaibhav Tandon is an Economist within the Global Risk Management division of Northern Trust. In this role, Vaibhav briefs clients and colleagues on the economy and business conditions, supports internal stress testing and capital allocation processes, and publishes the bank's formal economic viewpoint. He publishes weekly economic commentaries and monthly global outlooks.
Businesses are unable to fully pass on the higher cost of labor, thereby challenging profits.
The dollar is not as dominant as it was two decades ago, but is still the leading global currency.