Who We Serve

What We Do

About Us

Insights & Research
Who We Serve

What We Do

About Us

Insights & Research
Subscribe to Economic Trends & Insights
Discover our latest insights on all economic news, from breaking headlines to long-term trends.
Supply Side Problems Persist
Is the worst of supply bottlenecks behind us?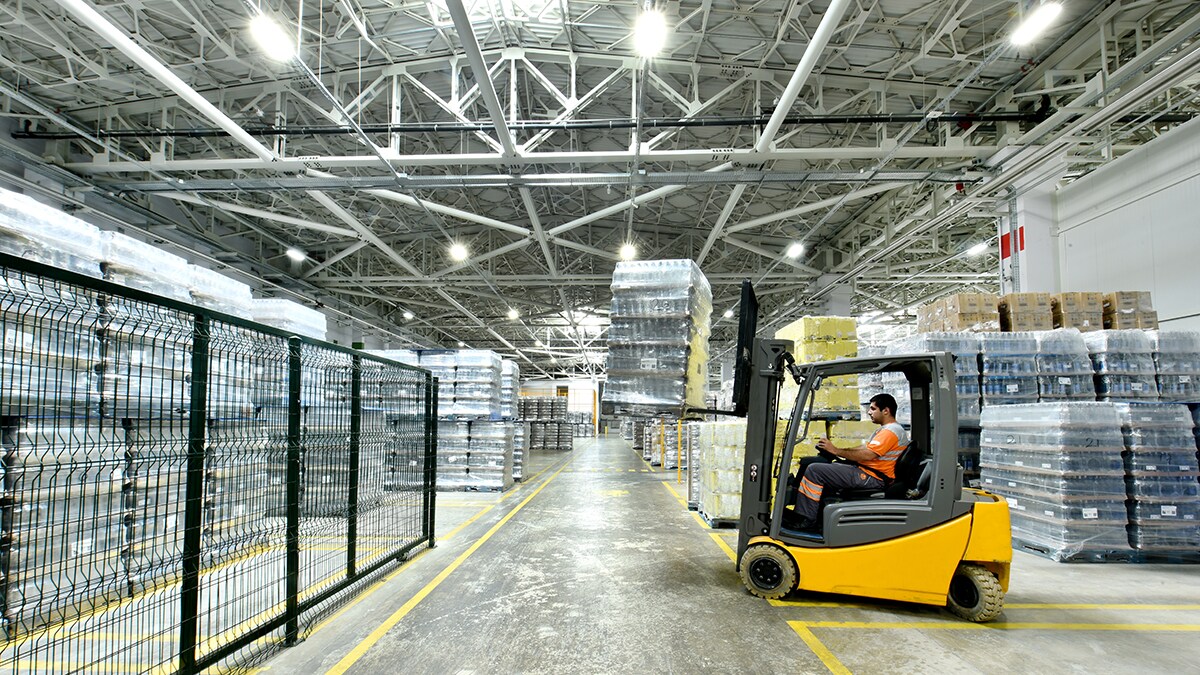 "Supply chain" used to be a piece of business jargon that rarely made its way into normal conversations. Today, it has become ubiquitous. Web searches for the term almost doubled between June and October 2021, temporarily overtaking "interest rates" as a subject of inquiry. Supply chain issues dominated the third quarter earnings season, with over 3,000 mentions by the executives of major corporations.
When supply chains work efficiently, store shelves and warehouses are filled, ensuring an uninterrupted flow of goods to consumers. But COVID-19 has introduced immense disruptions, which have left consumers and manufacturers to endure shortages of a wide range of items. These frustrations aren't likely to end anytime soon.
As COVID-19 vaccines became widely available and economies reopened last year, consumption rebounded strongly. As consumption shifted from goods to services like travel and entertainment, expectations rose that the pressure on delivery channels would ease. However, the pandemic-induced increase in demand for goods has persisted even as demand for services returned to pre-pandemic levels in many places.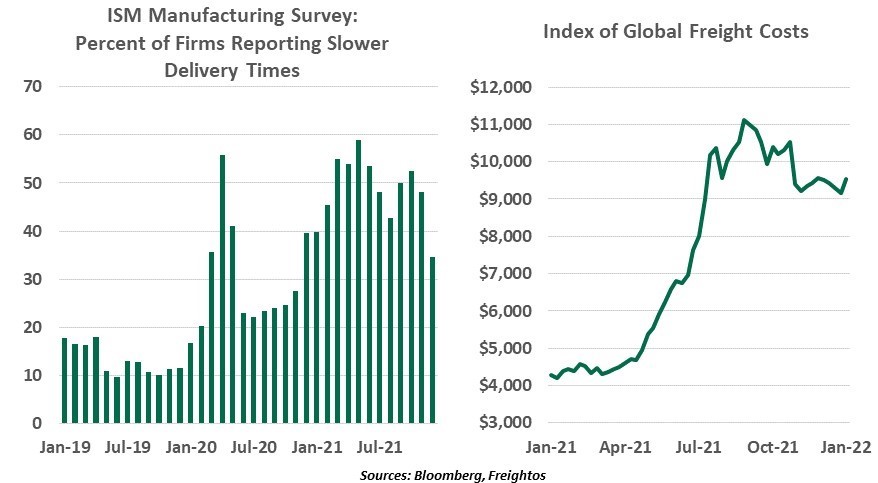 As a result, firms which relied on "just-in-time" processes and holding little inventory have been scrambling to carry on. Apart from the persistent strength of demand, factors like factory shutdowns in Asia, labor shortages in trucking, and a blockage in the Suez Canal have exacerbated disruptions in logistics. Sourcing has become increasingly concentrated in recent decades, so it has not been easy to find new supplies of scarce products.
Wave after wave of disruptions have led to increases in shipping costs, port congestion and extended delivery times. Higher energy prices and rising raw material costs added to the pain. Most experts anticipated that supply networks would repair themselves in fairly short order, but have been humbled by how long the bottlenecks have persisted.
We finally saw some tentative signs of improvement late last year. Factory closures, energy shortages and port-capacity limits eased in key manufacturing economies. Output from Malaysia, Vietnam and the Philippines rebounded, reducing bottlenecks that constrained the global availability of items like semiconductors and textiles.
In the U.S., surveys show that most retailers were able to successfully procure goods for the holiday season. The ports of Los Angeles and Long Beach, the biggest gateway for Asian imports into the United States, have reworked their processes to keep ships and goods moving.
European Purchasing Managers' Indices show bottlenecks easing and input costs moderating for the first time in months. Clearer evidence can be seen in the supply of intermediate goods, where clogging caused by re-stocking and hoarding is waning.
As we move into the spring, demand-side stress on supply chains should moderate further, as consumers finally get to shift spending back to services. Once higher inflation starts restraining consumer spending and businesses finish replenishing their depleted inventories, the pressure on logistic networks will likely ease further.
Supply chain bottlenecks have eased a bit but remain a concern.
The worst of supply chain woes may be behind us, but there is still plenty of room for improvement. The Omicron variant has forced renewed lockdowns in producing nations; staff illnesses and quarantines continue to disrupt downstream logistics. The Federal Reserve Bank of New York's Global Supply Chain Pressure Index, a composite of 27 variables, remains close to its all-time high.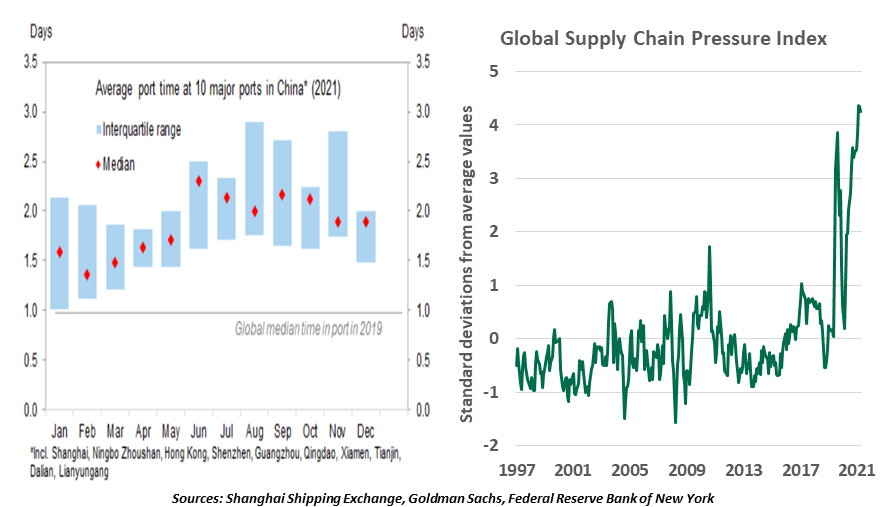 While we are seeing progress in containers moving through docks, cargo is still moving slowly. The decline in the number of ships at anchorage is partly a result of a new queue system that encourages ships to wait further out in the ocean rather than close to coast. Freight rates are still well above their historical levels, presenting a challenge for factory operators. Some blockages will be tougher to resolve than others, given the concentrations of sourcing and production that exist for a range of items.
Uncertainty remains around the evolution of the virus. Even if it becomes more endemic, its effects could still produce waves of absenteeism that would clog distribution channels. And the emergence of a more severe variant at some point cannot be ruled out. Concerns over potential future waves may intensify precautionary hoarding of inputs and over-ordering, delaying the resumption of just-in-time practices.
Most Asian economies appear to have ditched their zero-infection approach towards the virus, with the notable exception of China. China represents over one-fourth of the world's manufacturing value-added; temporary closures of plants and ports there may add to industry woes, exacerbating global logistics bottlenecks and pushing freight rates higher again.
When it comes to inventories, just in time may give way to just in case.
In sum, logistic frictions may stay with us for a while. The longer that supply chain disruptions last, the higher the risk of persistent inflation, which would trigger more hawkish action from central banks. It may be a long time before the term "supply chains" returns to the recesses of our vernacular.
Don't miss our latest insights:
Industry Concentration And Inflation
---
Information is not intended to be and should not be construed as an offer, solicitation or recommendation with respect to any transaction and should not be treated as legal advice, investment advice or tax advice. Under no circumstances should you rely upon this information as a substitute for obtaining specific legal or tax advice from your own professional legal or tax advisors. Information is subject to change based on market or other conditions and is not intended to influence your investment decisions.
© 2022 Northern Trust Corporation. Head Office: 50 South La Salle Street, Chicago, Illinois 60603 U.S.A. Incorporated with limited liability in the U.S. Products and services provided by subsidiaries of Northern Trust Corporation may vary in different markets and are offered in accordance with local regulation. For legal and regulatory information about individual market offices, visit northerntrust.com/terms-and-conditions.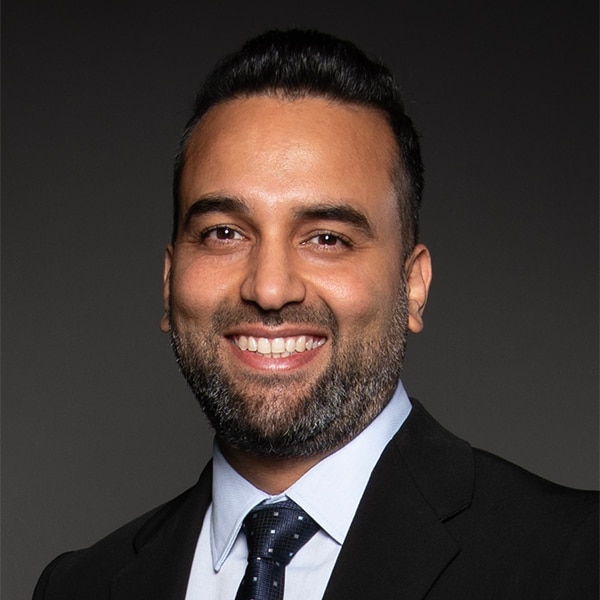 Vaibhav Tandon
Vice President, Economist
Vaibhav Tandon is an Economist within the Global Risk Management division of Northern Trust. In this role, Vaibhav briefs clients and colleagues on the economy and business conditions, supports internal stress testing and capital allocation processes, and publishes the bank's formal economic viewpoint. He publishes weekly economic commentaries and monthly global outlooks.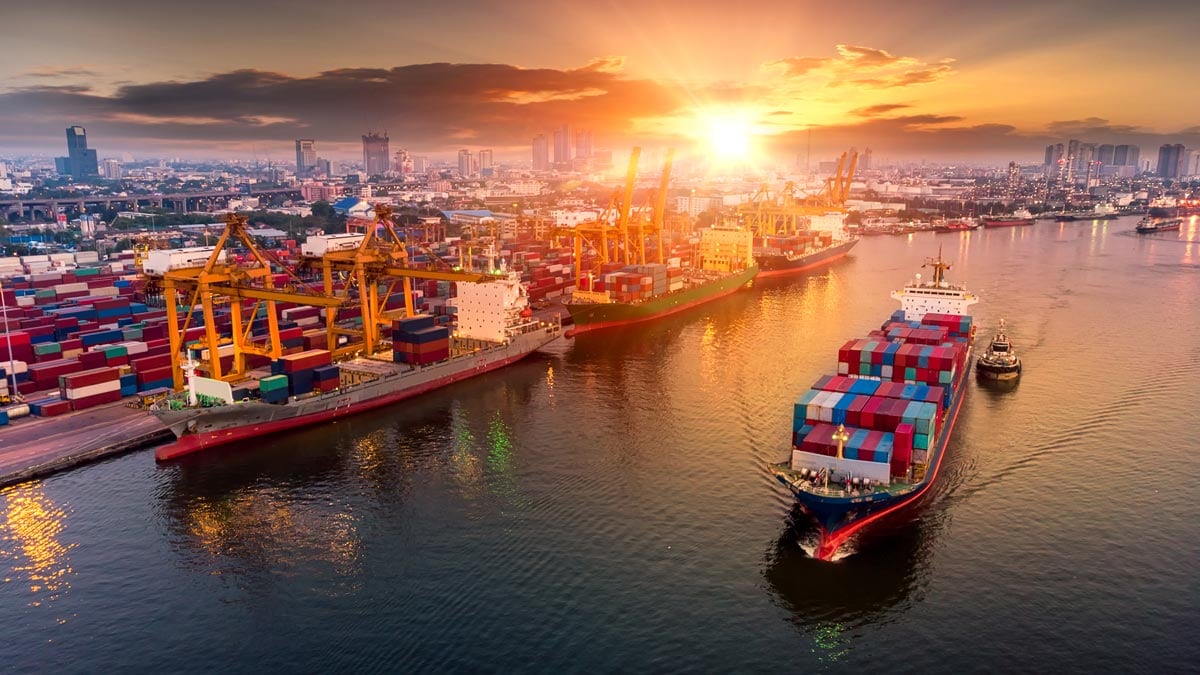 Does industry concentration contribute to inflation?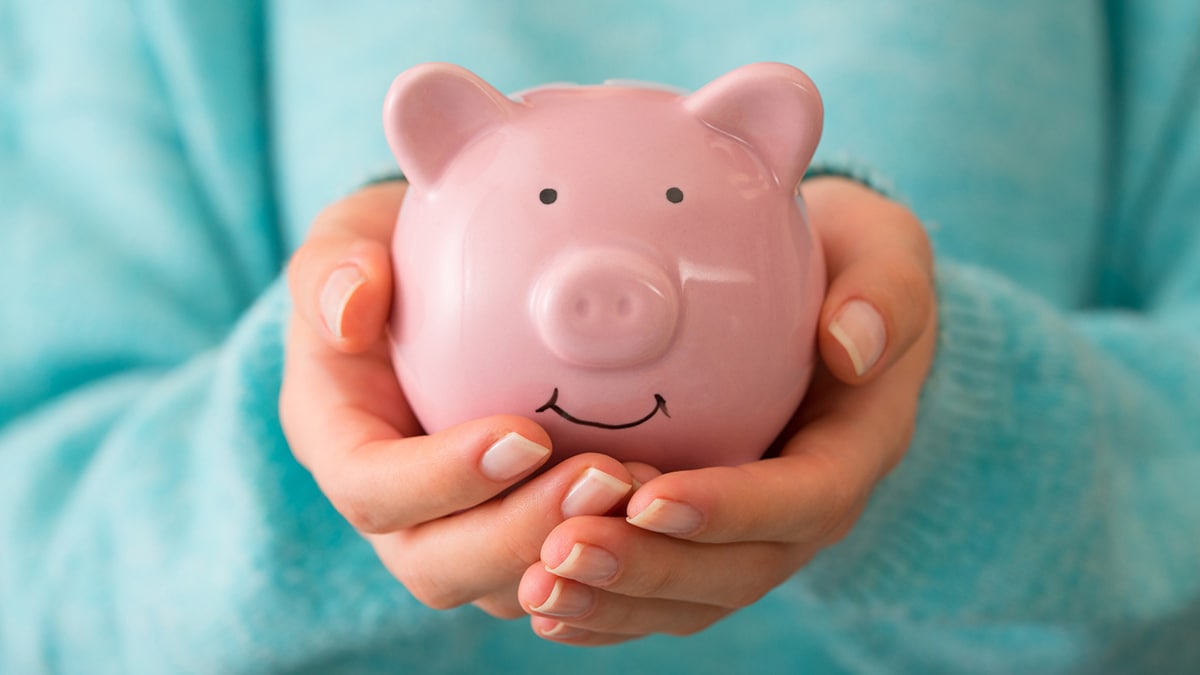 Was the expanded child tax credit overly generous?