The Northern Trust Company Saudi Arabia
Kholoud Aldosari
Chief Executive Officer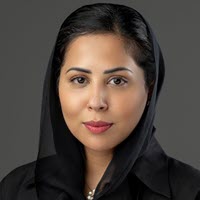 As CEO of The Northern Trust Company of Saudi Arabia, Kholoud oversees the strategic development, business growth and operations of Northern Trust's asset servicing business in Saudi Arabia.
Prior to joining Northern Trust, Kholoud served as non-executive independent board member to The Northern Trust Company of Saudi Arabia since 2019. Kholoud brings close to 20 years of experience and expertise in management consultancy, corporate governance and strategic private equity investments, having worked for prominent family offices, public and private organizations in Saudi Arabia. Most recently, Kholoud served as director at The Financial Academy, the education arm of the Saudi Central Bank and Capital Market Authority. Prior to that, Kholoud was executive director of CFA Society Saudi Arabia.
Kholoud has a BSc in Mathematics and Statistics from Middlesex University, London, UK, and is a member of the CFA Institute.