Steve David
Chief Operating Officer of Northern Trust's EU Bank in Luxembourg & Country Head of Luxembourg Global Fund Services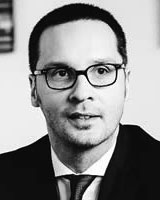 Steve is the Chief Operating Officer of Northern Trust's EU Bank headquartered in Luxembourg. Additionally, he is the Country Head of Northern Trust's Luxembourg Global Fund Services business, which involves leading and managing the continued expansion of its specialist fund servicing and custody operations.
Steve joined Northern Trust in 2004 as Head of Risk and Control. His other roles have included Managing Director and Chief Operating Officer of Northern Trust's Luxembourg management company. He served as Country Head for Northern Trust Luxembourg between 2012 and April 2019, prior to assuming his new responsibilities.
Steve started his professional career as an auditor at Price Waterhouse in 1994, and left four years later to join the Chase Manhattan Bank Luxembourg S.A., where he worked in the Quality Assurance and Compliance/Fiduciary departments.
In 2000, he took on the position of Compliance Officer at IKANO Advisory Management S.A., a Luxembourg fund management company.
Steve has over 24 years of experience in the investment funds industry.
Steve has been the President of the Association of North American Bankers in Luxembourg (ANABL) for a mandate of 2 years (November 2015 to October 2017).