Catherine Duffy
Senior Vice President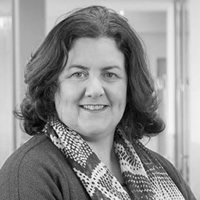 As Senior Vice President and General Manager, Catherine Duffy has overall responsibility for the strategic development and day to day operations of Northern Trust Limerick which comprises over 1,400 employees in two different office locations.  In 2016, Catherine became the CEO of Northern Trust Fiduciary Services Ireland Ltd.
Catherine joined Northern Trust in 2000 following its acquisition of Ulster Bank, where she started her career in Control in 1990.  Prior to her current Limerick managerial role which she undertook in 2008, Catherine was manager of Transfer Agency in the Dublin office.  Her previous Northern Trust roles included: Head of Investment Operations, Corporate Actions Manager and Head of Control.
Catherine is currently Vice President of the American Chamber of Commerce and will assume her office of Presidency in 2022.  She is also Regional President of the Midwest for Ibec (Irish Business and Employers Confederation).  She was President of the Limerick Chamber of Commerce from 2015 – 2017.