Jon Dunham
Global Head of Asset Servicing Sales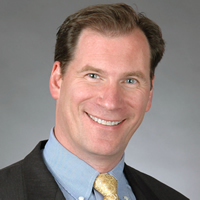 Jon Dunham is an Executive Vice President in the Corporate & Institutional Group at Northern Trust - Chicago. He joined Northern Trust in March 2008 as Head of North American Asset Servicing Sales for institutional clients.
In March 2017, Jon assumed a new role as the Global Head of Corporate and Institutional Sales. He is responsible for overseeing a diverse institutional sales team across North America, Europe, the Middle East, and Asia-Pacific regions, covering the public fund, Taft-Hartley, not-for-profit, large corporate, insurance, investment manager, multinational, and middle market segments.  Jon's focus is solutions-based new business development.  He is an industry veteran, with over 25 years of experience in client service and business and product development.
Prior to joining Northern Trust, Jon served in various executive and lead business development roles at Bank of New York Mellon Corporation.  Most recently, he served as National Sales and Marketing Director for the asset servicing sector.  Before that, Jon held several senior positions in market segment sales, new business development, and product management.
Jon attended the University of Pittsburgh and began his career in management and sales for a retail consumer goods firm.  Jon currently participates on several national organizations that focus on the financial services industry.