Who We Serve

What We Do

About Us

Insights & Research
Who We Serve

What We Do

About Us

Insights & Research
2020 Family Office Benchmarking: PTC Peer Perspective
The one constant for every family is change. However, we know and observe that families are resilient. We see this resilience in the investment in cyber practices and the speed with which many PTCs have moved from manual, paper processes to secure online applications.
As printed in the November 2021 (Volume II, Issue 3) South Dakota Trust Company Services LLC Quarterly Newsletter.
Jane Flanagan is the Director of Family Office Consulting in the Global Family & Private Investment Offices group at Northern Trust, which provides a range of asset servicing, fiduciary, investment, banking and wealth management solutions to individuals, families, family offices, and private trust companies around the world. The group serves more than 500 family office clients across the globe. 
Every family I meet is curious about other families. They wonder how others run their family offices, make decisions, and stay together, especially amid so much uncertainty and change.
To answer these questions, we invited our clients to participate in our 2020 Family Office Benchmarking Survey. In the interest of sharing true peer perspective, here are some of the key learnings from the 24 survey participants who own Private Trust Companies (PTCs). These PTCs provide services for more than 292 family households around the world and oversee more than 37 billion dollars in assets.
TOP CONCERNS

Cybersecurity tops the list of concerns keeping PTC leaders awake at night. This makes sense when you consider that 64% of these participants have experienced a cyberattack and with COVID requiring so many offices to work remotely. Many have been challenged to transition manual, paper-based processes to a more secure, online environment. Concerns about the markets come next, with 56% worried about market volatility, and 50% geopolitical uncertainty. Family issues such as succession (in the business, family office, family leadership or with trustees) and engaging the next generation surface at 50% and 39% respectively. Concerns about taxes (39%) and wealth consumption (28%) round out the list. If you're struggling to fall asleep with worries like these, you're not alone.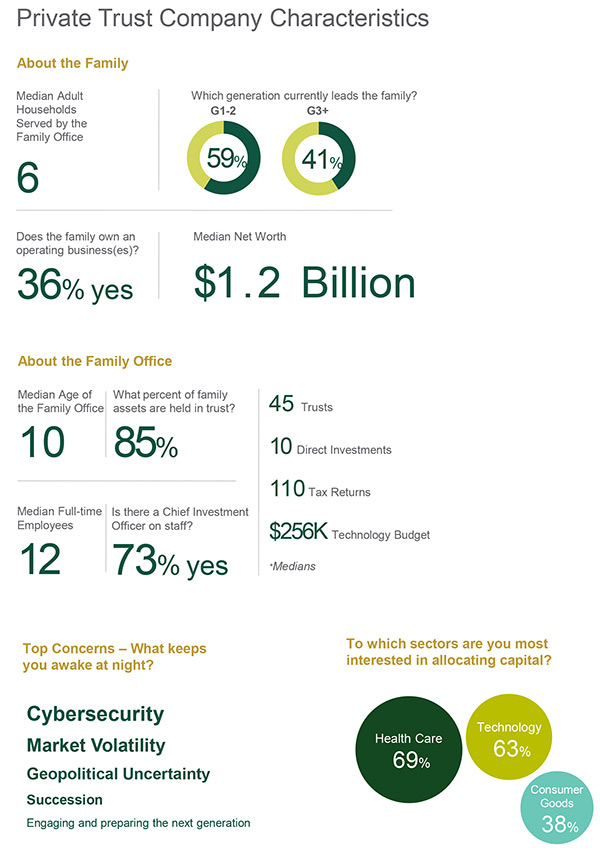 NAVIGATING CHANGE
Preparing for succession often ends up in the upper left, "not urgent but important" quadrant of the risk matrix. We were interested to learn 50% of PTC participants are preparing for a succession event in the next three-to-five years.
While 58% of participants report having a business continuity plan in place, conversations about succession in the family leadership, family office leadership and with trustees are often avoided. In the absence of much industry guidance on the family office succession process, we've been interviewing former family office CEOs to learn from their experience navigating this change. Our hope is to provide some lessons learned for those who are facing this challenge. The biggest learning so far, is that change in the leadership of the family office is rarely just about finding a new successor. In most cases, it leads to a pause to revisit the role and reimagine what's needed for the family moving forward. We see families revising their governance structures, service menus and more. If you're facing one of these transitions, it is never too soon to begin the planning process.
OPERATIONAL EFFICIENCY
Speaking of reimagining what's needed for the family moving forward, this is something we see families with PTCs doing continually when it comes to their service menus. The pandemic has inspired many to revisit their operations. This image provides a summary of how the majority of PTC participants are managing service delivery (in-house, with an advisor, outsourced or not offered). 
We asked about the motivation for partnering with
an advisor on service delivery and learned that:
81% partner to gain expertise that they don't have in-house
62% collaborate to gain access to technology or other resources the office doesn't have
43% make the decision for cost savings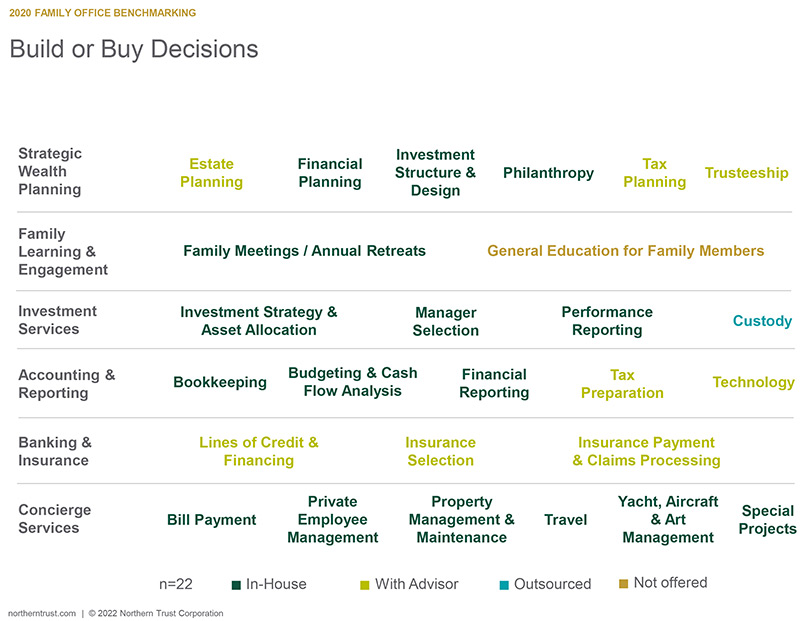 COMMUNICATION IS CHANGING
We're seeing a shift in the way information is being shared. When it comes to financial reporting, 42% of PTC participants are providing financial information to clients on an ad hoc basis. While hard copy reports are still the most common means of distribution at 68%, nearly half of participants (47%) now use a secure portal.
At a time when most younger family members get their news and information online from apps on their phones, many are seeking creative ways to share the information that family members need to make decisions in a format that works for them. One creative example I heard from a family recently, in response to feedback from the next gen family members that they didn't have time to read the family council meeting minutes, was their purchase of podcast software to record the reading of the meeting minutes. Now family members can listen on their morning run or at their leisure.
Many Governing Board and committee meetings have happened virtually over the past 18 months, with greater participation for less cost. We expect the future to see a hybrid of in-person and virtual gatherings.
CLOSING THOUGHTS
The one constant for every family is change. However, we know and observe that families are resilient. We see this resilience in the investment in cyber practices and the speed with which many PTCs have moved from manual, paper processes to secure online applications. We see this in the attention to operational efficiency and work being done to improve service delivery, for the good of the staff and the family.  We see this in the shifts in communication to accommodate client preferences.
This data is just the tip of the iceberg.
---

To learn more, please contact:
Jane Flanagan, Director of Family Office Consulting, 312-557-2025 or JPF7@ntrs.com
David C. Albright, Head of Client Development – Americas, EMEA & APAC Regions, 312-557-1900 or DCA2@ntrs.com
---
© 2022 Northern Trust Corporation. Head Office: 50 South La Salle Street, Chicago, Illinois 60603 U.S.A. Incorporated with limited liability in the U.S.LEGAL, INVESTMENT AND TAX NOTICE: This information is not intended to be and should not be treated as legal, investment, accounting or tax advice and is for informational purposes only. Readers, including professionals, should under no circumstances rely upon this information as a substitute for their own research or for obtaining specific legal, accounting or tax advice from their own counsel. All information discussed herein is current only as of the date appearing in this material and is subject to change at any time without notice. Northern Trust Asset Management is composed of Northern Trust Investments, Inc., Northern Trust Global Investments Limited, Northern Trust Global Investments Japan, K.K., NT Global Advisors, Inc., 50 South Capital Advisors, LLC, and personnel of The Northern Trust Company of Hong Kong Limited and The Northern Trust Company.  Privacy Notice: To learn about how Northern Trust uses the personal information you provide and your related rights please visit https://www.northerntrust.com/united-states/privacy/north-america.