Equity
U.S. Quality ESG
Ticker:
NAV AS OF 09/25/23
NUESX
$16.17

$0.07
snapshot
performance
portfolio
management
fund documents
Summary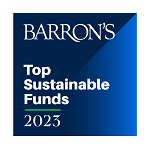 NUESX (Class K) was ranked 15th out of 33 funds that passed Barron's AUM an sustainability screens, based on 1-year total returns as of 12/31/2022. Awarded 1/27/2023.
For those investors who are socially conscious, the U.S. Quality ESG Fund may be the Fund for you. This Fund seeks to invest in high-quality companies that are industry leaders with regards to their environmental, social and government practices. These standards can help protect the environment and foster more favorable living conditions for future generations. Their practices might include; stewardship of the environment, service to local communities and society at large, commitments to higher labor standards, focus on safe, high-quality products and exemplary and ethical management.
Fund Objective
The Fund seeks to provide long-term capital appreciation. Any income received is incidental to this objective.
Fund Strategy
The strategy uses a proprietary multi-factor model based on rigorous academic and empirical research to target high-quality and highly-rated ESG U.S. large- and mid-cap companies. Using a quantitative, factor based approach, the strategy seeks to invest in companies that: meet certain criteria for ESG sustainability and exhibit strong business fundamentals, solid management, and reliable cash flows.
Investor Profile
If you are an investor who wants to invest in a high-quality, diversified portfolio of large- and mid-cap companies in North America that are selected based on sector ranking of environmental, social, government and financial factors, you may find this Fund attractive.
Risk/Reward Potential

Overall Morningstar Rating TM

Among 1,277 large blend funds derived from a weighted average of the fund's 3-year risk-adjusted returns as of 8/31/23.
Northern US Quality ESG (Class K) received 4 stars for the 3-year rating among 1,277 large blend funds and 4 stars for the 5-year rating among 1,178 funds.
The Morningstar RatingTM for funds, or "star rating," is calculated for managed products (including mutual funds, variable annuity and variable life subaccounts, exchange-traded funds, closed-end funds, and separate accounts) with at least a three-year history. Exchange-traded funds and open-ended mutual funds are considered a single population for comparative purposes. It is calculated based on a Morningstar Risk-Adjusted Return measure that accounts for variation in a managed product's monthly excess performance, placing more emphasis on downward variations and rewarding consistent performance. The top 10% of products in each product category receive 5 stars, the next 22.5% receive 4 stars, the next 35% receive 3 stars, the next 22.5% receive 2 stars, and the bottom 10% receive 1 star. The Overall Morningstar Rating for a managed product is derived from a weighted average of the performance figures associated with its three-, five-, and 10-year (if applicable) Morningstar Rating metrics. The weights are: 100% three-year rating for 36-59 months of total returns, 60% five-year rating/40% three-year rating for 60-119 months of total returns, and 50% 10-year rating/30% five-year rating/20% three-year rating for 120 or more months of total returns. While the 10-year overall star rating formula seems to give the most weight to the 10-year period, the most recent three-year period actually has the greatest impact because it is included in all three rating periods. Past performance is no guarantee of future results.
©2023 Morningstar, Inc. All Rights Reserved. Morningstar and/or its content providers are the proprietors of this information; do not permit its unauthorized copying or distribution; do not warrant it to be accurate, complete or timely; and are not responsible for damages or losses arising from its use.
Barron's examined the most accessible share class of all the U.S. large-company stock funds — actively managed mutual funds and ETFs — in Morningstar's universe with more than $300 million AUM. They then screened for funds that received a "high" or "above average" Morningstar Sustainability Rating as of 12/31/21. The funds were then ranked based on 1-year total return as of 12/31/21.
Important risk information can be found on the Portfolio tab.
Not FDIC insured | May lose value | No bank guarantee
View investment terms definitions
Please carefully read the prospectus and summary prospectus and consider the investment objectives, risks, charges and expenses of Northern Funds carefully before investing. Call 800-595-9111 to obtain a prospectus and summary prospectus, which contains this and other information about the funds.
©2023 Northern Funds | Northern Funds are distributed by Northern Funds Distributors, LLC, not affiliated with Northern Trust.