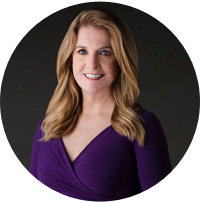 Katie Nixon, CFA, CPWA®, CIMA®
Chief Investment Officer, Northern Trust Wealth Management
Global equities are ending the week on a high note, and with the first weekly gains in four weeks. Some see this as a "bear market bounce," but we remain more constructive on the outlook, even fully recognizing some very obvious and visible challenges.
Expectations Turnabout: Why are growth forecasts tumbling?
While the market narrative over the past several months has focused on inflation and on central banks collectively lagging behind markets, there is a new narrative in town. Attention has turned to the diminished growth outlook. In cases such as in the U.S., this is the intended outcome of aggressive monetary policy. Tamping down demand to lower growth is the only mechanism the Federal Reserve can use to fight the inflation which has been fueled in part by exogeneous shocks to global food and energy supplies and logistical logjams that have added friction to supply chains.
It does seem that U.S. economic growth is slowing. We are among observers cutting estimates for second-quarter and full-year gross domestic product growth. Whether the slowing is due to tighter financial conditions spurred by the Fed's actions or words — such as hiking interest rates 150 basis points this year and vowing to continue tightening aggressively against too-high inflation — or simply due to the demand destruction that comes from extremely high headline inflation and a cloudy economic outlook, we now expect that annualized growth will fall to 1.5% in the second half of this year — a slower pace, but not recessionary. That downgrade has been verified by some recent economic data, in particular the Purchasing Manager Index released this week that clearly signaled a slowdown in economic activity.
Surprisingly, the slowdown was apparent in the services sector, in addition to an expected slowdown in the manufacturing, or goods, sector. This defies the collective wisdom that had emerged around a consumer spending robustly on services and experiences instead of goods. This data seems to show a shopper who may be running out of steam, whose paycheck is increasingly consumed by the cost of food and energy needs, with less spending available for wants. While we continue to expect a solid summer of spending, the leading indicators point to a slowdown this fall. Our base case remains positive, but slower, growth in 2022 and 2023.
So why don't we expect a recession?
Even as the savings rate declines and the last bit of fiscal stimulus fades, we anticipate that job opportunities will remain ample. That is not to say that every sector is healthy. For example, we have seen layoffs in tech, plus housing-related, big box retail where there has been a deliberate oversupply of labor to accommodate pandemic-related excessive demand. Labor is among the data we are monitoring most carefully for signals of broader weakness.
As the growth outlook replaces inflation as the top concern among investors and a growing number of pundits call for a U.S. recession, why do we persist in forecasting growth? The key is the labor market. Jobs are the key to the U.S. economy as long as labor income is the lifeblood to consumer spending. With jobs remaining plentiful based on the JOLTS job openings data and weekly unemployment claims trending low, the labor market remains robust.
Market Expectations Turnabout: What's behind the bond market's U-turn?
Action in the bond market continues to reflect ongoing uncertainty about the macro outlook. Following fears of inflation and an aggressive Fed driving treasury yields significantly higher since mid-month, investors are now clearly concerned about the growth outlook which has driven significantly lower Treasury yields. Longer-dated Treasury yields are the most sensitive to longer-term growth and inflation expectations, and the 10-year Treasury yield has dropped almost 38 basis points to 3.12% from nearly 3.5% mid-month.
Real yields, the interest rate adjusted for inflation expectations, have dropped about 30 basis points, signaling that falling yields reflect a downgrade to both inflation and growth outlooks. Importantly, we have seen yields fall across the spectrum of maturities. The two-year Treasury, which is highly sensitive to changes in expectations around monetary policy, had spiked significantly amid the Federal Open Market Committee's hawkish rhetoric. That yield has fallen about 40 basis points since the mid-June high. What does this mean?
Based on the downgrade to both the growth and inflation outlooks, the market now believes that the Fed will not have to be as aggressive as it signaled last week. Chair Jerome Powell noted a specific concern about the University of Michigan's Consumer Sentiment Survey, which had fallen to an all-time low, while also referencing consumer's increasing inflation expectations as a significant concern. Friday's release may offer a bit of a respite to those concerns as the University of Michigan five-to-10-year inflation expectation has fallen to 3.1% from the preliminary read of 3.3% — still elevated, but lower.
Market Expectations Turnabout: Are commodities still fueling inflation?
Commodity markets are also forecasting lower prices as global growth expectations diminish. It is worth noting that across Europe, a similar slowing story is unfolding, albeit with different drivers. In China, shutdowns following from the country's zero-COVID policy have meaningfully crimped economic growth. Fears show in the recent trend in global commodity prices, as declines are nearly across the board. The broad-based Bloomberg Commodity Index has tumbled 14% since June 9.
In energy, U.S. and European oil benchmarks have fallen 12% and 8% respectively this month and industrial commodities have come off the boil as well with copper dropping 18%. Even agricultural commodities have seen some price relief, despite the still-raging war in Ukraine. Global wheat prices have declined 23% from recent highs in mid-May. Make no mistake: these raw materials are still elevated in price compared with pre-pandemic levels, however the commodity-induced inflationary tailwind seems to be dissipating as growth expectations ratchet down.
Why are central banks using the same tools for different problems?
It is tempting to lump all global central banks together in terms of the inflation narrative: inflation is too high, central banks must pull out the policy tools required to tame inflation and get economies back on a sustainable growth course.
While we don't dispute that there is beauty in simplicity, the reality is that the conditions across countries are dramatically different and the policy responses must be similarly nuanced. For example, inflation in the U.S. is driven by high food and energy costs, but it has also been a function of high demand. Some would argue that we have been in a period of excess demand as fiscal stimulus injected funds directly into households. This was quickly followed by an extremely fast improvement in the labor market which added organic wages to the consumption tailwind. This "excess demand" is certainly a problem, but on a relative basis it is a good problem to have since it provides the Fed with more policy room to tighten without driving the economy into recession.
Europe is in a different situation: there is no excess demand. Europe did not engage in the U.S. style or magnitude of fiscal stimulus. The drivers of inflation are apparent and relentless: the war in Ukraine is threatening energy supplies and driving up costs with no end in sight. The war is also harming logistics and access to supplies for manufacturers across the region. The combination of no excess demand and persistently high inflation leaves the European Central Bank in a tight spot, with far fewer good policy choices.
Adding to the policy conundrum, the issue of "fragmentation" has reared its ugly head again: bonds in the economic zone's periphery have seen yields spike relative to German Bunds and spurred concerns around financial fragility. This condition is what led to Mario Draghi's "whatever it takes" moment in the summer of 2012 where he vowed to protect the financial stability of the EU, the euro and its members, subsequently launching a program to buy bonds of distressed peripheral countries. Notably, the ECB never ended up using this program as the power of Draghi's words was enough to bring calm to the market.
Fragmentation is back, however, with the spread between Italian and German bonds reaching 250 basis points in mid-June as the ECB signaled a tighter monetary policy stance at the June meeting. This condition led to an unusual special ECB meeting the result of which was, in some view, Christine Lagarde's Draghi moment: she vowed support to the periphery using a "fragmentation instrument" and stressed that the ECB has 200 billion euros in dry powder to address any stress that emerges. Her words were enough to calm market fears, and the Italian-German spread narrowed meaningfully. We think the ECB will proceed with caution here, with perhaps three or four rate hikes this year, with the bias toward fewer.