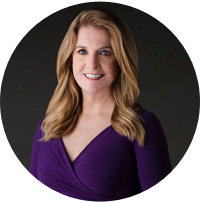 Katie Nixon, CFA, CPWA®, CIMA®
Chief Investment Officer, Northern Trust Wealth Management
Risk-asset markets broke a seven-week losing streak and bounced back from the brink of a bear market, allowing us to leave May on a decidedly high note. Recent data appears to confirm the growing conviction around "Peak Inflation, Peak Fed," and equities and other risk assets found their footing amid month-end rebalancing.

The foundation appears solid
Economic data released this week affirms that the U.S. economy remains on solid footing, with inflation-adjusted wage and salary income continuing to increase more than 5% year-over-year, and driving real consumer spending growth nearly 3% from a year earlier in April.
While we had several significant earnings "misses" last week from major retailers, it was not a symptom of a weakening of the consumer; rather, it was a sign of demand of a different type. Consumers gorged on goods during the pandemic, and now they are looking to spend on services. We have been expecting this, and given the strong data this week, we can anticipate continued strength in spending on services through the summer.
That said, there are some troubling signs that bear watching. It has become commonplace to look to the strength of household balance sheets to support a constructive outlook for U.S. economic growth. While it is true that the level of "excess savings" remains robust, the excess balances are not evenly distributed throughout income strata. Although excess savings have risen for all households, the top income quintile holds a disproportionate share of this estimated $2 trillion in savings, while the bottom 40% holds just about 20%, according to a recent Brookings Institution report. In addition, the household savings rate has fallen significantly over the past several months to 4.4% — significantly below the 2019 level of 7.3%. It is clear that high inflation is taking its toll, and we will be monitoring conditions closely.
Peak inflation?
The Fed's preferred measure of inflation arrived right on estimate: headline Personal Consumption Expenditures reported by the Bureau of Economic Analysis rose at 0.25% month-over-month, the smallest increase in 18 months, and 6.3% year-over-year. That's down from a 40-year high of 6.6% last month and also represents the first decline in 18 months. Core PCE which excludes food and energy rose at a 4.9% annual rate, lower than it had been for March or April, lending credence to the premise that inflation has peaked.
The question for investors is: Where does inflation go from here? In our view, it is likely that core PCE inflation has peaked, however the path to 2% may be difficult amid continued pressures on inputs, whether that be driven by labor shortages, supply chain difficulties, or high commodity input costs.
In short, the recent data does reflect inflation at least stabilizing, and at best having peaked. But this will not change the Fed's resolve to act aggressively and quickly to tamp down still-elevated inflation to the policy target of 2%.
Between an Arthur Burns and a Paul Volcker place
Arthur Burns was a Chair of the Federal Reserve from 1970 to 1978, and was largely blamed for allowing easy monetary policy to unleash persistently high inflation in the 1970s. Paul Volcker was appointed as his successor, and is roundly credited for "breaking the back of inflation" at the cost of recession.
The FOMC minutes were released this week. They provided no surprises but reflected a dilemma familiar to previous Fed chairs.
Growth is clearly slowing, and inflation is beginning to eat into household savings and savings rates. Financial conditions have certainly tightened with lower equity prices along with higher interest rates and wider credit spreads. This presents a conundrum for the Fed: Continue down the aggressive path with a singular focus on inflation and put growth at risk? Or, proceed less aggressively to acknowledge the growth headwinds and risk letting inflation run? Volcker chose the former, while Burns clearly chose the latter.
If you listen closely to Fed Chair Jerome Powell, it is crystal clear: he has invoked the memory of Volcker many, many times. The hyper focus on inflation will continue, and while inflation may have peaked, it is still uncomfortably high. The Fed will continue as promised: two 50-basis point hikes in the next two meetings, perhaps followed by several 25-basis point hikes through the end of the year, bringing the Fed Funds rate to 2%-2.25%. Interestingly, market expectations for rate hikes have cooled over the past few weeks as more signs of economic fragility emerge, with the current Fed Funds rate expected to peak in 2023 at 3%.
What is the bond market telling us?
Risk control, or high-quality fixed income, has resumed its place as a powerful diversifier this month, with yields falling amid sliding equity prices in May. As noted above, market expectations for Fed rate hikes in 2022 have fallen over the past few weeks as well.
Further, we see the yield curve – or the difference between the two- and 10-year Treasury yield – flattening from an early-May level of 40 basis points, to the current 29 basis points.
Furthermore, market expectations for inflation have fallen meaningfully over the past few weeks, as investors have concluded that the combination of high inflation and tighter financial conditions will ultimately slow the economy and bring inflation down. The five-year breakeven inflation rate has fallen to under 3% for the first time in 2022 since February. The five-year, five-year forward breakeven rate (the rate investors expect inflation to average over the five-year period following the next five years) has fallen 0.3% or 30 basis points since April, to 2.3% – the biggest decline in inflation expectations in over 10 years.
The bond market is sending an important signal that expectations have changed: Both growth and inflation are expected to fall, and the Fed cycle may be aggressive, but short.
The valuation conundrum
As we have noted in several Weekly Fives, the damage done to equity markets in 2022 came at the expense of the valuation multiple, or the price investors are willing to pay for each dollar of earnings. While earnings have remained relatively resilient, the price investors have been willing to pay for those earnings has fallen dramatically to a current level of just over 17x, just slightly above the 10-year average of 16.9x.
So why would investors reduce the value placed on each dollar of earnings? One simple and obvious reason is the overall interest rate environment. With interest rates low, the present value of each dollar of future earnings is simply higher, and as rates have risen, the present value of each dollar is simply lower. That is math.
There is more going on here, however. Over the past several years, investors have placed a high value on consistency and predictability of earnings. In addition to the higher rate environment weighing on valuations, the lack of visibility has also undercut that predictability and placed downward pressure on the price investors will pay today.
History suggests that valuations – low, or high – are very poor market timing tools. Counterintuitively, current valuations do not provide any useful information for investors trying to predict the next year of returns. That said, we know that valuations do matter for the long term: high valuations presage lower returns, and low valuations suggest above-average returns. Seeing valuations fall, although certainly painful for investors today, suggest forward-looking returns will be closer to average.