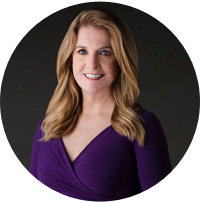 Katie Nixon, CFA, CPWA®, CIMA®
Chief Investment Officer, Northern Trust Wealth Management
Although we ended the week on a high note, the selloff in both risk and risk-control assets that accelerated over the past several weeks has prompted many investors to consider making significant changes to portfolios — selling risk assets and reducing exposure to high quality bonds. Risky portfolios have faced steep losses in global equity prices, and even less-risky portfolios have seen rising interest rates erode values, driving principal losses in high-quality bond portfolios. While it is tempting to make changes to asset allocation strategies given the intense volatility, history warns that these changes can prove costly in the long run. Understanding the "why" behind your investment plan, and revisiting your original decision-making framework can help to offset the impulse to pivot.
The U.S. is Resistant, but not Immune, to Slowing Global Growth:
Consensus earnings estimates for U.S. economic growth have declined, and the outlook for 2023 GDP growth stands at 2.1%. Importantly, although this does indicate a slower pace of growth it does not forecast a recession. Our base case is that U.S. economic growth could surprise on the upside to this low estimate. Consumers and corporate spending remain resilient despite the inflationary backdrop and leading economic indicators and survey data give us confidence in that view.
Our primary risk case is that we are wrong, and that more aggressive Federal Reserve action and much tighter financial conditions manifest in more significant growth headwinds. We see recession risk in the U.S. as relatively low, but rising.
The war in Ukraine continues to punish the outlook in Europe, driving substantially higher commodity prices and weighing on sentiment. Unfortunately, the resolution to the war may be far in the future, and food and energy inflation may persist, threatening to drive demand destruction and possibly a recession in the eurozone.
In China, the zero-COVID policy continues to meaningfully challenge growth, and recent economic data reflect a significant economic slowdown afoot. While there is room for fiscal and monetary policy stimulus, it may be insufficient against an economy facing persistent COVID-related lockdowns in major cities. While we are not forecasting a recession in China, the growth outlook appears fragile.
In short, the three major global economic engines are slowing simultaneously. Although we see the U.S. as resilient, contagion from abroad could become a domestic headwind as the growth outlook for Europe and China remains uncertain.
Inflation in the U.S. — Not Yet Out of the Woods:
While we are seeing some signs of stabilization, we have not seen meaningful progress on the inflation front; we are not yet out of the woods.
This week's consumer and producer price indices confirm that pricing pressures persist, even as the most egregious elements of the high inflation prints do appear to be abating. Market expectations for inflation have fallen over the past several weeks, with the five-year breakeven rate declining meaningfully to 2.9% this week from nearly 3.6% at the end of March.
This seems to indicate two things: the market has confidence that the Fed will be able to tame inflation, and that investors see signs that inflation may have peaked.
The Federal Reserve Bank of Dallas' "trimmed mean" inflation rate, which excludes distortion-creating price changes well above and below the average, declined to an annualized rate of 3.1% in March. And some of the progress on inflation is simple math: we are comparing this year's price increases against a very hot inflation environment in 2021.
Still, services inflation continues to accelerate just as consumers pivot from spending on goods to spending on services like travel and leisure. There remains a significant labor supply-demand imbalance, particularly in many services sectors. The latest Job Openings and Labor Turnover survey from the Bureau of Labor Statistics reflects more than 11 million job openings, with nearly half in leisure and hospitality, retail trade and professional and business services. Given the labor intensity of the services industry, it will be critical to see wage gains moderate. We are watching wages as a key indicator for the persistence of inflation and certainly Fed Chair Jerome Powell is monitoring this very closely as well.
Eyeing Fed Policy's Impact:
Financial markets are starting to reflect a growth-scare environment as financial conditions have tightened substantially after two years of excessively easy-money policy. The journey from easy to tight monetary policy was a fast one, and certainly took markets by surprise — just a few months ago the Fed itself was forecasting only three increases in the fed funds rate. The risk remains that the Fed is forced to become even more aggressive if inflation fails to come in line.
We think the Fed's focus on inflation is singular, and policy makers will risk damping growth to contain inflation. This is much different from the recent past, when the U.S. central bank would hit the pause button if too-rapid tightening was too aggressive for market participants. The concept that the Fed will act as a financial market backstop appears antiquated.
In the U.S. bond market, longer-term Treasury yields have fallen with the 10-year yield dropping below 3%, and credit spreads in both the investment-grade and high-yield markets widening as investors have demanded a higher premium to hold these bonds. We view spread widening, particularly in high yield, as unjustified against a backdrop of a constructive growth outlook and extremely low default rates.
On the equity side, the significant drawdown is pricing in a heightened risk of recession. Investors are requiring a higher return to hold risky assets — a requirement that commands a lower starting point, given increased skepticism on the strength of corporate earnings in a slowing economy.
From our perspective, we observe that first-quarter corporate earnings have surprised to the upside in aggregate, and earnings growth in 2022 is estimated at roughly 10%. With equity prices down significantly and earnings growth positive, the valuation of the market has corrected meaningfully and now sits at 16.6 times forward earnings, below the five-year average of 17.5. Our expectation is that economic growth will be slower but resilient despite the tightening of financial conditions, and we believe the financial markets may be overreacting to the growth scare.
Putting the Income Back in Fixed Income:
We are finally seeing fixed income take on its more traditional "risk control" role in portfolios, with investors flocking to safe havens like treasuries amid equity-market volatility. This contrasts markedly with most of 2022, when the unusual parallel drops in stock and bond prices called into question the risk-control benefits of fixed-income investments.
With concerns about growth and a determined Federal Reserve taking center stage, we are seeing the more traditional relationship between these two asset classes re-emerge. Meanwhile, for the first time in several years, investors can earn some income from fixed income. On the risk-control side, we have 10-year Treasury yields at or around 3% for the first time since 2018. For investors in investment-grade corporate bonds, yields have risen to 4.3%, almost matching March 2020. For investors in municipal bonds, the yield opportunity set has been much improved with tax-free yields in the AA space at 2.65% for five-year and 3% for a 10-year maturity. And last, the current yield opportunity for income in high-yield bonds sits at 7.6% today.
It has been a painful year for fixed income investors, but the silver lining is that reinvestment opportunities for income and principle are more attractive today than they have been for several years. Our outlook calls for a range bound rates market, with longer-term rates ultimately supported at this level and with the shorter-duration end of the Treasury market fully pricing in an aggressive Fed.
Is There a Floor for Equities?
To answer that question, it is first important to acknowledge the amount of damage already done both at the index level and also below the surface. While corporate earnings have remained resilient in the aggregate and stock prices tumbling, equity valuations have deteriorated significantly.
The equity market move has also meaningfully tamped down the excessive speculation in meme stocks and non-earning technology stocks. This is logical: with interest rates at zero, the opportunity cost for speculation was zero and the discount rate for cash flows anticipated well into the future was zero. That has changed and many of these stocks have lost over half their value.
For the broader market, the biggest headwinds have been the higher interest rate environment, and emerging growth concerns. Are we at capitulation? That is very difficult to determine. While equity markets have fallen, the downside risk should we experience a significant slowdown in earnings growth is real.
We can see from history that markets tend to overcorrect both on the upside as well as on the downside. While equity valuations could certainly fall well below historical averages to compensate investors for taking on risk, that is not our base case. Our outlook calls for moderating economic and resilient earnings growth, and our view on interest rates is nearly aligned with current market pricing — a lot of Fed tightening has been priced into markets today, and that seems appropriate for the inflation dynamics.
We expect equities to advance along with earnings growth while multiples may be anchored at today's level. We note some signs of potential capitulation, with massive equity liquidations over the past few weeks and extremely low investor sentiment — these tend to coincide with market bottoms.
That said, investors should anticipate volatility to continue for the foreseeable future: the level of uncertainty on all fronts — policy, macroeconomic, geopolitical — is very high right now. We continue to recommend that clients stick to their investment strategies and avoid making meaningful changes to asset allocations during this volatility. Being a long-term investor means experiencing periods of intense drawdowns and heightened risk. We understand that markets go through cycles, and the secret to long-term investment success is to properly prepare for these inevitable periods.