2019 Corporate Social Responsibility Report: Achieve Greater
Employees

We recognize that our employees are critical to our success, and we take our search for and retention of top talent seriously. We target our talent identification, sourcing methods and recruiting strategies to specific locations using a variety of channels including job boards, colleges, professional networks, associations and online social networks. We base hiring decisions on a variety of factors, including educational  background, diversity, relevant experience, past accomplishments, professional licensing and strong evidence of integrity and ethical behavior.
Talent Management and Education
Northern Trust's talent management department is led by the Chief Talent Officer, who reports directly to the Chief Human Resources Officer (CHRO). This team is accountable for working with the business to establish enterprise talent policies, programs and practices focused on learning and development, talent planning and organizational effectiveness. This team also works closely with functional learning and development teams who report into their respective business lines to ensure we deliver holistic training solutions.
Learning & Development
Through our Northern Trust University portal, employees can easily access a customized portfolio of core professional, manager, sales and client-servicing training solutions. In 2019, employees consumed more than 450,000 hours of training in self-paced, virtual and instructor-led formats.
We offer a Future-Focused Skills Learning Center designed to increase employees, proficiency in the skills needed to serve our clients in a digital economy. The 2019 launch included Data Analytics, Commercial Acumen and Digital Acuity skills learning categories.

Northern Trust provides targeted internal and external development content and opportunities for managers to support their transition to each new level of management. Many of our programs are interactive and include peer networking and direct access to well-known expert facilitators.
Northern Trust encourages employees to pursue further education. Our U.S. Education Assistance Program provides tuition reimbursement for undergraduate and graduate degrees. In 2019, the program had over 300 active participants who completed 1,180 classes. We have also collaborated with DePaul University to deliver a two-year onsite MBA program to more than 90 participants, making it more convenient for employees. Our EMEA and APAC Education Assistance Programs focus on helping employees attain various certifications.
Talent Planning
Northern Trust is committed to identifying and developing a deep pipeline of diverse, high­ potential talent at various levels across the globe to meet our evolving business needs. Annually, managers conduct talent assessments for more than 7,000 employees, and business and regional leadership teams hold talent review discussions focused on specific topics, such as workforce needs, diversity, top talent, readiness for promotion, readiness-to-move and succession plans. Each year our Chief Talent Officer holds a talent review meeting with the members of our Management Group. A formal talent review is also conducted with our Board of Directors each year, led by our CEO and CHRO.
There are several resources available to all employees on Northern Trust University to help them navigate their careers. In addition, we manage several programs to develop a diverse pipeline of future leaders and help employees advance their careers:
The Rotational Development Program focuses on helping diverse, entry-level talent build their technical and leadership skills in a specific career track- credit, finance, investments, asset servicing or technology. Rotations involve training, mentors, speakers, community service and a case challenge.
The Enterprise Talent Leadership Program seeks to prepare diverse, mid-career talent for leadership success. The program includes assessments, career and development planning, mentors, speakers, targeted development and exposure to senior leadership. Over 50 percent of the program's alumni hold key leadership roles today.
At the senior level, we facilitate a Dialogue with Directors program that provides top talent with exposure to our Board of Directors and enables the Board to  engage with talent throughout the organization.
Organizational Effectiveness
The Talent Management team also oversees strategic workforce planning, organizational design and effectiveness, performance management, engagement and recognition. We have established an internal center of excellence that is equipped to provide consultation, design and implementation support. Northern Trust's annual performance management process includes goal-setting, a mid-year review process, multi-rater feedback and a year-end review. Priorities are set by our CEO and communicated to each business, department, team and individual. Managers are encouraged to provide regular feedback and coaching to elicit performance and results. In 2019, we conducted an employee engagement survey to get a pulse on employees, concerns and level of engagement and to enable us track our progress over time.
Diversity, Equity & Inclusion
Northern Trust embraces all forms of diversity and recognizes the strength diversity brings to our employees, clients, shareholders and local communities. Our core values of service, expertise and integrity are foundational to our commitment to an inclusive culture in which all individuals must be welcomed, respected, supported and valued so that they can fully participate in, and contribute to, our success.
Our unwavering belief that DE&I are inextricably linked differentiates our commitment and approach to diversity. In 2019, we added "equity" as a key factor in demonstrating our commitment to removing and breaking down barriers.
Diversity is about who we are, including  the  differences that make us unique in perspectives, attributes, experiences and background.
Equity is about fairness of access, opportunity and advancement for all, which requires eliminating barriers and the root causes that have prevented underrepresented groups from fully participating in the workplace.
Inclusion is the act of creating a work environment in which any individual or group can feel welcomed, respected, supported and valued to fully participate in and contribute to the organization's success.
Our vision for DE&I is embedded at all levels of our organization, with women and ethnic minorities representing more than half of our Board of Directors. Our Board, through its Corporate Governance Committee, also engages in active oversight of our DE&I strategies, programs and principles. Reflecting the importance of DE&I at Northern Trust, our Head of CSR and Global of DE&I serves as an Executive Vice President reporting directly to our Chairman, President and Chief Executive Officer. Two Chief DE&I officers are responsible for the design and execution of topic-relevant programs across our North America, EMEA and APAC regions.
In 2019, we continued to enhance our overall DE&I strategy to align it more closely with our business goals. Some key initiatives for 2019 were as follows:
Global Diversity, Equity & Inclusion Assessment Northern Trust recognizes that further progress with respect to DE&I - both within our organization and within the communities we serve - requires continuing diligence. In 2019, we worked with the consulting firm Korn Ferry to evaluate our DE&I efforts at all levels of our organization. Developed in response to these findings, our DE&I strategy recognizes the importance of DE&I to our success as a business and highlights our commitment to expanding and enhancing our DE&I efforts. Three primary components direct our DE&I strategy:
Drive accountability
Enhance development programs and placement
Advance culture
DE&I is connected to the organization's purpose; a diverse, equitable and inclusive workforce enables our ability to meet our clients' business needs.
DE&I Governance
We are committed to awareness, action and accountability in the workp lace. Our Global Executive DE&I Council is responsible for providing strategic oversight and defining and driving accountability on the global DE&I priorities. The Council is co-chaired by our CEO and our Head of CSR and Global DE&I. Its mission is to facilitate the development of  an inclusive culture  that values and leverages DE&I to achieve and sustain superior business results. This newly relaunched governance model will facilitate the development of an inclusive culture that values and leverages DE&I to achieve and sustain superior business results.
Development and Pipeline Programs
To expand a diverse talent pipeline at the early, mid­ career and senior levels, we increased the size of our 2019 Global Enterprise Talent Leadership Program and piloted a NextGen Team Lead Program in our Tempe office. These initiatives are aligned with our goal of creating more targeted and scalable development programs across the organization.
Unconscious Bias Training
To advance our culture of inclusion throughout the organization, we have created a number of mandatory training sessions for employees. In 2020, employees will receive three introductory videos and a three-part eLearning series called, "Unconscious Bias: Understanding Bias to Unleash Potential:' The training will help our employees identify bias and how it affects the decisions we make; demonstrate ways to cultivate meaningful connections to help us value the people around us; and encourage our employees to take an active role in creating an environment where all people are respected, included and valued.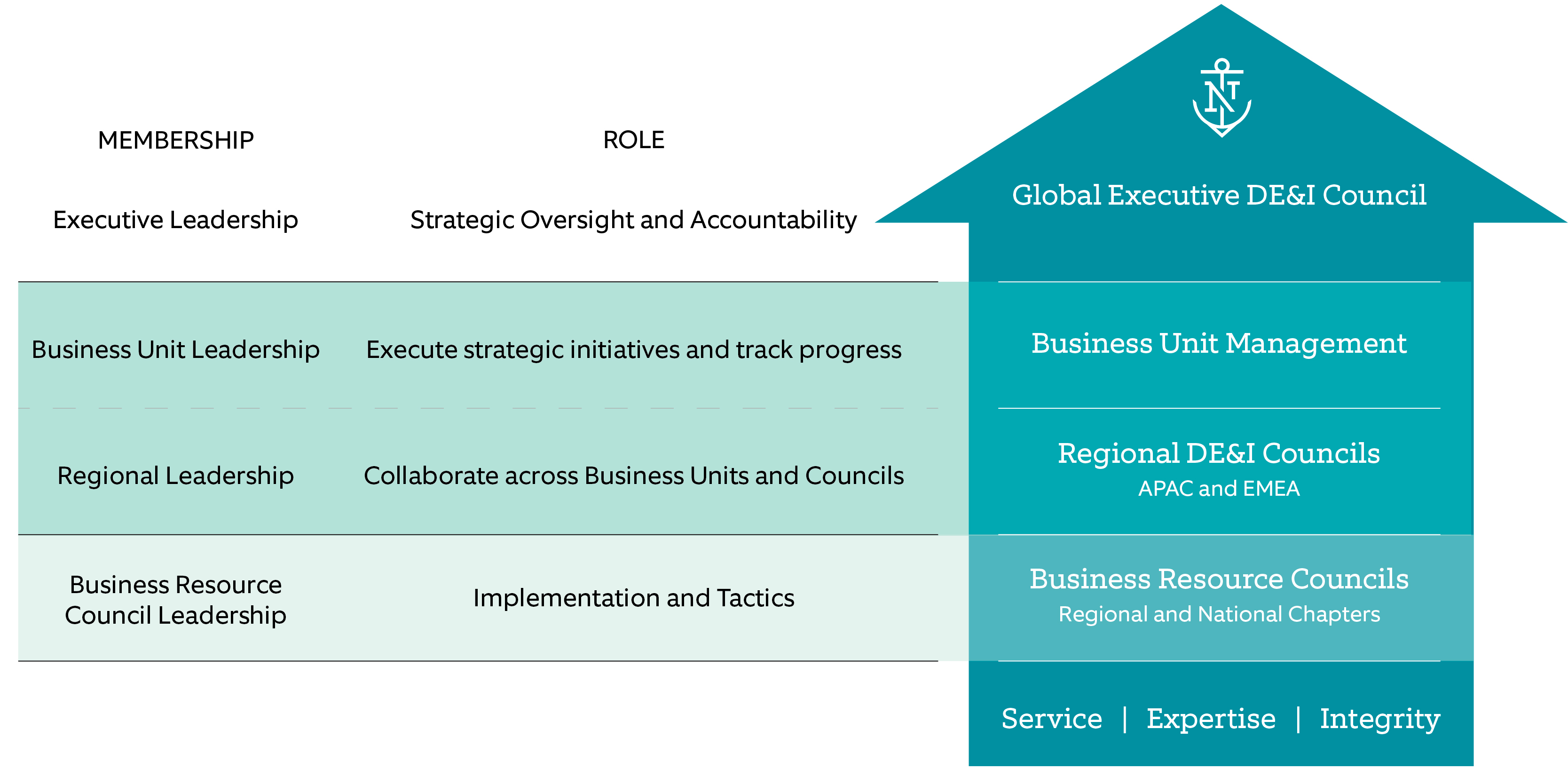 Business Resource Councils
The Northern  Trust Business Resource Councils (BRCs) are employee-led resource groups that provide tools and resources to support the development of an inclusive culture that values and leverages DE&I to achieve and sustain superior business results through:
Contributing to the organization's success by providing professional development opportunities
Assisting in attracting diverse talent
Providing diverse insights to our overall business
Enhancing cultural understanding
BRC participation is voluntary and open to all employees who are interested in the mission of the group. To provide further connectivity to our organization's priorities and additional strategic oversight, each BRC is managed by an executive committee of mid- to senior-level employees and benefits from the guiding input of an executive sponsor .
In 2019, our BRCs ed interna and externa events with the purpose of advancing diversity, equity, inclusion and engagement. The councils also launched global campaigns to increase collaboration across regions and strengthen the engagement of our employees worldwide.

A few key programs and initiatives included:
NORTH AMERICA
BRC Advisory Council - Northern Trust developed the BRC Advisory Council to align the BRCs to our DE&I strategy, foster collaboration to form more intersectionality, and create consistency across the BRCs. It aims to increase the value and visibility of the BRCs by developing talent, fostering engagement and creating a community connection.
BRC Summit -  Our second annual BRC Summit took place in our Chicago and Tempe offices and focused on celebrating DE&I, promoting the benefits of BRC membership and illuminating career opportunities and key skills for success across Northern Trust. The Career Expo provided participants exposure to Northern Trust's business units through in-person networking with managers and access to relevant learning and development opportunities. As part of the summit, the BRC executive committees participated in the first of a five-part BRC Leadership Learning Series focused on leadership attributes including strategic think ing, planning and execution, personal courage, effective communication and inspirational leadership. The summit successfully increased membership across the BRCs.
Women's Leadership Development Forum (WLDF) -   Led by our Women in Leadership BRC1 the annual Wom en1s Leadership Development Forum is a series of professional development and personal mentoring sessions designed to develop strategic leaders. This year, in response to industry trends and membership feedback, WLDF integrated a male-ally component to engage men as allies, provide tools men can use to advocate for women in the workplace, and clarify ways men can support the advancement of women. More than 1,700 high-potential women ranging from early­ rising talent to senior leaders have participated in the program globally since its inception in 200 81 including the most recent cohort of 118 women.



GLOBAL CAMPAIGNS
International Day for Persons with Disabilities - The International Day for Persons with Disabilities is observed annually on December 3rd to promote the rights and well-being of people with disabilities. Led by the Disability BRC, employees celebrated across our Northern Trust offices in APAC, EMEA and the U.S. Highlights included a disability awareness poster campaign in India, the lighting of our offices in Ireland in purple, a volunteer event with a non-profit organization that provides services to persons with disabilities in Manila and an information session in North America on the various disabilities that can impact a person's ability to carry out their day-to-day activities.
International Day Against Homophobia, Transphobia and Biphobia (IDAHOTB) - In support of Northern Trust's commitment to fostering a diverse, equitable and inclusive culture, offices around the world marked the day on May 16 and 17. Led by Northern Trust's global NT Pride BRC employees in Chicago, Guernsey, Ireland, London, Manila and Tempe wore purple to recognize the day. Through activities  including  a photo  booth and ally workshop, employees in Manila promoted the power that LGBTQ+ ally support can bring. The strong international participation  in the annual IDAHOTB event illustrates Northern Trust's commitment and support of LGBTQ+ employees.
Global Military Appreciation - Members of the Military Assistance and Appreciation BRC worked together in a global campaign to show appreciation for Northern Trust employees who have served in the military and the families of veterans or those who are currently serving. On Veterans Day in the U.S. and Remembrance Day in the U.K., our Chairman, President and CEO joined several Northern Trust leaders to thank our veteran employees around the globe for their service through an internal video. An accompanying presentation included photos of our veteran employees, highlighted the work the BRC has done internally and externally, and illuminated the efforts of our organization to support veterans and veteran hiring . This global campaign showcased the unique skills, talents and sense of teamwork our military employees contribute to Northern Trust.


HUMAN RIGHTS AND WORKFORCE PRINCIPLES
Northern Trust's human rights and workforce principles apply to all global operations and clearly state our support for the rights of minority groups, women and workers. Our principles expressly reference our conformance with public policies including the International Labour Organization's standards and the Organisation for Economic Co-operation and Development's guidelines for multinational enterprises. Employees worldwide may exercise freedom of association regarding collective bargaining and trade agreements as permitted by applicable regional laws.

We apply these standards to our suppliers and vendors as well as to our employees, who receive training on anti-discrimination, DE&I, and the prevention of sexual harassment. We also provide training on cultural change, which is especially helpful for expatriates and employees serving short-term assignments abroad or experiencing global relocation. Several senior-level company officers are responsible for overseeing the execution of our human rights and workforce standards. These standards commit us to providing fair and equal wages to employees regardless of gender and offering competitive compensation and benefits to our workforce.