2019 Corporate Social Responsibility Report: Achieve Greater
Sustainable Investing
Our sustainable investing philosophy holds that ESG analytics can complement quantitative and fundamental investment techniques to mitigate risks or capture new opportunities. We believe that the long-term financial success of our various stakeholders is dependent upon a healthy global environment, a stable society and well-functioning, well-governed companies. As a result, we view the integration of ESG factors as a long-term aspect of Northern Trust's fiduciary heritage.
Northern Trust offers investment capabilities with sustainable objectives in equity, fixed income and real assets. While sustainability factors are often broad in nature, our investment framework focuses on certain key issues and approaches .
By incorporating a range of available tools and approaches to holistic portfolio construction and stewardship activities, our capabilities encompass a wide spectrum of sustainable approaches, from exclusionary to integratory to thematic.
Northern Trust ESG Funds
Our funds integrate or screen for a variety of different ESG factors including the United Nations Global Compact Principles, gambling, nuclear weapons and thermal coal. As an asset manager, we also have the capability to:
Manage assets to a socially responsible ind ex. We have partnerships with all the leading index providers and can design additional ESG indices on behalf of clients.
Manage assets to a traditional index while excluding a client­directed list of companies. We currently manage restricted accounts to most major index series across asset classes. Accounts can be managed to replicate the risk and return characteristics of the broad index or the restricted index.
Manage an assortment of innovative ESG debt products using a variety of screens, tilts and factors, all of which are focused on yielding competitive performance results while aligned with investor demand for sustainable investing along different time horizons.
Manage assets using quantitative investing techniques, intended to efficiently capture factor exposures that we feel are compensated over full market cycles while mitigating undesired risk in the portfolios.
As of the end of 2019, Northern Trust Asset Management managed over $100 billion of assets globally that incorporated ESG criteria, including nine new ESG equity funds launched in 2019.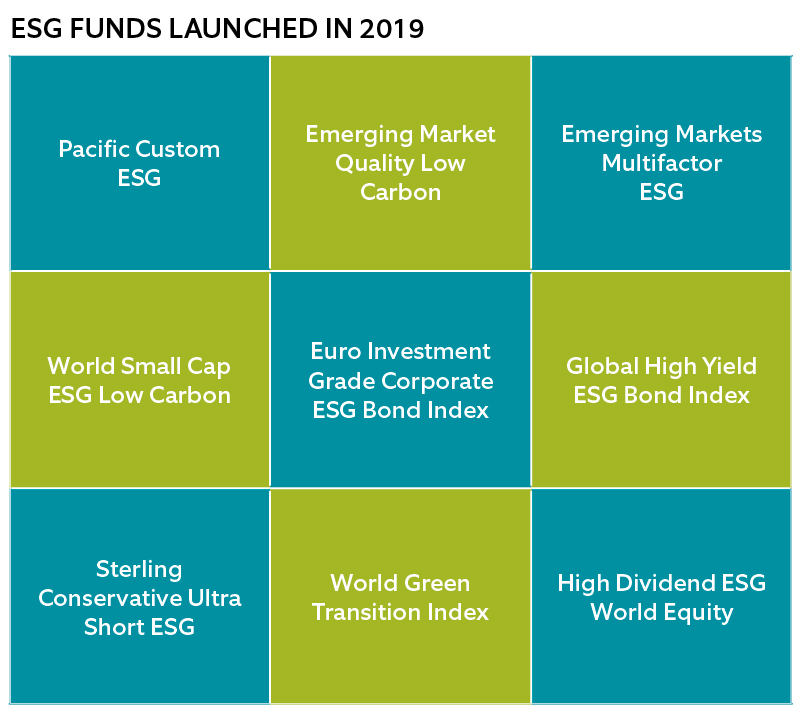 REPORTING TOOL FOR ESG FACTORS
We introduced a new Investment Risk & Analytical Services reporting tool that allows clients to monitor the impact of ESG factors on their portfolios, and better understand how their investment performance relates to these factors.
Our new performance measurement capabilities allow clients to compare a broad range of ESG indices, down to the daily stock level, to determine performance attributions. Using Ideal Ratings data, clients can monitor their investments  in companies  that derive revenue through potentially undesirable and restricted areas including animal testing, firearms and child labor.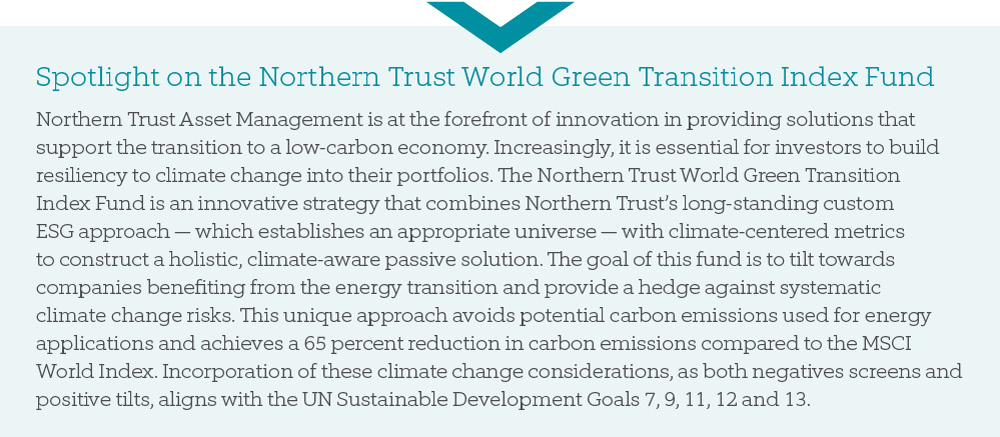 Stewardship
Engagement with management of the companies in which we invest is a core part of the equity research process. Northern Trust's equity research analysts engage with hundreds of companies annually.
Our focus is to accumulate and interpret data to reach sound investment conclusions with the aim of delivering positive long-term investment outcomes for clients. We employ both quantitative and qualitative approaches in this process. In addition to strategy, risk and sustainability of financials, analysts also monitor ESG factors that are of material concern to the long-term sustainability of the investment. The proxy analyst team supplements the analysis performed by Northern Trust's equity analyst team with additional research on ESG matters that contribute to the long-term value of the investment and reflect Northern Trust's commitment to ESG issues. In our role as an active owner, we help portfolio companies produce sustainable value and long-term financial returns.

Global Sustainable Investing Team
Northern Trust has developed in-house, specialized expertise through our long-term commitment to social, environmental and financial integrity. Our sustainable investing team is responsible for ESG research, innovation, product development and product management across our array of asset class capabilities. It proactively develops new ideas to ensure the centrality of sustainable investing to our business development. This team works closely with our clients and our portfolio management team to develop and implement sustainable investing strategies ranging from simple negative screens to more complex mandates, including thematic or active quantitative  strategies. The team works closely with a variety of groups within Northern Trust Asset Management, including our quantitative research team and specialized portfolio managers.
Sustainable Investing Council
In addition, Northern Trust Asset Management has established a Sustainable Investing Council responsible for affirming strategies to address sustainable investment issues and implementing these strategies at a corporate level. The Sustainable Investing Council is chaired by Northern Trust's Global Head of Product Management and includes a diverse and representative group of members who represent different parts of our business. All members meet on a periodic basis and promote sustainable investing which represent various audiences such as CSR, product development and management, equity, fixed income research, portfolio management, business development, proxy voting and engagement. This set-up contributes to a further enhancement of Sustainable Investing within and throughout our company. We strongly believe in the importance of our leadership role and collaborative effort in the industry.
Members of the Council have active roles in industry associations and networks such as the Principles for Responsible Investment, the investor advisory committee of the Sustainable Accounting Standards Board, the Institutional Investor Group on Climate Change and the Harvard Institutional Investor Forum.
THE UNITED NATIONS ENVIRONMENTAL PROGRAMME - FINANCE INITIATIVE (UNEP Fl)
The UNEP Fl is a global partnership between UNEP and the financial sector. More than 200 institutions, including banks, insurers and fund managers, work with UNEP to understand the impacts of environmental and social considerations on financial performance.
UNITED NATIONS PRINCIPLES FOR RESPONSIBLE INVESTING (UNPRI)
The UNPRI Initiative is an international network of investors working together to put the six Principles for Responsible Investment into practice. Its goal is to understand the implications of sustainability for investors and support signatories to incorporate these issues into their investment decision-making and ownership practices.
ASSOCIATION OF CORPORATE CITIZENSHIP PROFESSIONALS (ACCP)
The ACCP is a membership organization open to for-profit companies or corporate-funded foundations that have corporate responsibility or corporate citizenship programs.
INSTITUTIONAL INVESTORS GROUP ON CLIMATE CHANGE (IIGCC)
The IIGCC is a forum for investors to collaborate on climate change. It provides investors with a collaborative platform to encourage public policies, investment practices and corporate behaviors that address long-term risks and opportunities associated with climate change.
CEO ACTION FOR DIVERSITY AND INCLUSION
CEO Action for Diversity and Inclusion is the largest CEO-driven business commitment to advance  diversity and inclusion  in the workplace. All signatories have committed to taking steps to increase diversity and foster inclusion within their respective organizations and the larger business community.

CLIMATE ACTION 100+
Climate Action 100+ is an investor initiative to ensure the world's largest corporate GHG emitters take necessary action on climate change. The companies include 100 "systemically important emitters" that are responsible for two-thirds of annual global industrial  emissions, alongside more than 60 others that have a significant opportunity to drive the clean energy transition.
U.K. WOMEN IN FINANCE CHARTER
The charter reflects the U.K. government's aspiration to ensure gender balance at all levels across financial services firms. A balanced workforce has positive effects for customers, profitability and workplace culture, and is increasingly attractive for investors.
NATIONAL MINORITY SUPPLIER DEVELOPMENT COUNCIL
The National Minority Supplier Development Council (NMSDC) advances business opportunities for certified minority business enterprises and connects them to corporate members. The NMSDC matches more than 12,000 certified minority-owned businesses to their network of corporate members who wish to purchase their products, services and solutions.
CHICAGO MINORITY SUPPLIER DEVELOPMENT COUNCIL
The mission of Chicago Minority Supplier Development Council (CMSDC) is to certify, develop, connect and advocate for minority suppliers as the premier supplier development organization creating sustainable and profitable relationships between minority business enterprises and major buying organizations.

WOMEN'S BUSINESS DEVELOPMENT CENTER

The Women's Business Development Center (WBDC) mission is to support and accelerate business development and growth, targeting women and serving all diverse business owners, in order to strengthen their participation in-and impact on-the economy.
CHICAGO UNITED
Chicago United's mission is to achieve parity in economic  opportunity  for  people  of color by advancing multiracial leadership in corporate governance, executive level management and business diversity.
FINANCIAL SERVICES ROUNDTABLE FOR SUPPLIER DIVERSITY
The Financial Services Roundtable for Supplier Diversity (FSRSD) is a 501(c)(6) organization comprised of regional, national and global financial services companies with a formalized supplier diversity initiative.
DISABILITY:IN CHICAGOLAND
Disability:IN Chicagoland is Illinois' only business-to-business association that promotes disability inclusion in the workplace, marketplace and supply chain. Disability:IN Chicagoland is the local affiliate of Disability:IN.
LGBT CHAMBER OF COMMERCE OF ILLINOIS
The mission of LGBT Chamber of Commerce of Illinois (LGBTCC) is to promote economic opportunities for the LGBT community by being an advocate and resource for all member businesses that encourage equality. The LGBTCC is a local affiliate of the National Gay and Lesbian Chamber of Commerce (NGLCC).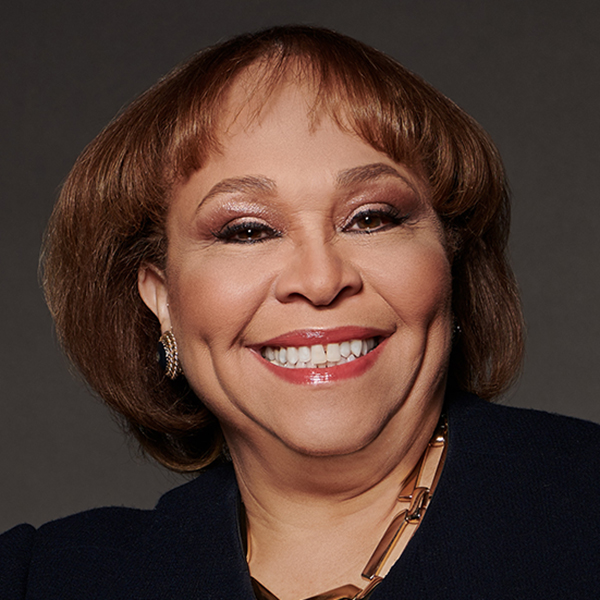 Connie Lindsey
Head of Corporate Social Responsibility and Global Diversity, Equity & Inclusion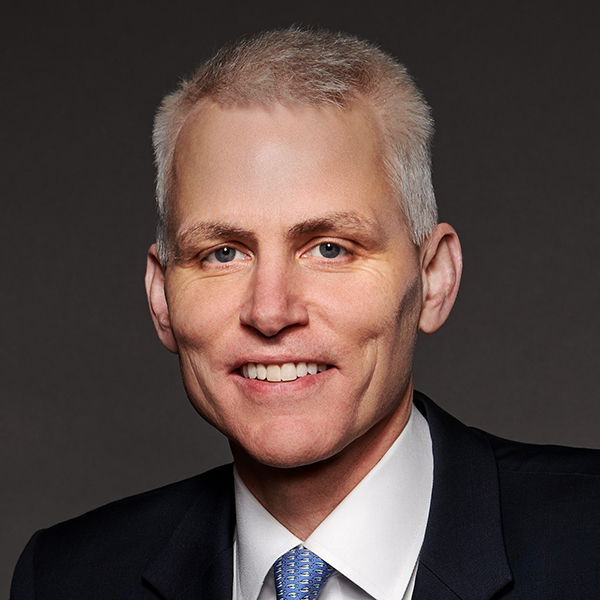 Michael G. O'Grady
Chairman, President and Chief Executive Officer