Arts patron Marjorie Susman discusses the connections that inspire her, bridging chasms through dialogue, and the curatorial fellowship that bears her name.
One beautiful aspect of art appreciation is its potential to be a life-long passion. That is certainly the case for Chicago collector Marjorie Susman, who, with her husband, Ambassador Louis Susman, has built a celebrated collection of modern and contemporary art over decades. An active member of the city's philanthropic and civic communities, she is a Life Trustee at the Museum of Contemporary Art, where her children established the Marjorie Susman Curatorial Fellowship in 1999.
In a recent conversation, we spoke to Marjorie about her passion for collecting, the role of artwork in communication, and experiencing art fairs from a collector's point of view.
How did you originally develop an interest in art and, eventually, building your own collection?
I think I was born with it! I grew up in St. Louis, and we had a wonderful encyclopedic museum, the St. Louis Art Museum. But there was another museum, the Missouri Historical Society, and it had the works of the great American artist George Catlin. He painted enormous portraits of Native American chiefs in the Old West. As a tiny girl, I would stand and stare at those enormous portraits of the chiefs, in awe of their power and beauty. And so my love of art began, as a little girl.
Today, you have a notable collection of contemporary work. It is likely difficult to choose, but what would you consider the highlights of the collection?
One of my favorite artists is Ellsworth Kelly. I only met him once, at a dinner party, but we did speak several times. We own a wonderful painting of his, Dark Blue Curve, from 1997. It is just color and shape and space, but that is enough to send me to the moon. He cared who bought his works, and he cared how you hung them. When we bought the piece I had to measure the wall and send him the dimensions, and then he sent back a drawing so that we installed it just to his specifications. I do often try and establish a rapport with the artist. Brice Marden is an artist with whom I have become quite good friends, and that always fosters a deeper appreciation of the work. He is another one of my favorite artists.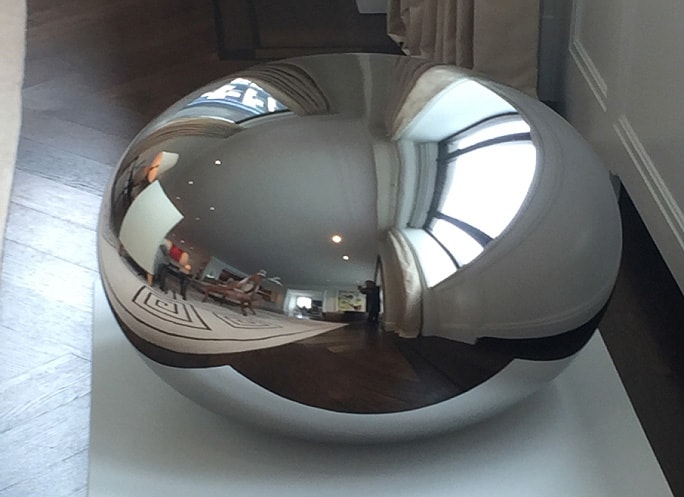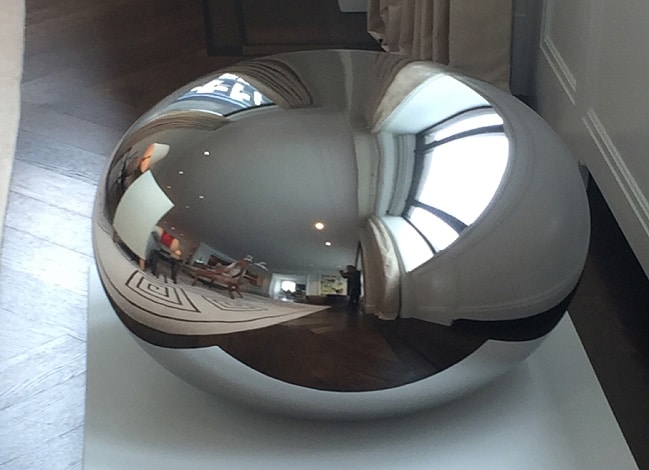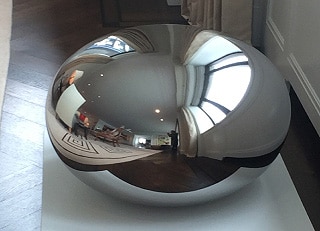 Anish Kapoor, Untitled, 2004
Two other pieces stand out to me as very special. One is the first major painting we bought, which is by Gerhard Richter. That was an instance where we identified an artist whom we wanted to collect, and then I went to work researching. Richter's practice is astonishingly varied – most important are his photorealism and abstract works. We were after the best abstract piece we could afford and ended up purchasing Tower 4. And we have an Anish Kapoor, a stainless steel oval. You might describe it as a mini version of the famous "Bean" sculpture in Chicago's Millennium Park. That too involves a relationship with the artist. I saw it in his studio in London, and I drove the poor man nuts until he was willing to sell it to us! Finally, one night we were out to dinner and he said, 'Marjorie, are you still interested in that piece?' I said, 'Absolutely.' He said, 'OK, you can buy it.' It is one of my greatest treasures.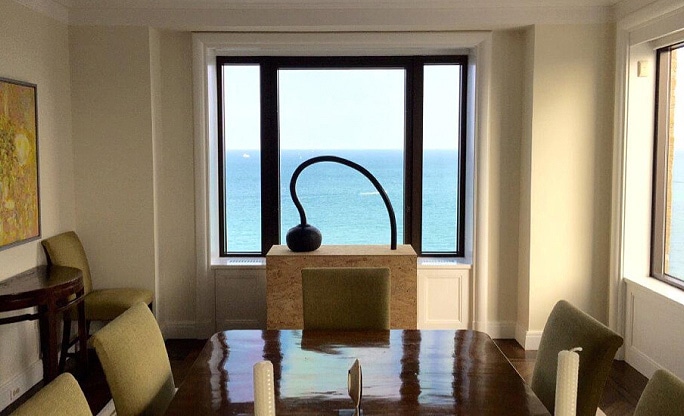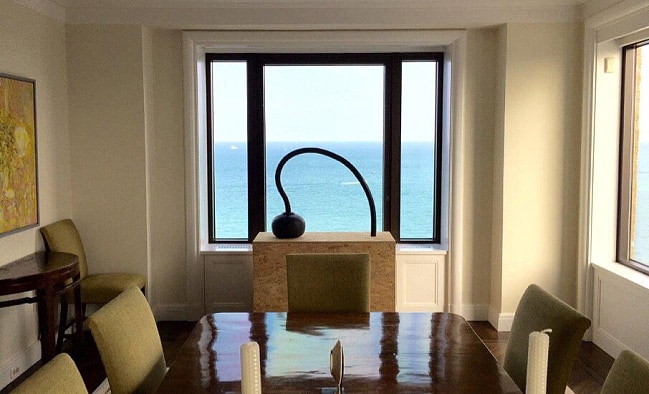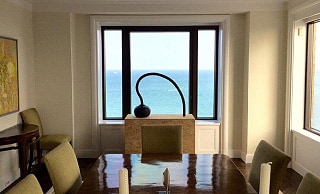 Martin Puryear, Lock, 2010
In your many years of art appreciation around the world, what works inspire you outside of your collection?
So much! Broadly, I do think messaging in art is very important. It is a wonderful way to communicate, and communication via art – be it about civil rights or war – can be extremely powerful. For example, several years ago we went to L.A. to see the exhibition Soul of a Nation. All of the artists in the exhibition were Black, and it featured the work of some incredible American artists who were largely ignored by art institutions during the heights of their careers. It was a painful exploration of our history. I find that political messaging in contemporary art is very powerful.
Did your time at Winfield House in London, when your husband, Louis, was the United States Ambassador to the United Kingdom, shape your collection?
I'm sure it did. Our track has never changed drastically from the contemporary, the abstract, the minimal, but I made several good friends with artists in London, one being Anish Kapoor and another the sculptor Richard Long. If you have ever walked into a museum and seen a circle of stones it is probably a Richard Long. He did a piece for our garden in Nantucket and spent two days with us as he was creating. It was an amazing experience.
At Winfield House, our residence, we often used the art for diplomatic outreach. It was where we entertained, and art was a great communication device, bringing people together and encouraging conversations. Many artists loaned us works. Jasper Johns loaned the painting Red, Yellow, Blue. Martin Puryear loaned a red cedar elegant loop. We also had a number of works that incorporated symbols of America, such as a de Kooning drawing of the Washington Monument and a Jasper Johns bronze flag. What a wonderful way to communicate American values. And it had a powerful effect.
The highlights of our Winfield House exhibition were two Mark Rothko masterpieces, from 1951 and 1954. Though the artist was deceased I met his son, Christopher, and we have become fast friends. With his aid and influence the National Gallery in Washington D.C. allowed us to hang these paintings in our Winfield collection. The impact of experiencing Rothko's works up close in an intimate setting was stunning.
In addition to what you have described, do you have a process for identifying new artworks and new artists? Or are those decisions made relative to opportunities that come along?
It is a combination of both. The last six years or so I have tried to learn more about the art of Latin America. I have gone to Cuba and, many times, Mexico. I went to the Zonamaco art fair in Mexico City. And of course at many of the art fairs, from EXPO CHICAGO to Frieze, you are likely to see art from countries that you are unfamiliar with that is new to your eye. I like to expand my exposure in every way I can, and I think fairs are a wonderful way to do it. They bring it all to you.
Notably, your children founded the Marjorie Susman Curatorial Fellowship at the Museum of Contemporary Art as a birthday gift. Can you describe the nature of the fellowship?
It was founded in 1999. It was a big birthday, my 60th, and they wanted to make it special. They knew how much I loved the MCA and how dedicated I was to encouraging young people to become involved in the arts. It began as a six month program, and now it is a year. One thing that makes it so unique is that it is not a research position; it is a curating position. So the fellow actually gets to curate their own show as well as work with the curators at the museum. They come educated, usually with a master's in art history or museum studies; they are dedicated; and they do a fantastic job. Many continue curating, and it is really exciting to see their accomplishments over the years.
You visit art fairs all over the world. How do you see EXPO CHICAGO playing a role in the art world and the fair?
I look forward to EXPO CHICAGO every year. I find it an exciting fair, and I always go with the thought that I am there to shop. I like to walk around and let my eye wander. Several years ago, we bought a beautiful Martin Puryear. We had wanted to own one of his works for some time, and we had met him at Winfield House when he loaned us a piece. There is first rate art at EXPO CHICAGO for whatever level at which you are collecting, and I think that is wonderful for local collectors and the city of Chicago.