We are overweight risk assets as we enter the new year, as the global economy is gaining momentum and U.S. governmental policy is set to take some load off the Federal Reserve. We focus our risk overweight on U.S. assets for now, as we have yet to see the potential for a similar transition across developed Europe and Asia.
We've recently written of our positive outlook for the U.S. economy after the national elections (see
Populism Drives Republican Sweep
), which led us to further increase our recommended exposure to equities and natural resources at the expense of fixed income. The upside pressures on growth, inflation and interest rates – and the way those upward movements may put a lid on returns due to pressured equity valuations – lead to our theme of "Upward Bound." The economy and financial markets have been suffering from monetary policy exhaustion, with questions about the detrimental effects of negative interest rates on consumer confidence and the financial system growing throughout the year. The Federal Reserve was the first major central bank to end quantitative easing, has hiked rates twice now, and has prompted markets to expect at least two more hikes in 2017 Discussion of major tax reform and regulatory relief is just speculation at this point, but waiting for concrete progress is likely a mistake as the markets will move well in advance of reality. Interestingly, we already are starting to see a positive impact in the U.S. economy as both consumer and business confidence jumped after the election – supporting our overweights to U.S. equities and high yield. We address our top two risk cases for 2017 — inflation and a more hawkish Fed — by being overweight natural resources and significantly underweight bonds.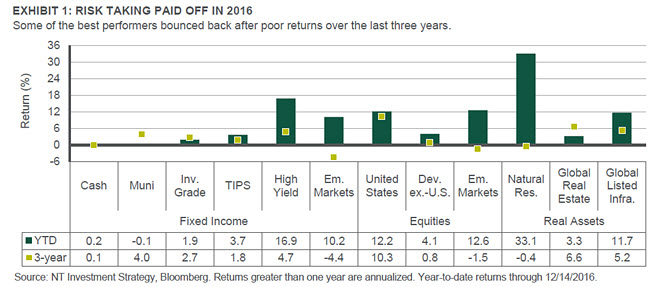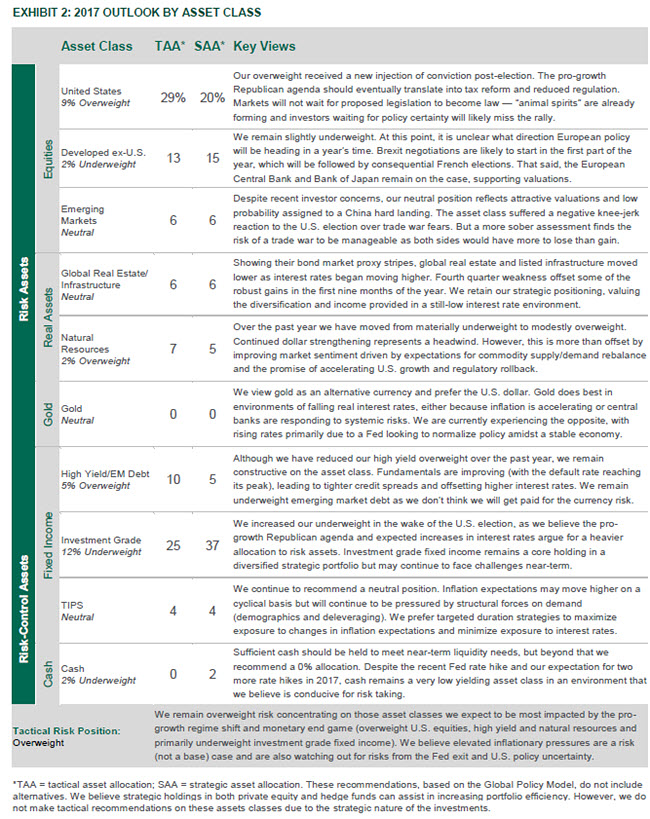 MACRO THEME REVIEW
Part of our 2017 outlook is a review of our long-term capital market assumption themes, as published each summer in our Five-Year Outlook paper. These themes drive the forward-looking portion of our "forward looking, but historically aware" approach to strategic asset allocation (a five-year investment horizon). They also serve as a useful template for our tactical (one-year investment horizon) outlook and asset allocation positioning. Exhibit 3 details our macro themes from the 2016 edition of the
Five-Year Outlook
and how those themes are progressing as we approach the new year.
The U.S. elections served as a major change agent for our U.S. economic growth outlook and expected interest rate trajectories over our tactical horizon. But, as we wrote in our recent piece (
Has the Whole World Changed?
) it is less certain what the Republican sweep means for growth and interest rates outside the U.S. — or even within the U.S. over our strategic horizon. In reviewing our long-term macro themes, it is clear that Populist Roulette stands out. We've noted that populist policies were not necessarily good or bad for economic growth but would likely introduce uncertainty. Brexit was generally viewed to be a negative for European growth on the margin, though the severity is not yet clear. Conversely, the populist victory in the U.S. has led to an upward revision in our economic outlook — but uncertainty has also increased. We expect the new administration will prioritize the more constructive elements of the platform on which it ran (tax reform and regulatory rollback). However, initiatives to remove self-imposed growth constraints will need to spread to other economies and overcome unavoidable realities (aging demographics, high debt and transitioning emerging economies) to eradicate Slow Growth Angst longer term. Time will determine the ultimate trajectory for U.S. and global growth. And the ability for automation-aided supply to meet any acceleration in demand will determine the extent to which Stuck-flation is dislodged. In the meantime, the Fed received the green light to raise rates and took advantage. As a result, the Costs of Ultra-Low Rates will start to alleviate – but slowly.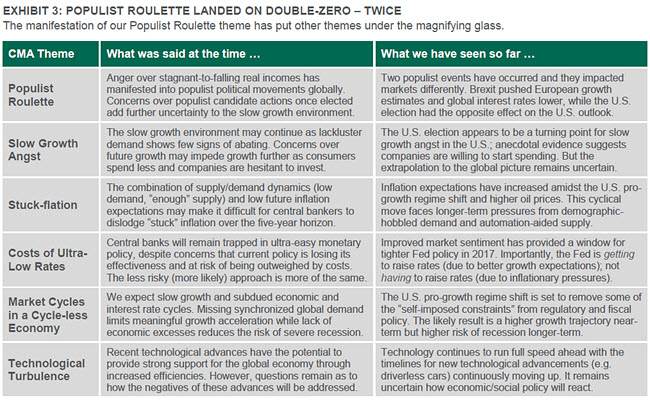 GROWTH AND INFLATION
The regions with the greatest improvement in the growth outlook for 2017 are the U.S. and emerging markets, which is tied to the improving outlook for commodities. We previously believed that U.S. growth was in a channel of 1.5%-2.0%, with the potential of some downside risk to that forecast. With the prospects for tax and regulatory reform starting in 2017, we think the growth channel has risen to 2.0%-2.5%, with the potential of some short-term upside risk. Europe has continued to modestly surprise economic forecasters and is entering 2017 with reasonable momentum due to resilient domestic demand. However, they still face the overhangs of the Brexit negotiations and the change in the Italian government, along with important elections in France, Germany and the Netherlands. Japan's growth is expected to rebound some in 2017 due to the weaker yen and increased exports to the U.S., but the economy has moved between modest expansion and contraction in recent quarters and is unlikely to meaningfully contribute to global growth. While China's growth will likely slow in 2017 due to its greater size and the fading boost to growth from 2016 policies, emerging markets growth more broadly likely will accelerate because of higher commodities prices in countries such as Brazil, Russia and South Africa.
As shown in Exhibit 4, inflation expectations meaningfully increased for the U.S. over the last year, modestly rose for Europe, and actually dropped in Japan. While some of the increase in near-term expectations is tied to known commodity price increases, the rise in the 10-year expected inflation rate in the U.S. of roughly 0.5% is more fundamental and partially reflects an improved growth outlook. Expectations for European inflation have risen only modestly, and only reach global central banks' generally-targeted level of 2% when you go all the way out to 30 year inflation swaps. This is the market's way of saying that European policy makers have much more work to do to achieve targeted levels of growth and inflation. The drop in Japan's expected inflation is a black mark against Abenomics, as the government had very publically targeted a 2% inflation rate, which is a critical component of its growth and fiscal stability plan. While there is not an active inflation swaps market in China, recent inflation trends have definitely ticked up as increasing commodities prices have pulled its producers price index into positive territory for the first time since 2011. With the length of the U.S. expansion, the relatively low level of unemployment, and the potential for a positive growth impulse from the new government, the risk of higher than expected inflation in the U.S. has become our number one risk case for 2017. This has underpinned our move to a recommended tactical overweight towards natural resources (the publicly traded equities of commodity producers) as a hedge against this risk.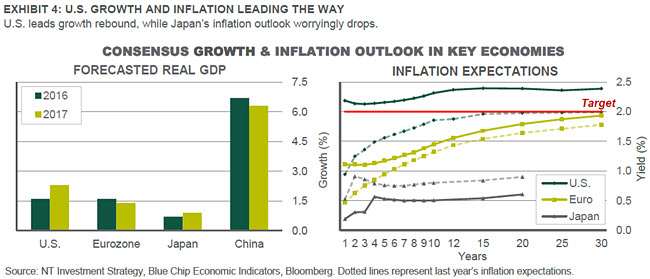 MONETARY AND FISCAL POLICY
Central bankers globally have been calling for fiscal help in their efforts to accelerate growth and inflation, which have been stubbornly low since the Global Financial Crisis. In the absence of that help in many major economies (with two notable exceptions being Japan and China), monetary authorities have remained the primary game in town. Investors always thought there would be a limit to the effectiveness of quantitative easing and low interest rates, and these limitations started to crystalize during 2016. The move to negative interest rates by some countries proved to be the catalyst for reassessment of the benefits of easy monetary policy, as the negative impact on the financial system and confidence ended up muting the intended positive impact of a further reduction in rates. After a year-long pause in rate hikes, the Fed increased the Fed funds rate this month and has indicated it might hike three times (or 0.75%) in 2017 (compared with our expectation of two hikes and market pricing of 0.55%). With the European Central Bank and the Bank of Japan still expanding their balance sheets through quantitative easing (see Exhibit 5), they are likely years away from joining the Fed in the rate hike game. Our expectation is that Fed rate hikes will only proceed alongside solid economic and financial market conditions, and therefore won't upset investor risk appetites. If our risk case of increased inflation were to come to pass, that would trigger our second risk case — a more hawkish Fed that undermines investor risk appetite through unexpectedly tighter monetary policy.
The scope for fiscal policy to supplant monetary policy as stimulus to the real economy varies considerably by region and is meaningfully constrained by politics. According to the IMF, global debt is at an all-time high of 225% of world GDP, with around 50% of the increase in government debt since the global financial crisis tied to weak economic growth. With debt levels so elevated, it is important to expand our view of fiscal policy to include other government policy that can influence growth. The three arrows of Abenomics (monetary, fiscal and structural reform) have had mixed success in accelerating Japanese growth, but Prime Minister Shinzo Abe was prescient in identifying the need for structural reform to boost growth. We expect this to be a significant part of the improving growth outlook for the U.S. in the wake of the Republican sweep, as we don't expect a major expansion in the budget deficit. As shown in Exhibit 5, the IMF actually expects some improvement in fiscal deficits over the next three years. However, the Republican Congress will likely constrain fiscal expansion, just as Germany will likely constrain significant fiscal loosening in the EU. With Japan and China already using the fiscal lever significantly (China's combined national and local fiscal deficit is estimated to have doubled over the last two years), Asia doesn't look set to help accelerate global growth.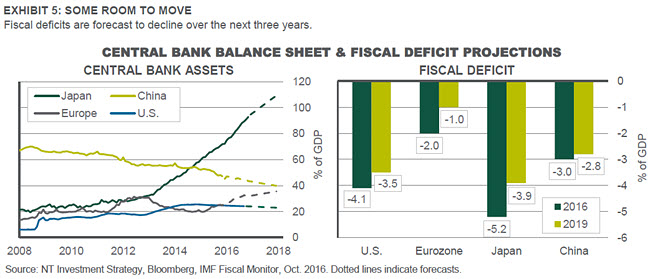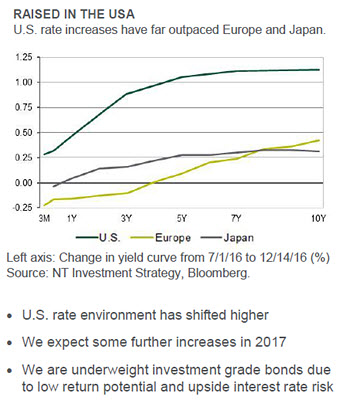 INTEREST RATES
We made a major change in November to our long-held "lower for longer" outlook for interest rates. With the U.S. election results leading to higher growth and inflation expectations and Republican orthodoxy likely leading to more hawkish appointments to the Federal Reserve in coming years, we think the path for U.S. interest rates has moved from lower to higher. A significant amount of the near-term adjustment may be behind us, as we have a forecasted range for the U.S. 10-year of 2.75%-3.25% (as compared with the current rate of around 2.6%). However, we don't see commensurate increases across Europe or Asia. The Fed's moves haven't pushed other major central banks towards hikes. The ECB has extended the duration of their quantitative easing program, while the BOJ is targeting a 0% yield on 10-year government bonds.
With the shift in our outlook for U.S. interest rates comes a shift in our bias about the risks to the outlook. While we previously had felt the risk to our forecasts was to the downside (tied to economic uncertainty), we now see upside risks in line with the potential for upside economic performance. U.S. municipal bonds spreads may widen as rates rise but face a more favorable technical picture as new supply should fall. The volatility in this market makes tactical portfolio management all the more important.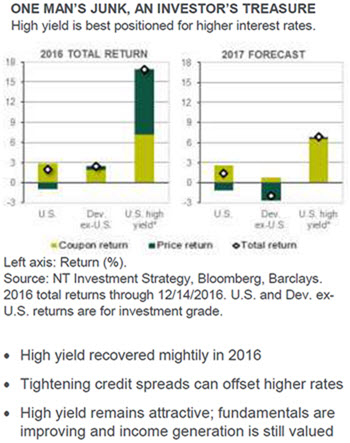 CREDIT MARKETS
Despite the late-year interest rate volatility, credit markets fared pretty well in 2016. With a little over two weeks to go, investment grade credit has returned nearly 5% (though the broader Bloomberg Barclays Aggregate index has returned only 2%, dragged down by its large Treasury component). Investment grade credit investors easily absorbed another record year in issuance ($1.3 trillion at last count). For the year, yields actually fell slightly; higher interest rates were more than offset by tightening credit spreads as investors sniffed out improving fundamentals ahead. We agree with the market assessment and believe credit spreads will remain around the current 1.2% level. Despite our expectations for rising interest rates, steep yield curves (providing positive "roll yield" as bonds make their way to maturity) and stable credit spreads result in an investment grade total return forecast that still outpaces cash.
High yield was the star performer this year — up nearly 20% — and we expect this to continue in 2017. While investment grade fixed income is highly sensitive to interest rate changes, this is not true of high yield which exhibits a just-barely positive correlation of 0.04 to interest rates (meaning high yield has a slight tendency to outperform when rates rise). More impactful for high yield will be improving fundamentals. The default rate appears to have peaked around 6%. With an improving growth outlook and higher oil prices supporting the energy sector, the current 6% yield is attractive.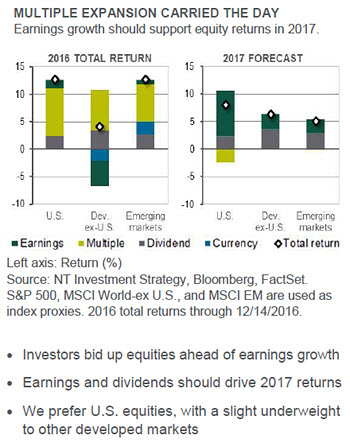 EQUITIES
Equities are on pace to deliver a strong performance in 2016, as investors have bid up valuations in anticipation of improved earnings growth in 2017. We expect the strongest earnings growth in the U.S. (9%), benefitting from tax reform and economic expansion, offset partially by the impact of the stronger U.S. dollar. U.S. equities are also a likely beneficiary of increased share buybacks if a deal is struck on repatriating overseas cash. Our total return expectation for developed markets outside the U.S. is held back by lower earnings growth (3%), but is supported by a superior dividend yield (3.5%) and steady valuation (as opposed to some multiple compression in the U.S.). Finally, we expect emerging market stocks to generate earnings growth of 2.5%, and a dividend yield of 2.8%, with unchanged valuations.
While there may be a continued high degree of focus on U.S. politics in 2017, we think the risk of populist politics leading to a negative economic outcome is higher in Europe. Italy has rejected constitutional reform, and France, Germany and the Netherlands hold important elections this upcoming year. The relatively clear economic and political outlook in the U.S. leads us to a significant overweight, while political uncertainties in Europe lead to a moderate underweight. Finally, we are neutral on emerging markets as we think the prospects of a trade war are manageable.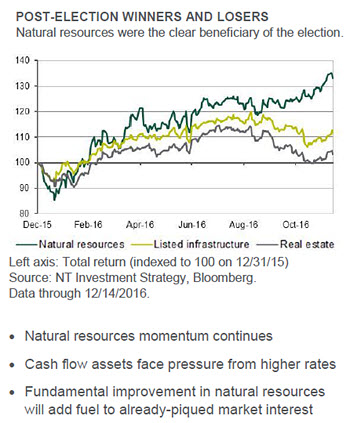 REAL ASSETS
For most of the year, real assets were far outpacing global equities; all three real assets were up double-digits through September 30. However, as interest rates began to rise, cash flow assets (global real estate and listed infrastructure) began to slip given their interest-rate sensitivity. The sell-off accelerated post-election (declines of 3% and 5% respectively as global equities rose by nearly 4%). Both asset classes will continue to face rising interest rate headwinds in 2017, but their still-attractive dividend yields (4.2% and 3.9% respectively) and diversified mix of risk exposures still earn them a strategic allocation. Despite their name, listed infrastructure stocks do not immediately benefit from infrastructure spending — these companies primarily maintain infrastructure, they don't necessarily build it — and have suffered more from rising rates than they have been boosted by improving growth prospects.
Natural resources, on the other hand, would benefit from a renewed infrastructure focus. We recommend a tactical overweight to the asset class, but for reasons beyond the potential infrastructure play which may end up being underwhelming. More exciting for the asset class are the prospects for a higher U.S. growth trajectory, less regulation and less competition from state-run oil producers attempting to shore up their finances. Those dissuaded by the 24% outperformance over global equities year-to-date should keep in mind the 32% underperformance in the 18 months prior.
CONCLUSION
The financial markets shook off several shocks in 2016: fear of a Chinese hard landing in the first quarter, the surprise vote for Brexit in late June, and Donald Trump's unexpected victory in the U.S. election in November. While the Bank of England did cushion the fallout from Brexit with an interest rate cut and expanded quantitative easing, financial markets more broadly started to contemplate reduced monetary accommodation from developed central banks as the year progressed. Central bankers have been looking to politicians to help share the burden of bolstering growth, and the U.S. election has created the opportunity for this domestically. While a more proactive government approach has already been happening in Asia through aggressive government fiscal engagement in China and Japan, Europe has not shown much evidence of making this transition.
The transition to less accommodative monetary policy in the U.S. is greatly facilitated by the improving global economy, which has been moderately accelerating since May. While there are still secular headwinds to strong growth — high debt levels, aging populations and lowered demand — there does appear to be near-term room to run. Our expectation is that the economic backdrop, along with the potential of pro-growth reforms in the U.S., will support risk taking in 2017. We recommend an overweight to U.S. assets because of stronger earnings growth and a clearer political agenda, while we will be watching Europe in particular for further signs of change in their upcoming elections.
Our primary risk cases involve inflation, Fed policy, and U.S. policy uncertainty. Our overweight to risk assets assumes a controlled level of inflation, as we expect global capacity and technology to continue to cap pricing power. An unexpected rise in inflation, or even stronger economic growth, could lead to Fed policy that is more hawkish than we expect. Higher interest rates could directly pressure valuations of risk assets, and increase volatility in the markets through "taper-tantrum" like episodes. Our final risk is around U.S. policy uncertainty – the incoming Trump administration is already challenging conventional protocol in both domestic and international politics. While we think the economic risk associated with new policies in areas such as trade is relatively low, we categorize the broader geopolitical risk around this new approach to U.S. politics as medium. Geopolitical episodes tend to only have a transitory effect on financial markets, but we will be focusing on their potential to morph into economic risks which can have a more sustained effect.
Special thanks to Thomas O'Shea and Daniel Ballantine, Investment Analysts, for data research.
---
IMPORTANT INFORMATION: This material is for information purposes only. The views expressed are those of the author(s) as of the date noted and not necessarily of the Corporation and are subject to change based on market or other conditions without notice. The information should not be construed as investment advice or a recommendation to buy or sell any security or investment product. It does not take into account an investor's particular objectives, risk tolerance, tax status, investment horizon, or other potential limitations. All material has been obtained from sources believed to be reliable, but the accuracy cannot be guaranteed.
PAST PERFORMANCE IS NOT INDICATIVE OF FUTURE RESULTS. Periods greater than one year are annualized except where indicated. Returns of the indexes also do not typically reflect the deduction of investment management fees, trading costs or other expenses. It is not possible to invest directly in an index. Indexes are the property of their respective owners, all rights reserved.