This piece summarizes current law and what the law will be beginning in 2018 with a view toward what matters most to you. In a last minute amendment to the bill, the short title of the "Tax Cuts and Jobs Act" was removed without replacement. For ease of reference, we will refer to the new law as the "Major 2017 Tax Act."
5 THINGS YOU NEED TO KNOW ABOUT THE MAJOR 2017 TAX ACT
Individual and corporate tax changes are effective January 1, 2018, but many individual provisions expire December 31, 2025.
Estate, gift and generation-skipping transfer ("GST") taxes remain in effect with double the basic exclusion and GST exemption amounts.
Individual ordinary income tax rate reductions include lowering the top marginal rate to 37%, but the individual alternative minimum tax ("AMT") remains in effect with a higher exclusion amount.
Qualifying pass-through entity and sole proprietor business income for individuals (and estates and trusts) generally has a 20% deduction.
Corporate income tax rates are reduced to 21% (from 35%) and the corporate AMT is repealed.
A FEW THINGS YOU SHOULD CONSIDER
State Tax Payments
If you itemize your income tax deductions and do not pay the AMT, consider making your fourth quarter 2017 state estimated income tax payment due in January by December 31 to obtain the benefit of an itemized deduction on your 2017 federal income tax return. Also, if you live in a county that bills real estate taxes in arrears, consider making 2017 real estate tax payments otherwise billed in 2018 in 2017.
Why? Because under the pending tax bill, federal income tax deductions for state and local taxes will be limited to $10,000 for taxpayers who itemize their deductions. (See Figure 1 for a summary of deductions that are changing or are being eliminated.) Beware, however, that you may not claim an itemized deduction in 2017 on a pre-payment of 2018 state income tax.
Charitable Deductions
Making deductible charitable contributions, including donor advised fund contributions, in 2017 that you would otherwise make in 2018 may be beneficial.
Why? For a few reasons. Some taxpayers who itemize deductions in 2017 will use a standard deduction in 2018 under the pending tax bill and will lose the tax benefit directly related to a charitable contribution they have in 2017 with an itemized deduction. The standard deduction amount is slated to be $24,000 for a married couple in 2018. Even if you will itemize in 2018 under the pending tax bill, the tax benefit of a charitable contribution in 2017 may be greater if you expect to be in a lower tax bracket next year, either because of tax reform or otherwise. (The higher your marginal tax rate, the more a deduction is worth.)
Think About Basis When Planning Gifts
When planning gifts to family, keep basis, income tax and gift, estate and generation-skipping transfer taxes (transfer taxes) in mind.
Why? Lifetime gifts of appreciated assets keep their basis in the hands of the donee (carryover). Transfers at death receive a new fair market value basis. With fewer families expected to be subject to transfer taxes, at least while the higher basic exclusion and GST exemption are in effect, the tax planning related to gifting may change.
Plan Now for 2018
Plan to review and update your wealth plan with your legal, tax and financial advisors in the New Year.
Why? Changes in the basic exclusion and GST exemption amounts for gift, estate and generation-skipping transfer taxes can have a material effect on how your estate plan will operate. Changes in the tax treatment and rates for pass-through entities (partnerships, limited liability companies and S-corporations), sole proprietorships and corporations may impact decisions regarding the choice of entity and tax elections for passive and active business owners.
Remember, each person's tax situation is unique and you should confer with your tax and legal advisors regarding any year-end or new-year tax-related decisions in your circumstance.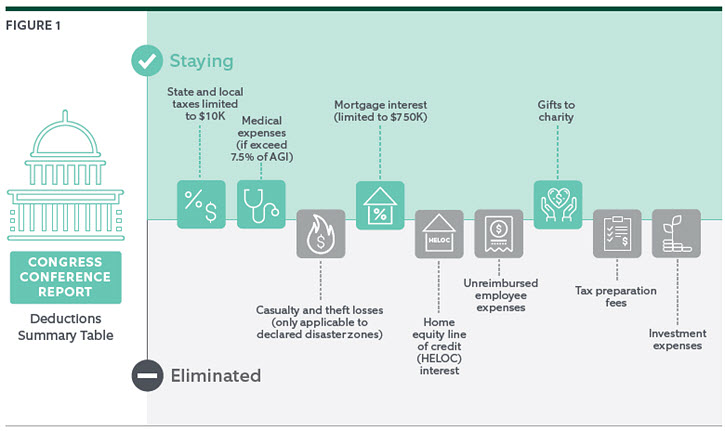 A SUMMARY FOR YOU
The following tables provide a summary organized in three parts:
Estate, Gift and Generation-Skipping Transfer Taxes
Individual and Pass-Through Business Income Tax
Corporate Income Tax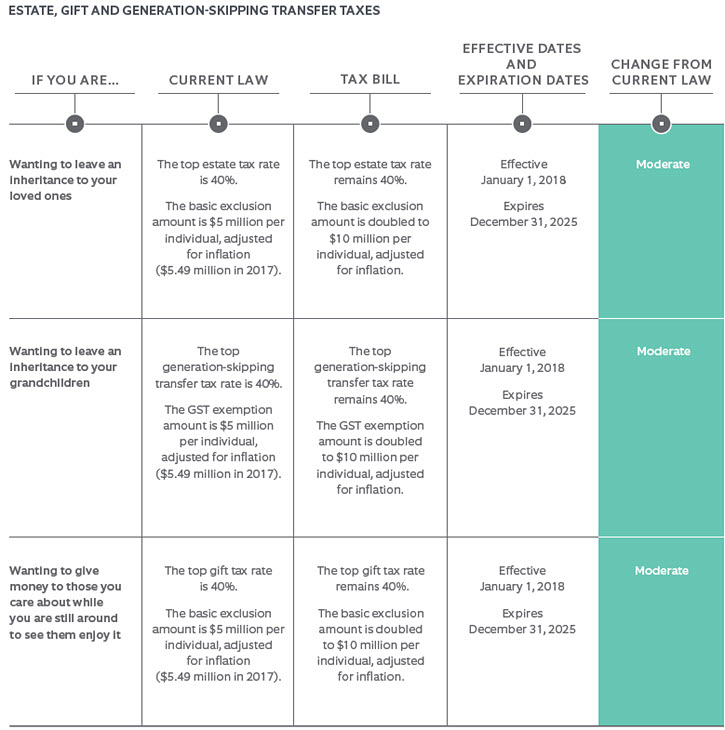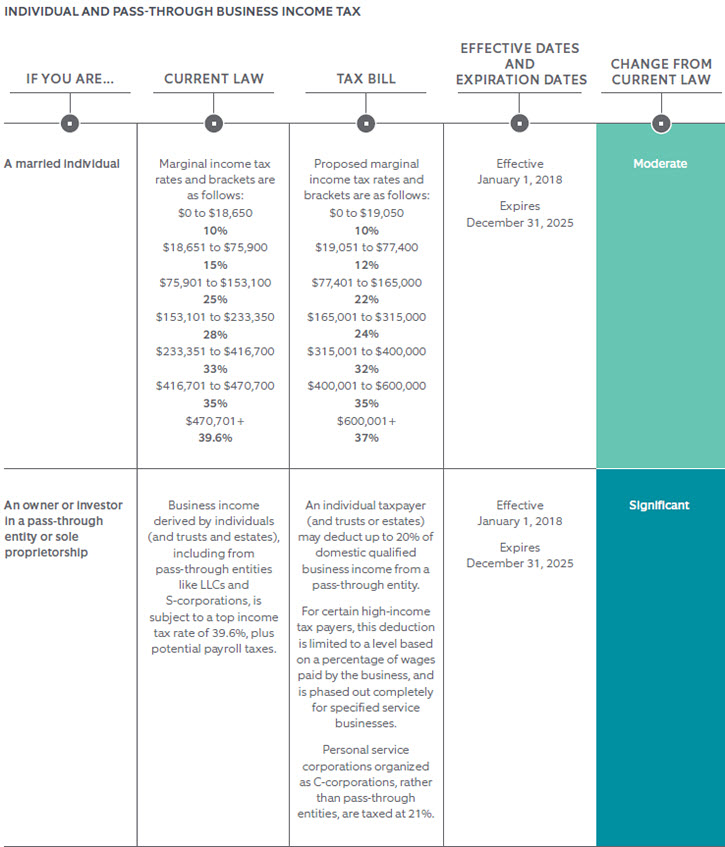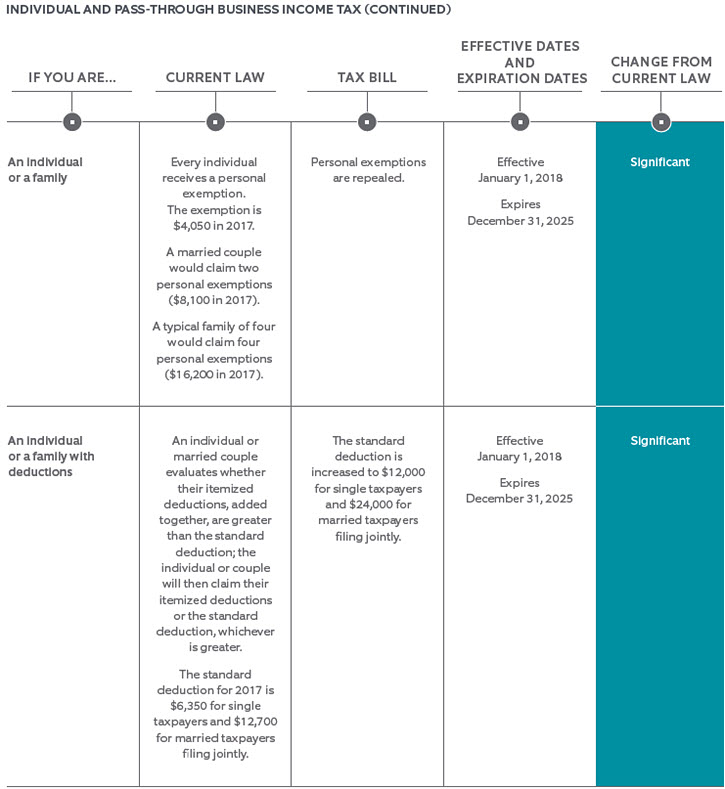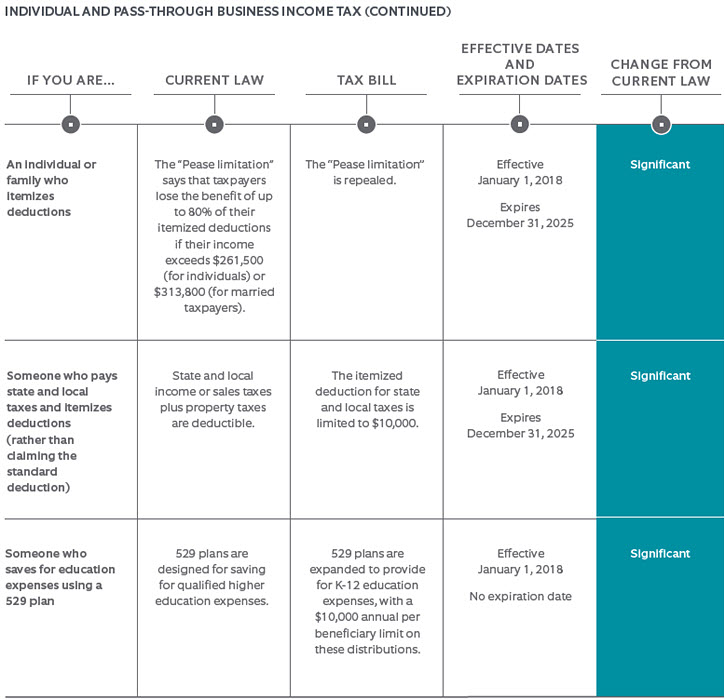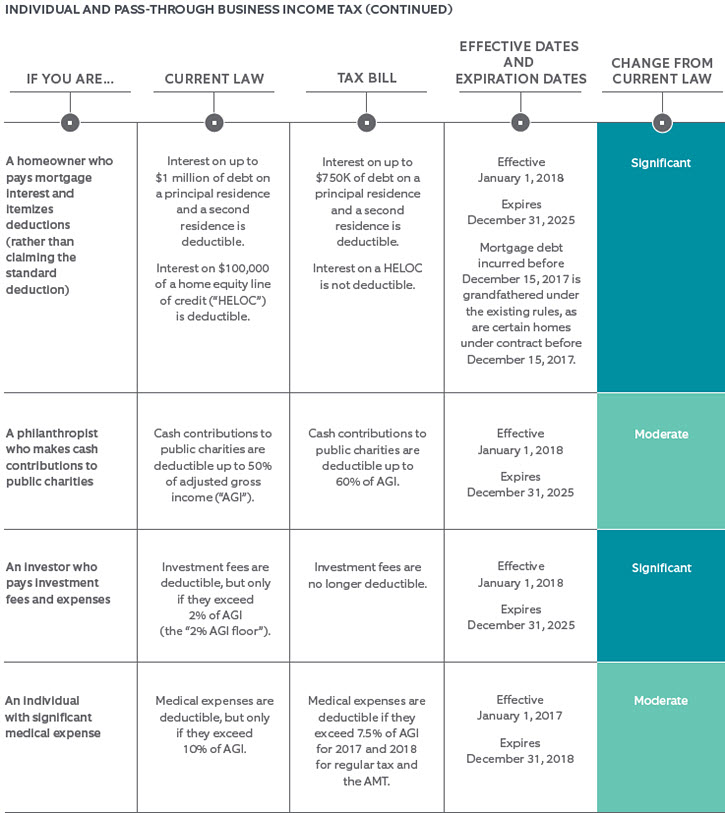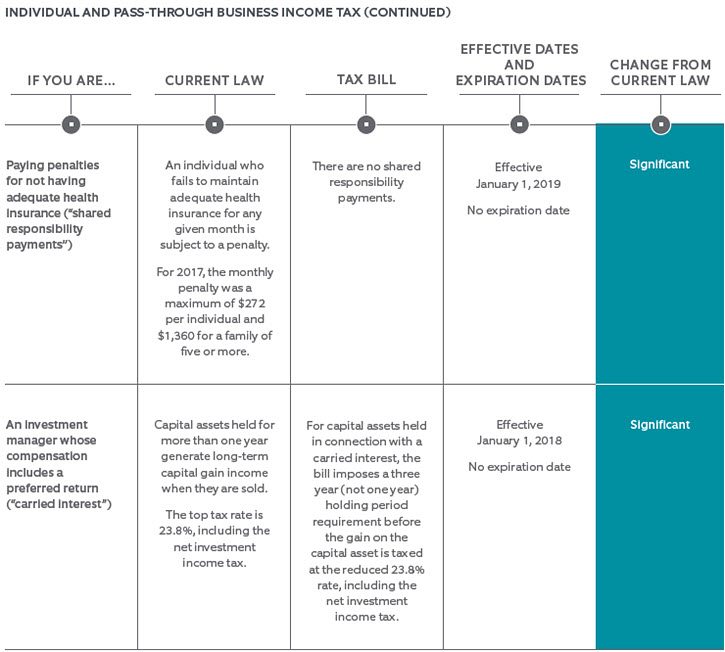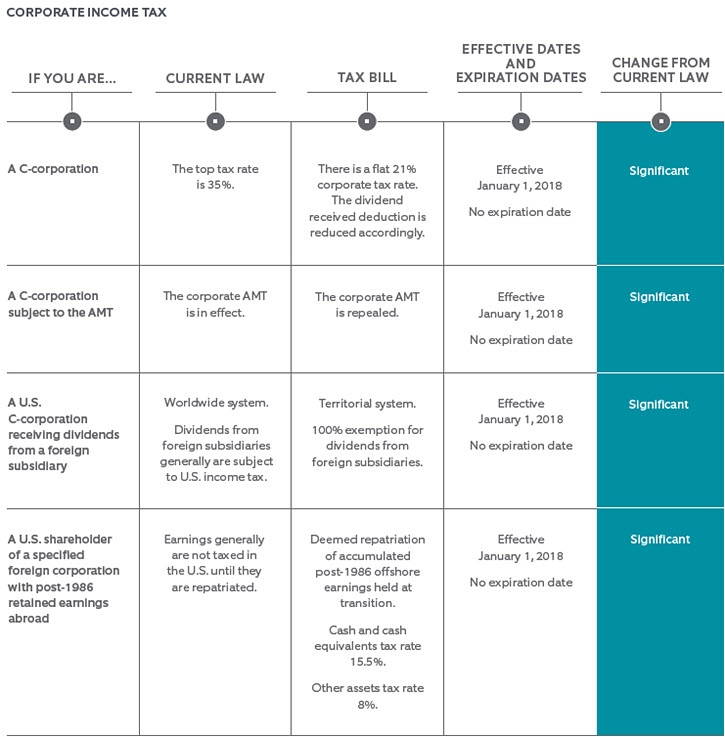 WHAT IS NOT CHANGING?
Not everything will be different in 2018. Some of the current rules that will remain in effect include:
The tax basis of appreciated assets gifted during life to family and friends will retain their basis in the hands of the donee. The tax basis of assets at death will be adjusted to fair market value.
A married person's unused estate tax exclusion amount at death may be used by their surviving spouse.
Long-term capital gain and qualified dividend individual income tax rates will remain at 0%, 15% and 20%. The 28% tax rate for collectibles also remains in effect.
The 3.8% net investment income tax will remain in effect for high-income taxpayers.
Specific lot takedown methodology may still be used by investors as they will not be required to sell their oldest lot of shares first. The proposed "first-in first-out" rule did not make it into the final version of the bill.
The $250,000 (single) or $500,000 (married) exemption of gain on the sale of a principal residence is still available to homeowners.
Tax deferred retirement savings in 401k accounts and IRAs will remain available.
WHAT HAPPENS NEXT?
We never know with certainty what the future will be. Surprises happen. In the ordinary course, the next steps are expected to be as depicted below.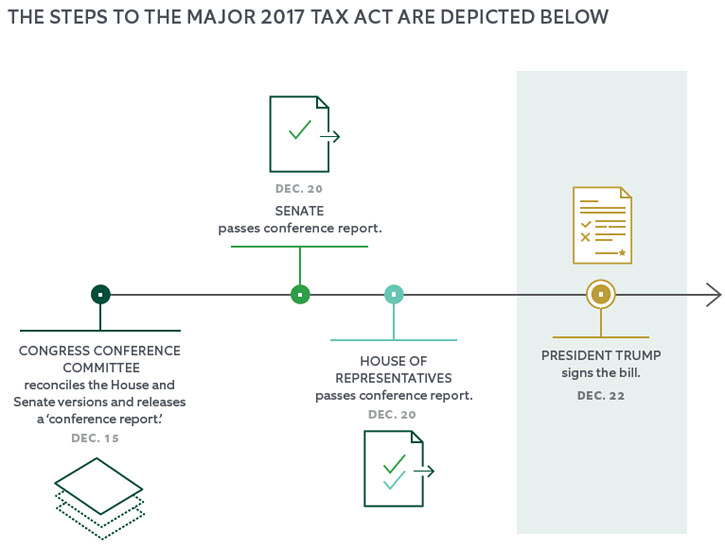 CONCLUSION
Now that the ink of the President's signature on the Major 2017 Tax Act is dry, the work on technical corrections and related regulations will begin. We are monitoring developments daily.
FOR MORE INFORMATION
As a premier financial firm, Northern Trust specializes in Goals Driven Wealth Management backed by innovative technology and a strong fiduciary heritage. Our Wealth Planning Advisory Services team leverages our collective experience to provide financial planning, family education and governance, philanthropic advisory services, business owner services, tax strategy and wealth transfer services to our clients. It is our privilege to put our expertise and resources to work for you.
If you would like to learn more about these and other services offered by Northern Trust, contact a Northern Trust professional at a location near you or visit us at northerntrust.com.