---
OUTLOOK
Markets have kicked off the New Year with continued momentum, supported by improving global growth and stimulative tax reform in the United States. Our strategy discussions this month focused on the components of this stronger growth outlook and the repercussions for inflation and interest rates. Global growth has been steadily accelerating since the fourth quarter of 2015, coincident with a pickup in Chinese growth. Growth across Europe has improved at the same time, supported by both improving exports and domestic consumption. While U.S. growth has seen its strongest acceleration over the last six months, business sentiment started improving in the fourth quarter of 2016. The recent tax bill, reducing the stated corporate tax rate from 35% to 21% (the current effective tax rate is closer to 27%), has added some fuel to the fire.
So will one result of this pickup in activity be a jump in inflation? While we do think the odds of a cyclical increase in inflation have risen, we don't see a secular upturn ahead. Management focus on profit margins has remained vigilant, and we don't expect that to change in the wake of a lower tax burden. Some high profile companies have announced one-off employee bonuses, and in some instances wage increases. For example, Wal-Mart has announced a bump in its hourly associate starting wage from $10 an hour to $11 an hour, which we estimate will approximate 15% of their tax savings. We would expect the company to further invest some of the tax savings, but the ongoing focus on margins is also apparent in its nearly simultaneous announcement of the closing of 63 Sam's Club locations. All in all, we've only included 2/3 of the expected benefit of lower corporate taxes in our U.S. equity earnings estimates, leaving room for some reinvestment of the savings by management teams.
The acceleration in global growth has renewed forecasts of higher inflation, leading to some concerns over faster central bank normalization. We think it is more important to forecast the climate (under which conditions will the central banks raise rates?) than it is the weather (does the Fed hike one, two or three times in 2018?). If the Fed ends up raising rates three times, we think it will be because they can raise rates as market conditions permit it. If the Fed ends up raising rates three time because it has to raise rates due to surprising inflation, it risks upsetting the positive risk taking environment. Our view is that the most likely outcome is the Fed only raising rates at a pace the market is expecting, avoiding an inversion of the yield curve and the resulting market uncertainty.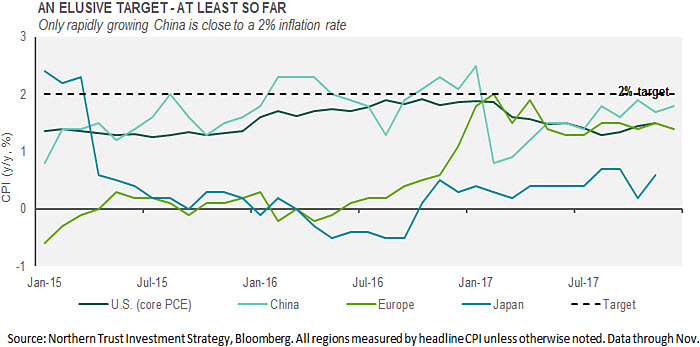 ---
INTEREST RATES
Recent developments have pushed yields slightly higher.
Yields should remain capped over the next year by global dynamics.
We favor the long end of the yield curve in portfolios.
U.S. Treasury 10-year yields have broken out of their 2.2% to 2.4% range of the past year. The movement higher appears to reflect investors' belief that the recently passed U.S. tax reform, combined with already accelerating growth, tighter labor markets and higher commodity prices, will push inflation higher. Also pressuring U.S. interest rates is the move higher in German bunds, where 10-year yields have risen by 0.3% since the end of December – driven by fundamentals and speculation of accelerated European Central Bank tapering.
Synchronized global growth has led to better economic data but we believe inflation will remain benign. Also, U.S. yields are still capped by the abundance of low yielding sovereign bonds around the world. The 2%-plus spread between U.S. and German 10-year yields (see graph) supports our view that until central banks outside of the United States remove their ultra-accommodative policies, foreign demand will continue to anchor U.S. yields. We expect the Fed to move fewer times than the market is predicting and for the 10-year Treasury to remain range-bound around 2.5%. As such, we are positioning U.S. fixed income portfolios to be underweight the short end of the curve, neutral the middle and overweight the long end.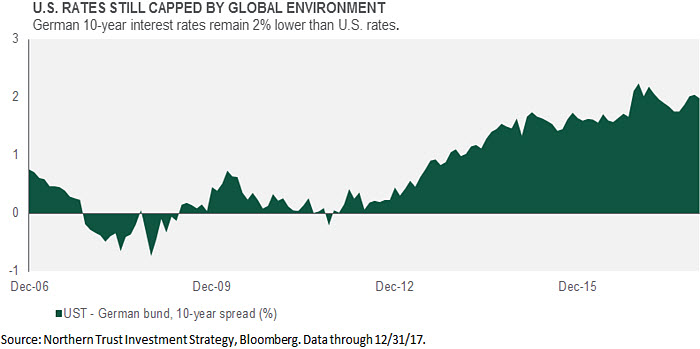 ---
CREDIT MARKETS
High yield credit spreads continue to push lower.
Tax reform is a net positive for the high yield asset class.
Valuations are stretched but fundamentals are strong.
The new U.S. corporate tax regime set to begin in 2018 has a mixed, but overall positive impact on high yield issuers. Many have questioned what the limit on interest deductibility – now capped at 30% of EBITDA (earnings before interest, taxes, depreciation and amortization) – will mean for high yield issuers. The tax treatment of net operating losses (NOLs) is also becoming less generous. Will these tax reform elements materially impair after-tax income and hurt fundamentals? High yield investors should rest assured that there are offsetting factors. For one, companies can now immediately expense capital expenditures (Capex). This element will have a declining impact over time, but in the early years will more than offset the tax deduction caps described above. Most importantly, the corporate tax rate reduction far outweighs any loss of tax shields.
The bottom line is that, while mix of effects will vary over time, the new tax regime is a definite positive for the high yield market – as can be seen in the chart. This provides further support for an asset class that is already benefitting from positive fundamental and technical factors. Over the past year we have been reducing our high yield allocation as spreads continue to tighten (now just above 3%) and valuations richen. But we still retain a moderate overweight into 2018 – and believe taking on credit risk within fixed income portfolios will continue to pay off.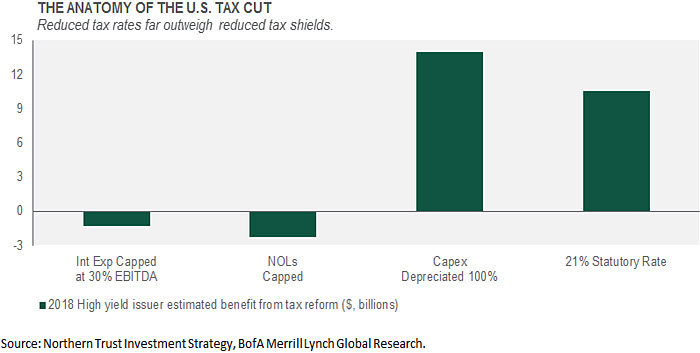 ---
EQUITIES
Global equities shot out of the gates in early-2018.
Earnings estimates have been unusually durable.
We remain overweight equities on a global basis.
The recently signed Tax Cuts and Jobs Act promises a tax cut for most individuals and slashes the corporate tax rate from 35% to 21%. At a high level, each percentage point cut in the tax rate adds $1 to $2 to S&P 500 earnings per share (EPS). Looking ahead to 2018, analysts are calling for EPS growth of approximately 12% – led by the energy, materials and financials sectors – and revenue growth of 6%. Based on these estimates, the net profit margin for the S&P 500 index could increase further to nearly 11% for 2018. In addition, fourth quarter 2017 estimates barely fell during the quarter – in contrast to the normal 3% to 5% reductions analysts are forced to make.
Investors are unsure how much of the tax cut is already reflected in the market – and how much of the benefit will be kept by companies or ultimately competed away – but earnings forecasts suggest that upside potential still exists. We believe U.S. equities have further upside as investors increasingly appreciate the benefits from tax reform amid ongoing global growth expansion. We remain overweight non-U.S. equities as well. While non-U.S. earnings growth (lacking the same tax cut stimulus) is expected to grow a more modest 7%, we see more valuation upside than in the United States.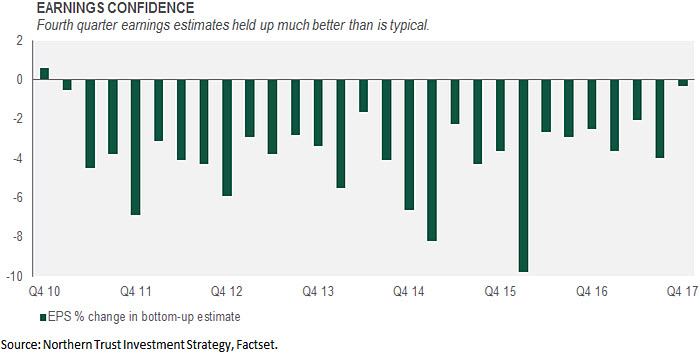 ---
REAL ASSETS
Inflation readings and expectations have picked up slightly.
We still see reasons for "stuckflation" to persist.
We remain strategically allocated to all real assets.
Investor concerns about inflation have increased over the past couple of months as the global economic expansion continues unabated. U.S. 10-year breakevens – an indication of what investors expect inflation to be over the next 10 years – have moved up above 2%. We must keep this in perspective as the recent increase has equaled just 0.15%. Inflation expectations in Germany and Japan, using the 10-year breakeven metric, are also low at 1.3% and 0.6%, respectively. Nevertheless, growing expectations have a way of feeding on themselves.
Should we be worried? While there are some reasons to believe inflation will potentially run hot over the coming months (a boost in economic demand, higher energy prices) there are also reasons to believe our longer-term "stuckflation" narrative will persist. For one, spare capacity remains higher than the levels seen prior to the global financial crisis and even than levels from just three years ago. Some would rightly argue that capacity utilization is too myopic, focused on manufacturing in an increasingly service-oriented economy. But technological forces are transforming the service economy as well, and should continue to dampen inflation in the years to come. Alongside the uptick in inflation expectations we have seen an upward move in natural resource equities as oil prices approach $70 a barrel. We maintain our equal-weight positioning given our lower concern over inflationary pressures, while acknowledging the improved fundamentals within the energy complex.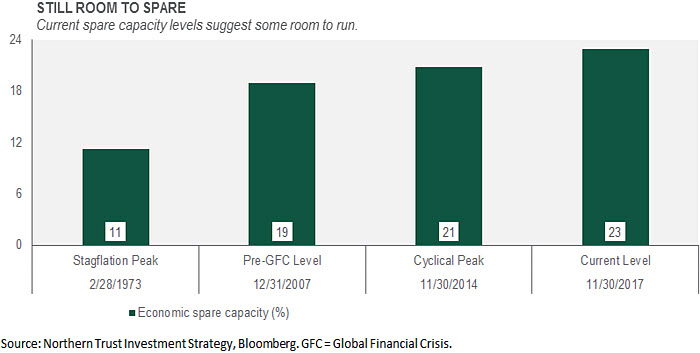 ---
CONCLUSION
The continuing strength of the markets has renewed questions about the validity and sustainability of the rally. We come down on the "valid and sustainable" side of the debate. Last month we highlighted improving investor optimism, and that has further increased over the last month. While investor optimism can be a contrary indicator, we don't see signs of worrying enthusiasm. As we discussed earlier in the report, the real debate has moved from whether we can see better growth in the economy to what repercussions the stronger growth will have on inflation and interest rates. While we think there is some greater chance of a cyclical uptick in inflationary measures, we don't see inflation becoming "unmoored" and derailing the expansion. In fact, we see companies continuing to focus on productivity and margin improvement, including investing some of their tax savings into these endeavors.
We think the current environment of accelerating growth and stable inflation is very supportive of risk taking. This month we have added our tactical asset allocation policy model to the end of the report. We have always discussed individual changes here, and thought it would be helpful to include the full recommended model as well. This shows our significant recommended overweight to equities (+11 percentage points), funded by the underweight to investment grade bonds. We made no changes to these recommendations this month; performance has been good and our fundamental outlook remains constructive.
If we are wrong in our positive outlook, we think the catalyst is likely to come from either central bank pressure or Chinese economic weakness. Major central banks are in uncharted territory in reducing their post-financial crisis accommodation, and are puzzled by the low inflation being experienced so late in the expansion. In addition, we have new policy makers taking their seats in 2018 and 2019, adding to the uncertainty. The Federal Reserve and Bank of Japan heads' terms end early in 2018, and we will have a new head of the ECB in late 2019. The risk around Chinese economic growth is a macro concern, reflecting the importance of the Chinese recovery that started in 2015 and the completion of the Party Congress in October of 2017. Some slowdown from what was likely a policy-induced acceleration heading into the Party Congress could help cap global inflationary risks, but a greater slowdown might again raise concerns about global growth and Chinese debt levels. While Chinese growth data has gotten a little choppier in recent months, it hasn't yet become a near-term concern. As always, we will be debating these issues every month and adjusting our recommendations as our expectations about the outlook evolve.
-Jim McDonald, Chief Investment Strategist

IN EMEA AND APAC, THIS PUBLICATION IS NOT INTENDED FOR RETAIL CLIENTS
© 2018 Northern Trust Corporation.
The information contained herein is intended for use with current or prospective clients of Northern Trust Investments, Inc. The information is not intended for distribution or use by any person in any jurisdiction where such distribution would be contrary to local law or regulation. This information is obtained from sources believed to be reliable, and its accuracy and completeness are not guaranteed. Information does not constitute a recommendation of any investment strategy, is not intended as investment advice and does not take into account all the circumstances of each investor. Forward-looking statements and assumptions are Northern Trust's current estimates or expectations of future events or future results based upon proprietary research and should not be construed as an estimate or promise of results that a portfolio may achieve. Actual results could differ materially from the results indicated by this information. Investments can go down as well as up.
Northern Trust Asset Management is composed of Northern Trust Investments, Inc. Northern Trust Global Investments Limited, Northern Trust Global Investments Japan, K.K, NT Global Advisors Inc., 50 South Capital Advisors, LLC and investment personnel of The Northern Trust Company of Hong Kong Limited and The Northern Trust Company.
Issued in the United Kingdom by Northern Trust Global Investments Limited.